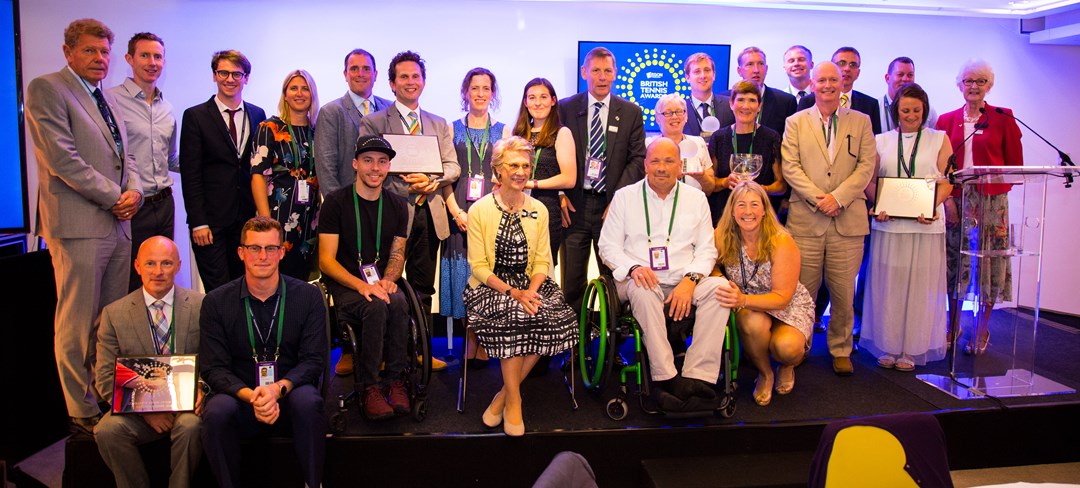 British Tennis Awards: Education and disability tennis programmes to be recognised
• 4 MINUTE READ
Over the past few months tennis clubs, venues and programmes have been celebrating success at their annual County awards, as part of the overall British Tennis Awards. Tomorrow sees the next stage of the process as the regional winners are announced.
Across each of the 10 categories, winners will be selected for the North, Midlands, East, South East, and South West regions. These winners, alongside those from Tennis Scotland and Tennis Wales, will go forward to national judging, with the overall winners in each category being invited to Wimbledon to receive their awards.
The British Tennis Awards celebrate the achievements made by outstanding individuals and venues in British Tennis throughout the past year. They present British tennis as a whole with a great opportunity to say thank you to everyone in the schools, clubs, parks and community venues within England, Scotland and Wales who give so much to our sport.
British Tennis includes the many thousands of inspirational individuals involved in tennis, dedicating their precious time and energy; 25,000 volunteers, 4,400 coaches and 940 officials. The awards highlight the incredible achievements of some 20,000 schools, 2,700 clubs and over 9,700 LTA approved tournaments. The extraordinary contribution of these individuals and venues helps to bring fans and players closer to the game we all love.
Being recognised through the British Tennis Awards is a special achievement. Congratulations from the Tennis Foundation to everyone who has won a County award, and especially to those relating to the work we do delivering tennis to disabled people, young people in education, and young people in urban and disadvantaged communities – your contribution to British tennis is hugely appreciated!
For more details on the British Tennis Awards click here, and to find out the regional winners follow British Tennis' social channels tomorrow.
The County winners for the Disability Award and the Education Award as listed below – good luck to all!
DISABILITY AWARD
This award is for a venue or a programme across venues which:
• has provided quality accessible and affordable opportunities for more people with a disability to play, volunteer or work in tennis – taking either a pan-disability approach or an impairment specific one.
• has grown the number of participants over the past year and provided excellent customer service to participants
• has provided a safe and inclusive environment that caters for all ages, abilities and backgrounds
• has demonstrated innovation and use of technology to grow and develop the programme
Last year's overall winner was Grantham Tennis Club. This year's County winners in contention for the 2018 Disability Award are:
Bedfordshire
No Barriers - Riverside LTC
Cambridgeshire
The Cambridge Festival of Inclusive Tennis
Cheshire
Wirral Disability Network
Derbyshire
Chesterfield
Devon
Double Bounce
Durham & Cleveland
Tees Valley Sound Tennis
Essex
Core Arts – Laura-Jane Connolly
Gloucestershire
Oxstalls Tennis Ability
Hants & IOW
Winchester Tennis Disability Initiative
Herefordshire & Worcestershire
Pershore Tennis Centre
Hertfordshire
Langley Tennis Club
Kent
Bromley Tennis Centre
Lancashire
Disability Racker Sports
Leicestershire
Desford Lawn Tennis Club
Lincolnshire
Grantham TC
Middlesex
Highgate Tennis Club
Norfolk
East Anglia Tennis and Squash Club
Nottinghamshire
The Disability Tennis Programme in partnership between the Tennis Centre and Activeace
Oxfordshire
White Horse Leisure and Tennis Centre
Shropshire
Learning Disability Group, Telford Tennis Centre
Suffolk
Ipswich Sports Club
Surrey
Sutton Tennis Academy
Sussex
Adam Field
Warwickshire
Simon Lancaster
Wiltshire
Delta TC Swindon
Yorkshire
York Disability Tennis Network
Scotland
Prestwick Tennis & Fitness
Wales
Cardiff Metropolitan University
EDUCATION AWARD
This award is for a school, college or university which:
• has, in the past year, offered a significant and varied tennis programme of coaching and competitions for a large proportion of students or pupils of all abilities.
• offers students or pupils the chance to develop their life and/or employability skills through tennis, by offering courses such as Tennis Leaders, Coaching Assistant, Competition Organisers and/or Coaching Qualification courses.
• has successful and sustainable links with the local community and/or local tennis venues
Last year's overall winner was Cardinal Newman RC School. This year's County winners in contention for the 2018 Education Award are:
Bedfordshire
Bedford Girls School
Berkshire
Claire's Court School
Cambridgeshire
Parkside Secondary School
Cheshire
Woodchurch High School
Derbyshire
University of Derby
Devon
Westward Ho! Ratings & Rankings
Durham & Cleveland
Acklam Whin Primary School
Essex
Calverton Primary School
Gloucestershire
Balcarras School
Hants & IOW
Sandown Bay Academy
Hertfordshire
Stuart Turkentine
Kent
Deal Parochial CE Primary School
Lancashire
Liverpool John Moores
Leicestershire
Loughborough University
Lincolnshire
Alan Grantham & Wolds School Sports Partnership
Middlesex
Ellen Wilkinson School for Girls
Norfolk
Thorpe St Andrew High School
Northamptonshire
Prince William School
Northumberland
Kings Priory School
Nottinghamshire
University of Nottingham
Oxfordshire
Oxford University
Shropshire
Ellemsere College
Staffordshire
Walsall College
Suffolk
Birchwood Tennis Club
Surrey
University of Surrey
Sussex
Bede's
Warwickshire
Matthew Tew
Wiltshire
South Wilts Grammar School for Girls
Yorkshire
Boston Spa Academy Tennis Centre
Wales
Ysgol Gyfun Garth Olwg