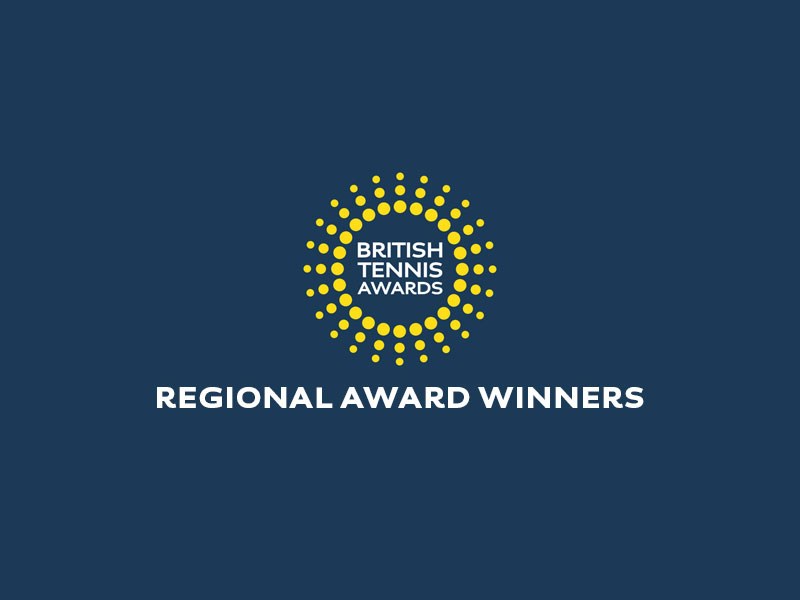 Diversity and Inclusion
British Tennis Awards: Disability tennis programmes regional winners announced
• 5 MINUTE READ
Five disability tennis programmes are in contention for a national award after being named as regional winners in the annual British Tennis Awards. All five are part of the Tennis Foundation's national programme of activity to develop participation in tennis by disabled people.
The regional winners alongside those from Tennis Scotland and Tennis Wales, will now go forward to national judging, with the overall winners in each category being invited to Wimbledon to receive their awards.
The British Tennis Awards celebrate the achievements made by outstanding individuals and venues across the country throughout the past year.
Launched in 2015 with the help of former LTA president Cathie Sabin OBE and the Tennis Foundation, the British Tennis Awards are in place to thank those supporting the grassroots of the game.
A record-breaking total of 1,460 nominations were cast last autumn, before County British Tennis Award winners were named from December to March. Those winners were then whittled down to 50 regional winners across 10 categories.
This Disability Award category is for a venue or a programme across venues which:
• has provided quality accessible and affordable opportunities for more people with a disability to play, volunteer or work in tennis – taking either a pan-disability approach or an impairment specific one.
• has grown the number of participants over the past year and provided excellent customer service to participants
• has provided a safe and inclusive environment that caters for all ages, abilities and backgrounds
• has demonstrated innovation and use of technology to grow and develop the programme
Disability tennis in Great Britain is currently thriving, with more people taking part across venues supported by the Tennis Foundation than ever before, along with increased participation in disability tennis competitions and continued success at an elite level.
The five regional winners below are all examples of the fantastic work going on throughout the country to help open tennis up to anyone and everyone.
SOUTH EAST
Bromley Tennis Centre (Kent)
At the centre, the team runs two weekly Learning Disability sessions with an average of nine people attending. They also hold a monthly Vision Impaired session in conjunction with SELVIS and the Thomas Pocklington Trust, averaging six people per session.
The Centre has strong links with four Special Educational Needs Schools, where they have delivered tennis to over 180 children with various disabilities. They ran an annual SEN Schools Cup where they had 48 children competing.
Bromley Tennis Centre have also developed a strong link with Charlton Athletic Community Trust Mental Health programme, delivering tennis to over 65 people with mental health problems in 2017. Tom Defrates at the Bromley Tennis Centre also coordinates disability tennis for Kent, with excellent monthly participation.
SOUTH WEST
Double Bounce - Inclusive Tennis South West CIC (Devon)
Fiona Murphy set up Double Bounce and is also the coach. She provides inclusive and fun tennis based sessions anyone with a disability.
Participation is thriving, with activity including sessions for young adults who are wheelchair dependent with severe impairments, Can Do Day, SEN children's afternoon, Special Olympics sessions and working with young adults with behavioural issues.
In 2017 Fiona achieved the LTA Level 2 coaching, Level 3 Disability Awareness training, Cardio Tennis training and Wheelchair Basketball Level 1 training. All the qualifications assist Double Bounce to provide quality, inclusive and modifiable tennis sessions. Fiona is also starting a Wheelchair Tennis Club as a volunteer coach.
NORTH
Disability Racket Sports (Lancashire)
Disability Racket Sports sees 375 disabled people playing tennis every month in Wheelchair Tennis, Learning Disability Tennis as well as Visually Impaired Tennis. They have one of the largest wheelchair tennis groups in the whole of the UK, with more players entering the Tennis Foundation's National Series than at any other tennis venue. Two of these players have been selected and competed at the School Games for the past two years. They are seeing players from as far as Lincolnshire attending camps and sessions run by Disability Racket Sports, which is a testament to the quality of delivery and approach. Disability Racket Sports is a pioneer for disability tennis and is a strong promoter of the sport and everything it has to offer.
MIDLANDS
Desford Lawn Tennis Club (Leicestershire)
Desford Lawn Tennis Club offers a range of activities for participants of all ages with special needs. This includes participants with audio and visual impairment, participants affected by cancer including their carer's and families and participants with learning disabilities.
The club runs tournaments for players on the autism spectrum from local schools and also provides day care services. The programme is continuing to grow, due to the fantastic experience that participants get. The club has a coach with special needs who voluntarily supports all these sessions, encouraging participants and acting as a role model. Many of the club's volunteers have attended training to get a better understanding of how best to support participants. The commitment from club volunteers ensure that everyone receives a positive experience is fantastic.
EAST
East Anglia Tennis and Squash Club (Norfolk)
This year East Anglia Tennis and Squash Club has increased its disability programme significantly. Their Level 4 coach, Derek Perry, leads this, with support from a highly qualified and enthusiastic workforce of coaches. A wide range of new group projects include VI, DSActive, wheelchair, mental health and LD, with individuals receiving additional coaching.
In addition, one or two local special needs schools have brought children to the club to play, following outreach coaching by Derek Perry in the schools. All are proving very popular with regular attendees and excellent feedback from parents & carers. A bank of different size sports wheelchairs are now at the club, following funding through Norfolk LTA and other avenues, so people of all ages and all abilities are now able to play tennis at the club.
The national winner will be announced during National Volunteers' Week from 1-7 June, with the official Awards Ceremony at The Championships, Wimbledon on Tuesday 3 July.
For more on the British Tennis Awards, and to see the full list of regional winners across all categories, click here.