Community
Daniel's Story: How tennis helped me to feel good again
• 4 MINUTE READ
Two years ago, Daniel Marshall was going through a tough time personally when a leaflet dropped through his door that was to play a significant part in changing his fortunes.
It had landed on his mat at just the right time. With his interest levels immediately piqued by the opportunity to combine physical exercise with meeting new people, his enthusiasm was only fuelled by a conversation with scheme organiser, Dale Wright.
Little did he realise it at the first session, but tennis was about to rejuvenate Daniel's life in more ways that he could have imagined.
Grantham Tennis Club, with the support of Lincolnshire NHS Trust and the Tennis Foundation, was delivering fun, social tennis activities designed to support good mental health for people in Grantham, Sleaford and the surrounding villages.
"When I read about the 'Feeling Good Again' project I thought it would be a good idea to not only get myself out of the house but surround myself with others. I knew I needed to make the first step to try to change my life." Daniel explained.
"I wasn't very good around groups back then, but I wanted to improve my fitness, as well as socialising. During breaks from playing we would spend time away from the courts together – that helped me socialise with the other players because I was in a situation where I had to get to know people.
"I was very nervous talking to people to start with, but everyone was so friendly and would get you involved so that brought me out of my shell and I began to come to sessions regularly, and I felt more at home at the tennis club."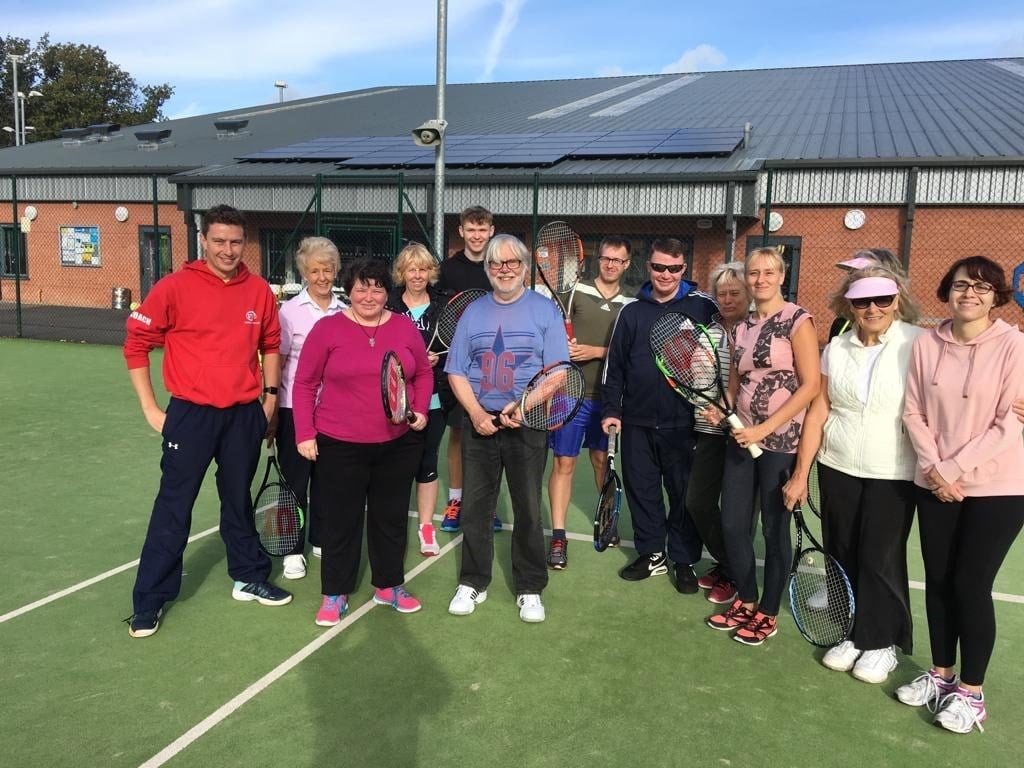 In the time that has followed, Daniel has progressed from developing skills at his own pace in a fun environment to volunteering to help other coaches at the club deliver sessions whenever he can.
Inspired by the experience of helping other players achieve their own satisfaction from the sport has provided him with the motivation to become further involved and in January he will enroll in his Level One coaching qualification.
"I have been learning from the coaches for the past two years and I began helping with the Feeling Good Again project itself, advising any new players that joined the club, and over the last few weeks supporting the 'Tennis at 65+... Why Not?' programme.
"When you take a step back from actually playing it is incredible to see how much the coaches put into it and how many different techniques they have to learn, so that is a different side of tennis I want to understand more about and hopefully become a coach in the future as well.
"It has surprised me how quickly my game has developed. I was never any good at tennis before I joined, I just used to hit a ball backwards and forwards. It has been good to learn different techniques and shots and to appreciate how much of it comes down to practice to help you get the best out of the sport.
"We are always learning new things and from a coaching aspect, by repeating the same drills to teach to others, I will become a better player so that will help my game at the same time."
The support and encouragement Daniel has received from the scheme has been "overwhelming" in his eyes, but the coaches who have worked with him have also started to follow in his footsteps. A regular in the gym as well as on the courts now, Daniel has revelled in other forms of leisure activities, including running, prompting Grantham Tennis Club manager Sarah Patton to occasionally accompany him.
However, it is on the court where Daniel feels most at home.
"I am happiest on the court playing doubles though because I like the challenge of competing with different skill levels and different people. It's the crossover of where competitive and the fun elements come into play.
"The best advice I can give is try something and to persevere with it. I have found having an aim for every session has helped me. I wake up [on the day of the next session], think back to what I did that went well the previous week and aimed to take that to the next level."
The Tennis Foundation support of Grantham LTC's 'Feeling Good Again' project is part of a wider programme of support for disability tennis provided to the club. Grantham is one of the leading inclusive clubs in the country having been named the LTA's Disability Programme of the Year in 2017.