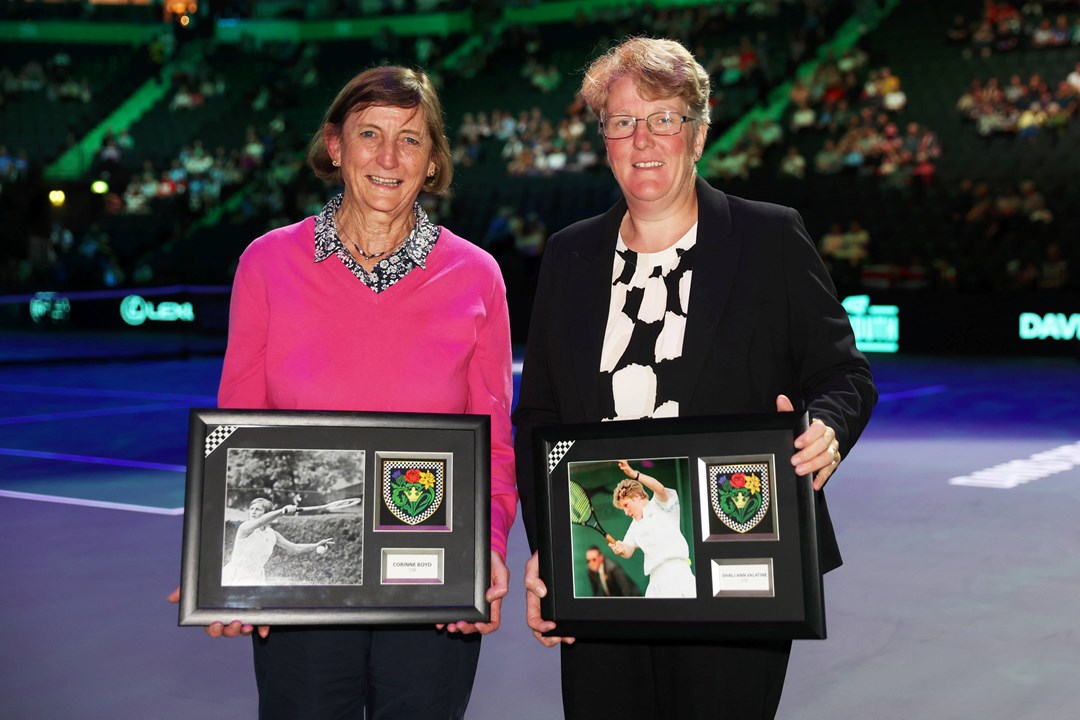 Players News
Corinne Boyd and Shirli-Ann Valentine honoured as Colour Holders at Lexus GB Davis Cup Finals
• 3 MINUTE READ
Colour Holders Corinne Boyd and Shirli-Ann Valentine were presented with commemorative frames on court in Manchester to mark their achievements of playing for the country.
Boyd, Colour Holder No.158, represented Great Britain at the Wightman Cup in 1972 the 50th year of the tournament, in a team also containing Joyce Williams and Virginia Wade.
Now aged 74, Boyd, formerly known as Molesworth, said "I played on the old Number One Court at Wimbledon – we had no seats at the change overs – although I think the captain might have got one!
"There were no bands or loud instruments - in my day, it was a much more sedate affair!
She added: "I'm very proud to be a Colour Holder and that I got the chance to play for my country. The framed photo memento was lovely. The tennis was exciting! It made it all even better as GB won.''
In the same year, Boyd reached the quarter-finals of the French Open, losing out to seven-time Grand Slam singles champion Evonne Goolagong. She also lost to Goolagong in her best Wimbledon run in 1976, where she reached the third round.
Valentine, nee Siddall, is Colour Holder No.215. She represented Great Britain in the then Fed Cup in 1995 with Jo Durie, Claire Wood and Julie Pullin, playing singles rubbers against Poland and the Czech Republic losing to Helena Suková winner of 14 major doubles titles.
Valentine also had notable runs to the last 16 of the mixed doubles at Wimbledon in 1996 and 1997 with fellow Colour Holder Danny Sapsford.
She retired from tennis in 1998 and now works for the Royal Mail. She has two children Emily, aged 18 and Harry, 13 with her partner Nick and they live in Poole.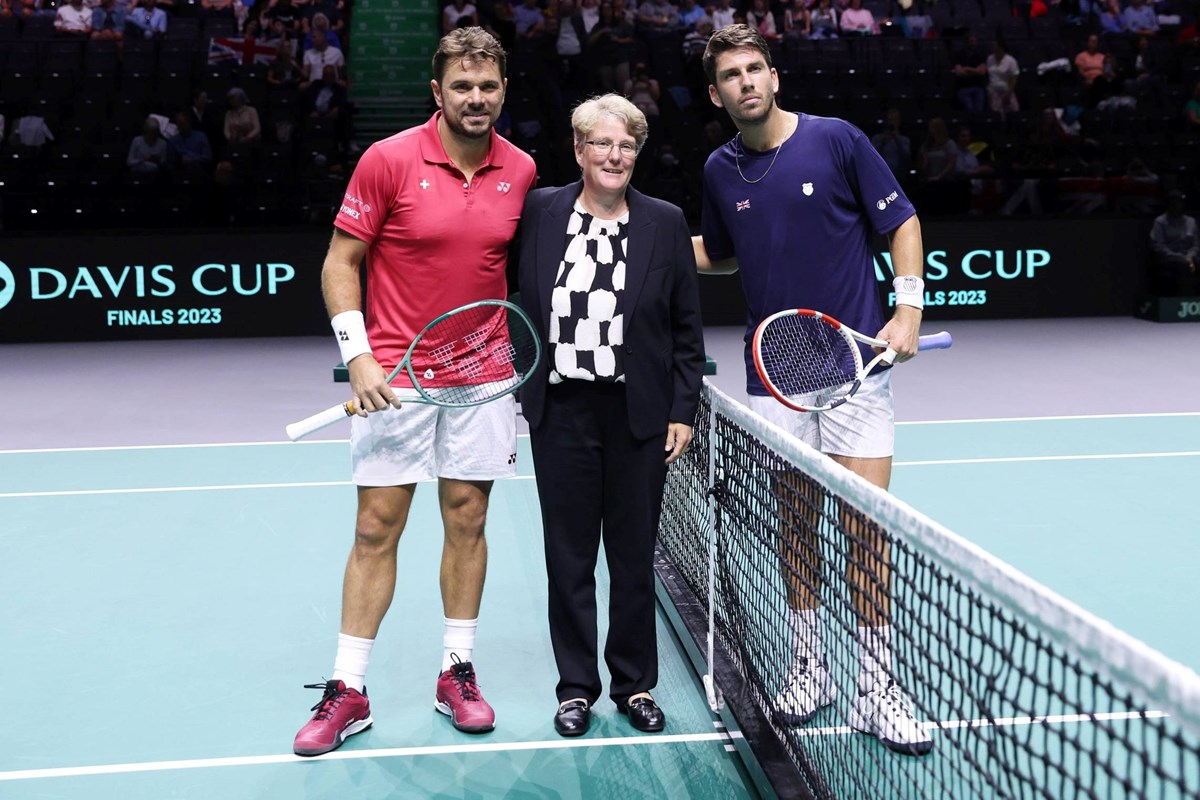 She said: "It brought back lots of happy memories for me of playing for my country. I was honoured to be part of the day and I am so proud to be a Colour Holder.''
Valentine also took part in the coin toss before the vital match with Stan Wawrinka and Cam Norrie. She recently lost her father, and the day was particularly poignant for the family.
She added: "Seeing me on-court would have made my dad so proud. It was nice to be acknowledged like that at the Davis Cup. It reminded me that I used to be pretty good at tennis!''
Both women attended the Davis Cup as guests of LTA President Sandi Procter. She presented them with the mementoes on-court before the start of play on the Friday session against Switzerland.
Procter said: ''Representing your country in any sport is a special achievement, and tennis is no different. As well as being a highlight of a player's career, Great Britain team members also inspire the next generation and enthuse and excite our tennis fans.''
The LTA Colour Holders programme was revived in 2021. The reintroduction of Colour Holders marked 125 years since the first players stepped onto court to represent Great Britain at tennis - at the 1896 Olympics.
It has been developed to help acknowledge, recognise and celebrate players, past and present, who have represented Great Britain in the Davis Cup, Billie Jean King Cup and Wheelchair Tennis World Team Cup, as well as at the Olympic Games and Paralympic Games.
Colour Holder status was also achieved previously for players who competed for Great Britain in the Wightman Cup and Kings Cup, two competitions that have since ceased. It is achieved when a player steps onto court to play for Great Britain for the very first time.
Since 1896, only 323 tennis players have become Colour Holders. John Boland became the first at the inaugural modern Olympic Games in Athens, while Jack Draper became number 323 having been selected at the Davis Cup.