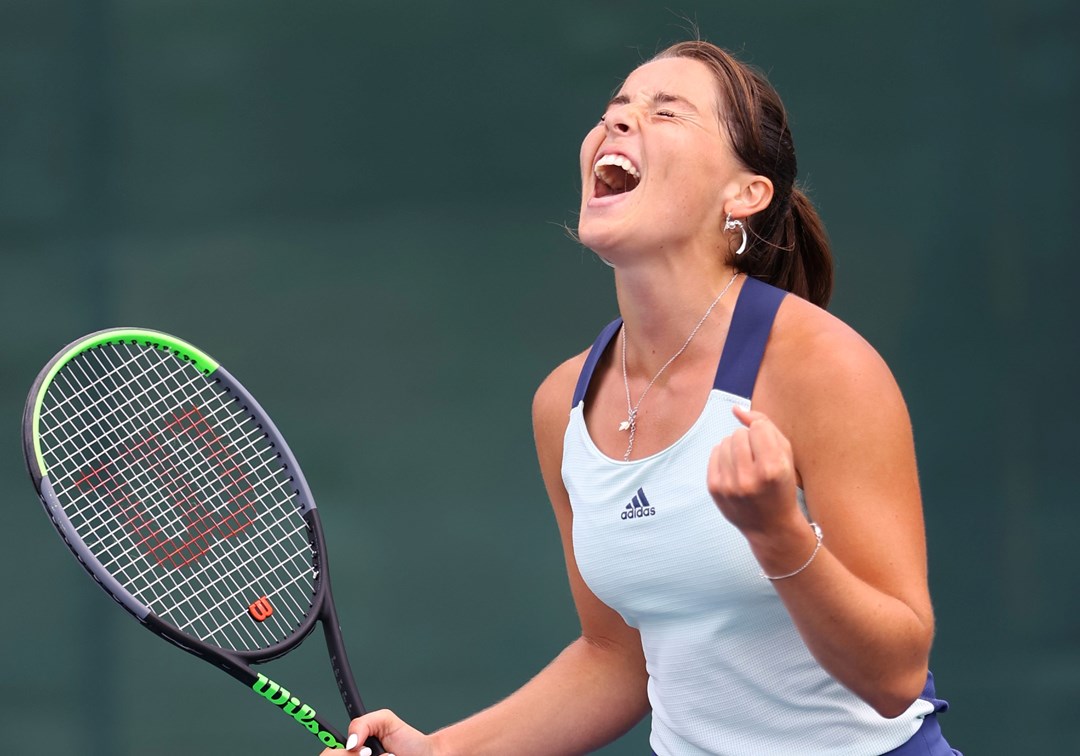 Players News
Burrage, Dart and Loffhagen headline week of British success across the globe
• 3 MINUTE READ
Get the latest updates from British tennis players across the world as Jodie Burrage hits a new career-high and George Loffhagen lifts the first ITF trophy of his career.
Burrage clinches title to edge closer to WTA top 100
Jodie Burrage enjoyed a week to remember in Paris, as she lifted her first singles title of the year at the W60 Croissy-Beaubourg event.
The 23-year-old breezed through the opening two rounds, before enduring two three-set battles in her quarter-final and semi-final match-ups. In the final, Burrage overcame Italy's Lucia Bronzetti in a 3-6, 6-4, 6-0 win to claim the fifth ITF singles title of her career and take her to a new career-high ranking of world No.109 as she continues to strive towards the WTA top 100.
Burrage then went on to join forces with Tunisia's Berfu Cengiz for the doubles event, where the pair finished runners-up after being defeated 6-4, 6-4 by Belgian duo Greet Minnent and Yanina Wickmayer in the final.
Dart teams up with Mitu to lift doubles trophy in Slovenia
Harriet Dart and Romania's Andreea Mitu sought doubles delight this week as they teamed up for the W40 Murska Sobota event.
Having not dropped a single set en route to the final, Dart and Mitu were due to face Magali Kempen and Xenia Knoll before the Belgian, Swiss duo had to withdraw from the event - leading Dart and Mitu to be crowned champions.
This trophy marks Dart's fifth doubles title at W40 level or above, as the Brit continues to showcase her talent across the doubles game.
Also on the ITF women's tour, Britain's Emilie Lindh picked up her second W15 doubles title of the year alongside Aleksandra Pospelova in Sharm ElSheikh. The pair sailed through to the final where they faced American duo Jessica Failla and Anna Ulyashchenko.
With the match tied at one set apiece, it was Lindh and Pospelova who prevailed in the decisive tie-break to wrap up the title 6-2, 3-6, 11-9.
Lindh also made it to the singles final in Sharm ElSheikh, but was unfortunately forced to retire against Polina Iatcenko and finish the event as runner-up.
Loffhagen wins career first singles title at M25 Mysuru
George Loffhagen embarked on a dream week in Mysuru, where he clinched the first ITF title of his professional career at the M25 event.
Having entered the tournament as the 10th seed, the Brit breezed through to the final where he faced Australia's Blake Ellis.
Both Loffhagen and Ellis had strong weeks in Mysuru, with neither dropping a set during their runs to the final. Despite conceding the first set, the Brit showed grit and determination to clinch the second and eventually wrap up the title in a 4-6, 6-2, 7-6(4) victory.
Doubles delight for Little, Whitehouse, Howse and Pierleoni
The British doubles success continued to flow in Italy with Dan Little, Mark Whitehouse, Matthew Howse and Joel Pierleoni all lifting titles this week at the M25 Trento event.
Little and Whitehouse partnered up for the doubles event, where they clinched three consecutive straight-set wins to set up an all-British clash against Giles Hussey and Ben Jones in the final. In a battle of the Brits, it was Little and Whitehouse who came out on top, sealing a 7-6(6), 6-3 victory to earn their first doubles title together.
In the singles draw, Alastair Gray came within touching distance of the title in Trento but unfortunately missed out to Switzerland's Jerome Kym, 7-6(7), 6-2.
Meanwhile, British duo Matthew Howse and Joel Pierleoni headed to the M15 Sharm ElSheikh where they came through back-to-back three-set battles to set up a final meeting with Cengiz Aksu and Tuncay Duran. After a close first set, the Brits proved too strong for the Turkish pairing, eventually prevailing in a 7-6(2), 6-1 to clinch the first ITF title of their careers.