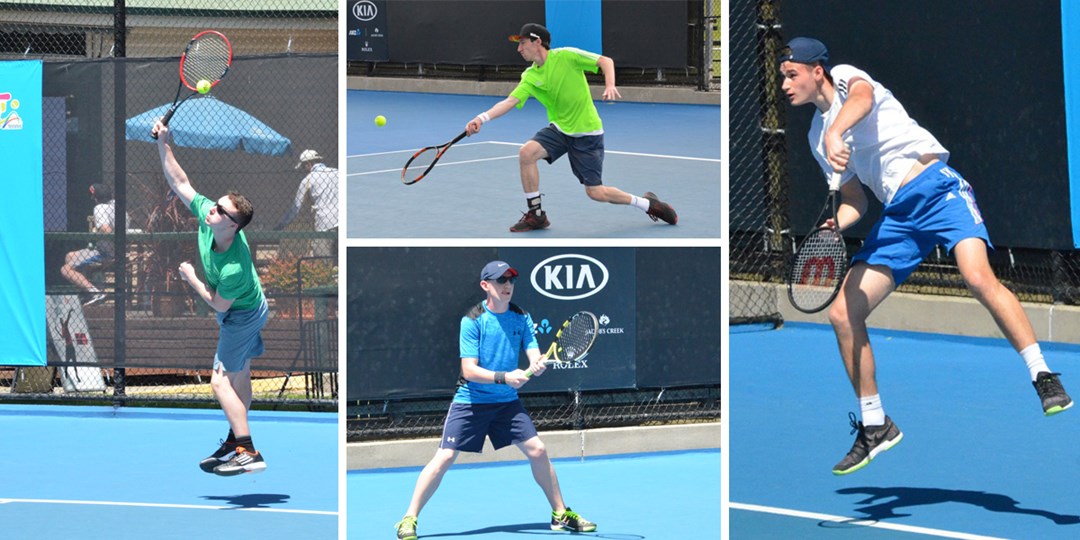 International
Brits set to take on world's best in Bolton at 2017 INAS World Tennis Championships
• 3 MINUTE READ
Great Britain's leading tennis players with a learning disability will be taking on the world's best on home soil for the first time over the next week as the North West's USN Bolton Arena hosts the 2017 INAS World Tennis Championships.
The Championships will see 28 of the world's elite para-athlete tennis players with a learning disability compete to be crowned world champions in men's and women's singles and doubles, mixed doubles, and an overall team competition.
Players from eight nations will be competing, including defending champions from Belgium and Australia. Four players have been selected to represent Great Britain, all of whom are previous gold medallists at past INAS events and will be looking to make the most of home advantage this year.
Great Britain team - INAS 2017 World Tennis Championships:
Dominic IANNOTTI (19 – Prestwick, Scotland)
Fabrice HIGGINS (21 – Chorley, Lancashire)
Peter MILLAR (24 – Birkenhead, Wirral)
Thomas MELLOR (27 – Cheltenham, Gloucestershire)
The team will be coached by Karen Ross, the Tennis Foundation's Head of Coaching and Talent and also coach to Paralympic Wheelchair Tennis gold medallist Gordon Reid, alongside Rob Cross – Talent ID Coach for the Tennis Foundation.
Great Britain player Peter Millar said: "Having the 2017 INAS World Championships in Bolton is an amazing opportunity to play on our home soil against the world's top players; it is almost too hard to put into words how exciting it is.
"I have played in four INAS tournaments, all of which have been amazing experiences, and to put on a GB kit is a dream come true. As an ambassador for UKSA and supported by the Tennis Foundation I'm always looking to promote disability sport. My sport is my passion and all I want to do is help others achieve and reach their potential."
This year's tournament is the 8th World Championships since the inaugural event in Australia in 2004. After then being hosted around the world, including in France, Czech Republic and last year's Championships in the United States, this year's event at the USN Bolton Arena marks the first ever time that Great Britain has hosted the tournament.
The tournament begins with an Opening Ceremony on Saturday 8th April, with tournament play from Sunday 9th April to finals day on Friday 14th April, with free entry to watch the action.
The event is being hosted and organised by the Tennis Foundation, Great Britain's leading tennis charity, whose vision is to make tennis a sport which is inclusive and accessible to all. It is hoped that hosting this World Championships will raise the profile and awareness of Learning Disability Tennis and also encourage more people to play tennis in the UK, whatever their disability.
Order of Play - Monday, 10 April
'Come & Try Tennis' Session
The Tennis Foundation will be hosting a free 'Come & Try Tennis' learning disability session at the USN Bolton Arena between 10:30am and 1pm on Tuesday 11 April. Alongside the chance to watch the world's best players in action, participants will have support from qualified and experienced coaches, as well as all the equipment needed made available.
The Tennis Foundation works to open up tennis to its priority audiences of disabled people, young people in education and people in lower socio-economic communities, making it possible for them to enjoy the many health and social benefits of the sport whilst maximising their personal potential.
As part of its disability work, the Tennis Foundation's performance programmes support the country's best disabled tennis players to help them achieve their potential. Selection for Great Britain's INAS World Tennis Championships team is part of a high performance elite pathway for players with a learning disability, accessed through a strong collaboration between the Tennis Foundation and the UK Sports Association (UKSA), the official Great Britain member of INAS.

#BackTheBrits!