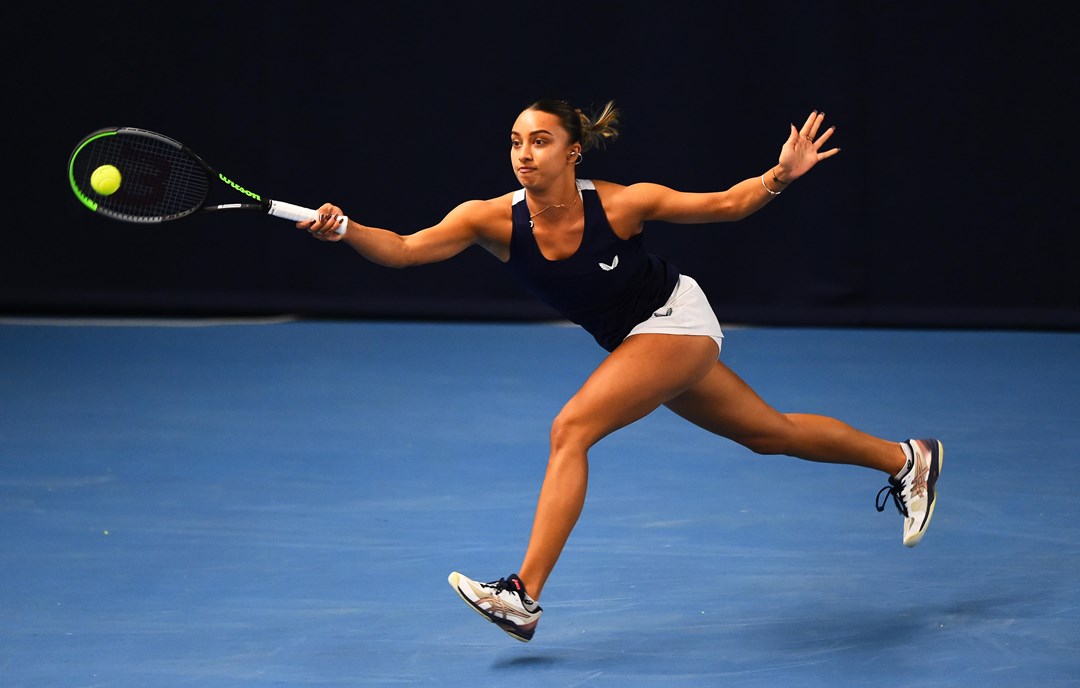 International
British champions crowned in second week of Nottingham circuit on expanded LTA performance competitions calendar
• 3 MINUTE READ
Britain's Eden Silva won her second ITF singles title with a 6-4, 6-4 win against America's Robin Montgomery in the final of the W25 event in Nottingham on Sunday.
Essex-born Silva, 26, won all five of her matches in the tournament without dropping a set and clinched the biggest title of her singles career to date with a convincing display in the final.
Silva started playing tennis at the age of six at Cranbrook Castle tennis club in central London and adds to her only other ITF singles title from a 15K event in Helsinki back in 2017.
The men's tournament in Nottingham also served up some encouraging performances from British players, with Henry Patten reaching his first career final in an M25 singles event before losing to America's Brandon Holt, the son of former World No. 1 tennis player Tracy Austin.
Colchester-born Patten finished as runner-up on Finals Week of last year's UK Pro League, with the left-hander losing 7-6, 7-5 in a tense and high-quality final in Nottingham.
This was the second successive week of ITF W25 and M25 action at the Nottingham Tennis Centre, with success also flowing in the Doubles events for British players.
Lauryn John-Baptiste, who hails from Hackney in London, lost in the Doubles final alongside her French partner Alice Robbe, as they were beaten by Gabriela Knutson and Katarina Stresnakova 7-6 (5), 6-3 in the final.
Meanwhile, the British duo of Julian Cash and Henry Patten won the men's doubles, as they beat the Indian pair Anirudh Chandrasekar and Vijay Sundar Prashanth in the final.
Tournament Director Ben Murray said: "We have had two great weeks in Nottingham and it was fantastic to see the British players performing so well and reaching the finals. The atmosphere created by the players and tournament staff was so positive and this showed with the quality of the matches we have seen in the past week.
"We created an environment where players were supporting each other in their matches on the side of the court and that is something I've not really seen before. Congratulations to Eden and Brandon on their fantastic victories and I want to wish all players the best of luck for the rest of the season"
This tournament was the latest in an expanded calendar of Pro Level International ITF World Tennis Tour events staged in Great Britain this year, with the number of events rising from seven men's events and eight women's events in 2019 to 16 for both men and women in 2022. This is in addition to the grass court season playing opportunities already in place.
The aim is to provide more opportunities for players to compete more regularly at a higher level and make progressive ranking gains at the early stages of their career. The increased calendar means that there will be over 40 weeks of either international ranking point or prize money earning opportunities in Great Britain this year.
Across these events we will be introducing progression through wild card feed ups into higher level competitions and retaining the LTA Tournament Bonus Scheme in addition to prize money earned.