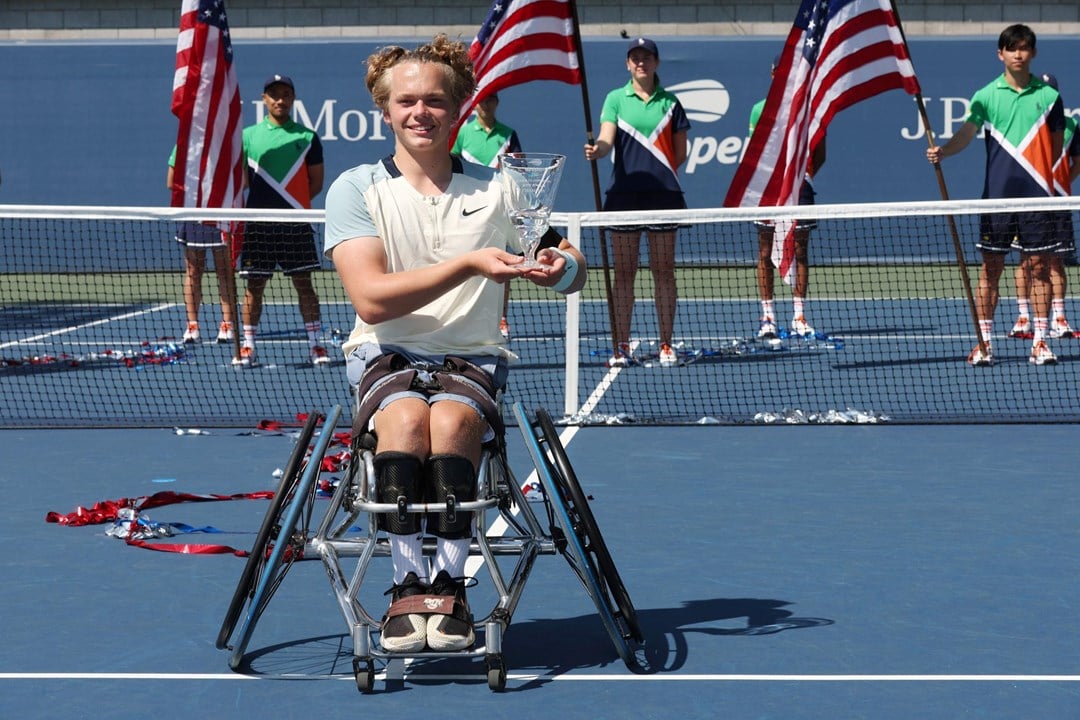 Grand Slam
Ben Bartram and Dahnon Ward win first ever US Open Junior Wheelchair Tennis Championships
• 2 MINUTE READ
Ben Bartram claimed the US Open Wheelchair boys' singles title and then partnered Dahnon Ward to secure the boys' doubles title at the first junior wheelchair tournament to take place at one of the sport's four majors.     
Seventeen-year-old Bartram beat Ward 6-2, 6-0 in an all-British junior singles final. Before they both paired up to beat Saalim Naser of Australia and Ivar van Rijt of the Netherlands 6-4, 6-3 in the boys' doubles title. Bartram said:
"It's amazing to be the first junior doubles champions. We first played doubles together when we were 12 or 13, so we've definitely come a long way. We're best friends on and off court and get on really well and hopefully that shows when we play doubles.
"In singles we both want to win, but it's a great thing to be on court in the final knowing a British player will be the winner no matter what the result after all the work people have put in with us at the LTA and everywhere else."
Dahnon Ward added: "It was a bit of a ropey first set, but sometimes you have those matches when you just have to pull through. It's one for the history books and very special for both of us.
"In the great scheme of things there's no pressure on either of us to win in the (singles) final. People develop at different rates, and it can be hard at times, but this is why we play - for these moments."
Bartram and Ward are both part of the LTA's Wheelchair Performance Pathway.
With British players in four finals on Saturday's penultimate day of play in New York, Alfie Hewett and Gordon's Reid's bid for a sixth US Open men's doubles title in a row ended in a 4-6, 7-5, [10-6] loss to Martin de la Puente of Spain and Nicolas Peifer of France. Hewett will play Japan's Shingo Kunieda in Sunday's men's singles final.
Meanwhile, in the junior girls' singles final, Ruby Bishop and her American doubles partner Lily Lautenschlager lost out 6-0, 6-0 to top seeds Jade Lanai and Maylee Phelps.