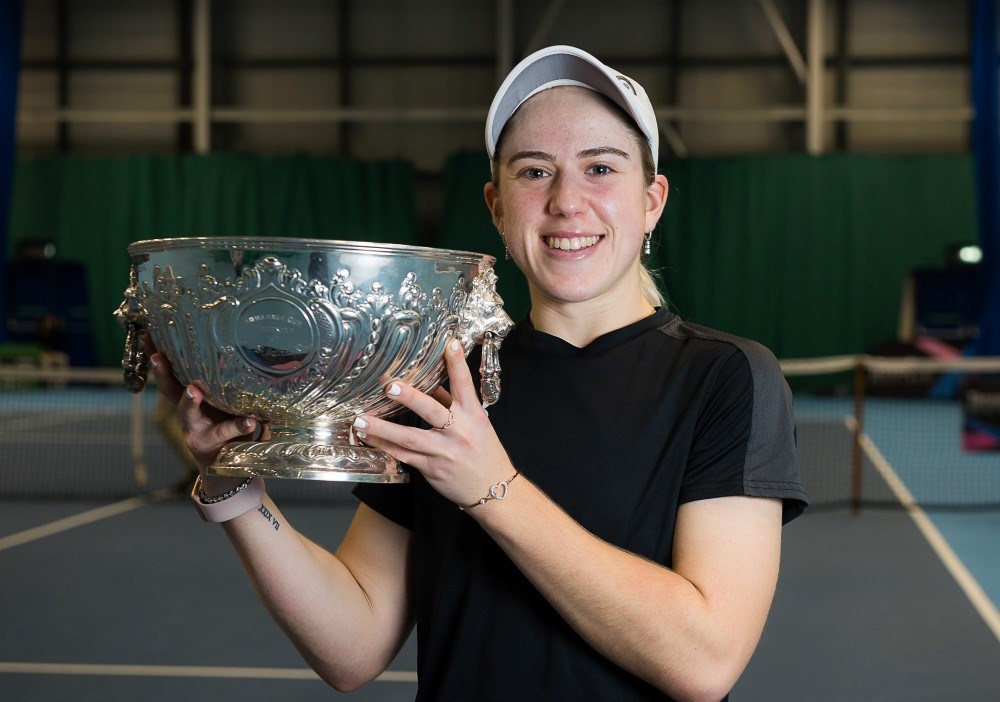 International
Back-to-back LTA Performance Calendar titles again for Brits in Glasgow
• 3 MINUTE READ
The ITF World Tennis Tour M25 and W25 events held Scostoun Leisure Centre, Glasgow, part of the LTA's new Performance Competition Calendar, concluded over the weekend with Brits flying the flag strongly in both the singles and doubles finals.
Sonay Kartal (Sussex) and Alastair Gray (London) repeated with the singles titles again, just as they had done at Edgbaston and Shrewsbury last weekend.
20 year-old Kartal won her second ITF Women's $25,000 event in as many weeks defeating Czech teenager Barbora Palicova (former junior world No.21) 76(5) 75. Since returning to the ITF World Tour, the Brit has won 26 of her last 28 matches. Kartal also defeated the No.8 seed, the No.2 seed and No.4 seed Jodie Burrage (63 64) to get to the final. Victory in Glasgow should see Sonay's ranking improve to around the 400 mark, a rise of more than 420 spots from where she was prior to winning her last two W25 titles.
Commenting afterwards, Kartal said: "I'm really pleased with the last two weeks. Next up I'm heading to Turkey in two weeks' time, getting on the clay out there and going to play two 25s. I'm taking things one tournament at a time, trying to keep myself injury free and try and finish the year as high as I possibly can. I've been on and off (injured) for about three years now with a couple of ab tears and a torn cartilage in my wrist which was the main one which really affected me. When covid hit, I was finally fitter than ever, so when things opened up I was ready to go."
On the men's side, 23 year-old Alastair Gray won his 10th singles match in a row and fifth ITF singles title in the last five months defeating fellow non-seed Henri Squire from Germany in a thrilling final: 63 67(6) 76(4). Gray earlier took out the No.3 seed from the Netherlands Gijs Brouwer in three sets in the second round to ease his path to the final, while fellow Brit Stuart Parker removed the No.2 seed Alexis Galarneau. Squire defeated local hope and top seed Aidan McHugh in the semifinal.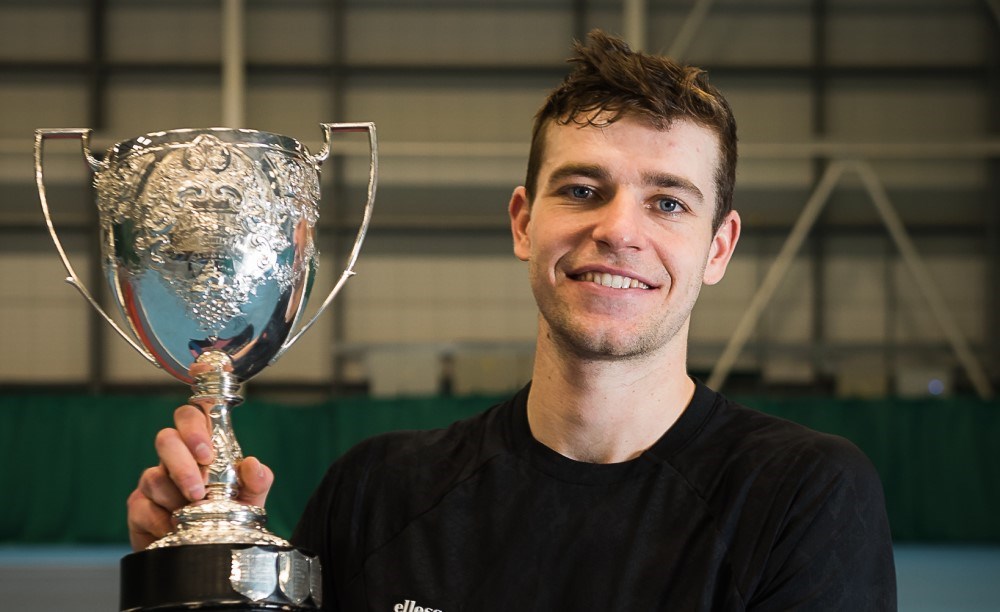 Gray said after, "Sonay and I have done great the last couple of weeks which is good for British tennis.
It's extremely difficult winning a tournament and then being able to back it up the next. It's the toughest final I've ever had but it was a very enjoyable tournament the whole week. I always love a good atmosphere and a lot of people watching it makes it a lot more enjoyable to play and especially when I was feeling it towards the end there, I was using some of their energy and my coach's (Mark Taylor from JTC) energy.
Despite falling short in the men's singles McHugh from Bearsden won the men's doubles title with fellow top seed Gijs Brouwer, defeating Brits Scott Duncan and Ewan Moore 63 75. McHugh said, "It was a really fun week for me and his is the first title I've got in Glasgow so it's nice. We very rarely get the chance to play at home or in Scotland so I absolutely loved it and hopefully we'll get better tournaments in Scotland as we go. I've got a big goal to keep pushing my ranking in the right direction and keep enjoying it, compete like I've been doing as much as I can and as hard as I can and I'll give myself a good shout to put myself in the mix against these guys."
Full results from the W25 and M25 in Glasgow can be found here.
Tournament Director Mike Cohen said, ""This weeks Scottish Championships – ITF World Tennis Tour $25,000 event has been a great success. The singles finals today didn't disappoint, with both matches tightly contested and played to a high level. It was also great to have a Scottish player (Aidan McHugh) take home the doubles title with his Dutch partner. "
The next tournament that is part of the LTA's Performance Competition Calendar will take place for men and women at back-to-back events in Nottingham, starting 11 April. Events such as the M25/W25 Glasgow are all about providing British players with the chance to develop on home soil through more meaningful playing opportunities, giving all players the widest possible number of competitive matches on the ITF World Tennis Tour.