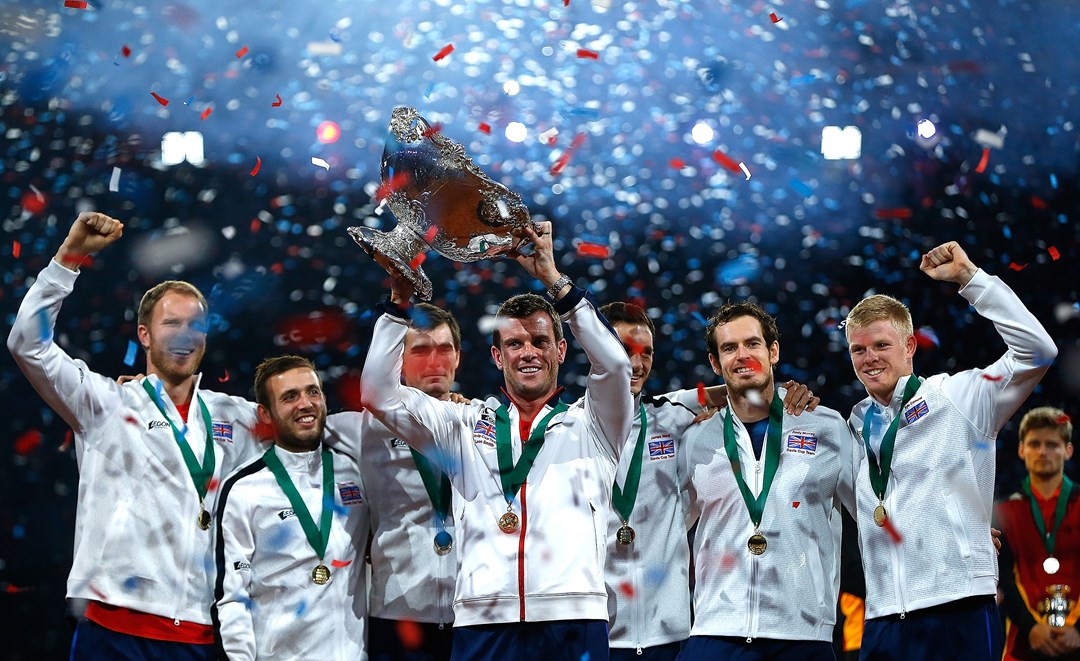 GB Teams
Aegon GB Davis Cup Team win BBC Sports Personality Team of the Year
• 2 MINUTE READ
Less than a month after memorably lifting the Davis Cup trophy the Aegon GB Davis Cup Team have got their hands on another bit of prestigious silverware after being crowned Team of the Year at the BBC Sports Personality awards.
Led by captain Leon Smith the team of Andy Murray, James Ward, Jamie Murray, Dom Inglot, Kyle Edmund and Dan Evans collected the trophy in person at the SSE Arena in Belfast.
The team stepped out onto the court for the first time in March and embarked on a historic journey which would see them topple the three other Grand Slam nations in deafeningly loud home ties.
The epic mission was completed on the clay at The Flanders Expo in Ghent in November when Belgium were overcome in the most spectacular style to hand Great Britain the title for the first time since 1936.
Team results in 2015:
Great Britain 3-2 USA
6-8 March
Emirates Arena, Glasgow
Great Britain 3-1 France
17-19 July
The Queen's Club, London
Great Britain 3-2 Australia
18-20 September
Emirates Arena, Glasgow
Belgium 1-3 Great Britain
27-29 November
The Flanders Expo, Ghent
Leon Smith's quote from Belfast:
"I've got about 60 seconds to make a fool out of myself and that is what all these guys want to happen standing behind me!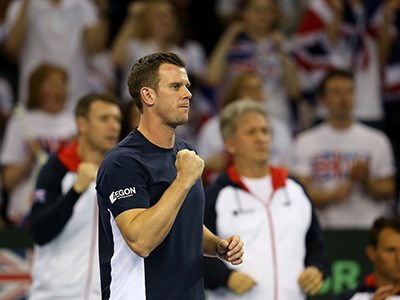 Leon Smith"It is hugely humbling to receive this award, it is obviously very prestigious. It has been 79 years since we managed to win the Davis Cup and let's hope it won't take another 79.
"A big thanks to the BBC, who have broadcast all of our matches this year and to the panel who voted for us tonight. Also a thank you to the LTA, volunteers, media and of course our wonderful fans.
"There are many many unsung heroes who have all played their part in us reaching this and for sure all of the people up on stage with our support staff are all fantastic. We also have to thank our partners a huge amount as they sacrifice a lot as well.
"I hope that what has been achieved here for tennis, which is the sport we love, is that we get a really lasting, meaningful legacy and we are going to make sure that everything we do moving forward into next year is as much about off the court as on to get as many kids into this great sport as we can. Thank you very much everybody."
Cornerstone of Davis Cup legacy announced
LTA announces plans to offer 10,000 free junior tennis courses, 10,000 free rackets at local venues for boys and girls across the country and implement a national Davis Cup Trophy tour.
Thanks to everyone who supported the team so incredibly throughout the year and we look forward to seeing you on court in 2016!