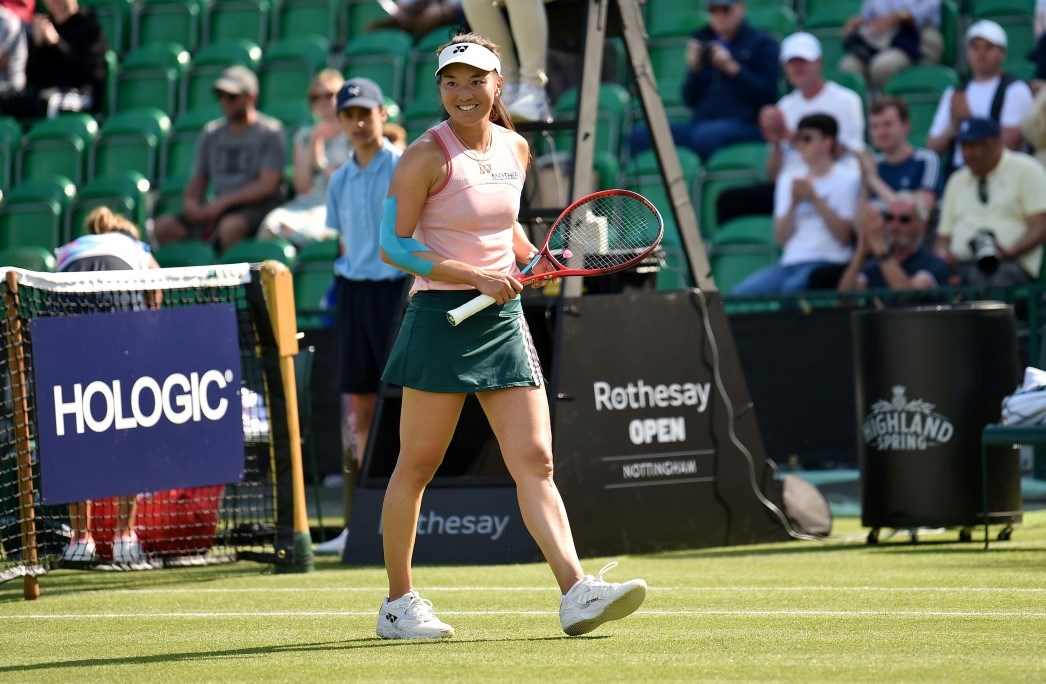 International
Britain's latest star shines in Nottingham: get to know Lily Miyazaki
• 3 MINUTE READ
The grass court season always brings with it unique opportunities for the British players to make their mark and announce themselves to the home crowds. This certainly reigns true for one of our newest British stars – Yuriko Miyazaki (or Lily as she likes to be known).
After battling her way through qualifying at the weekend – including a brilliant comeback against second seed Astra Sharma – Miyazaki sealed her first WTA Tour victory on Tuesday, beating Magdalena Frech 6-4, 1-6, 6-1.
The win also marks the 26-year-old's best career result to date and first triumph against a top 100 opponent.
"I think this is my third tour event so I'm very happy to get my first win," she said coming off Court 1 late on Tuesday afternoon.
"First time I didn't qualify and second time I lost in the first round after having match point so today I'm really happy with the win.
"I'm really enjoying my time so far during the grass court season – it's my first proper one – so I'm enjoying every match I get and whatever happens, happens.
"It was really great to have the crowd's support – it definitely helped me get my energy back in the third set. It's so great to get to play in front of them."
In March, Miyazaki was granted her request to play for Great Britain after meeting the eligibility criteria set by the ITF, having formally represented Japan. Having been based in the UK for almost all of her life, she says it was something she'd wanted to push for.
"The UK has been my home for a long time now and I've really assimilated to life here. I've trained here since I was 10-years-old and my family moved here when I was really young and I thought it was the best move for my career.
"If I'm ever fortunate enough to be picked (for the Billie Jean King Cup) then I'd love to play for Great Britain."
As with many players, Miyazaki's tennis roots come from a family love for the sport – but there was one tennis star growing up that inspired her to reach new heights.
"The first time I started playing was with my Dad and older brother – they played a lot and I think I just tagged along when I was about three-years-old," she said.
"I grew up idolising Roger Federer – he's always been my number one. I lived in Switzerland when I was younger and he won his first Wimbledon and since then he's just been my absolute favourite."
Her journey to the WTA Tour has taken her down the American collegiate route, where she honed her craft at Oklahoma University while studying Maths and Management of IT.
"College helped me to mature physically and mentally and I think last year, after COVID, I played a lot of matches which helped me prepare and get ready – I'm in a good place right now," she explained.
"I feel like I'm catching up on time – when I was 18 I wasn't ready to go on Tour. I was quite small and not as strong as the other girls so four years in college really helped me."
Now at world No.207 in the live WTA rankings, Miyazaki is targeting a strong summer grass court season, with one eye on SW19 in just a few weeks' time.
"I think level wise I have the top 100 level but all these girls are so good," said Miyazaki.
"For me it's all about consistency and being able to produce on a regular basis. It's something I'm working towards and if I can do that I hope, I can get to that level.
"It would be amazing if I can play in the main draw at Wimbledon, but I'm already in the qualifying draw so I'm happy to do it that way as well. I've actually never played there – I played juniors but that was a long time ago – but if I play at Roehampton I'll be ready."