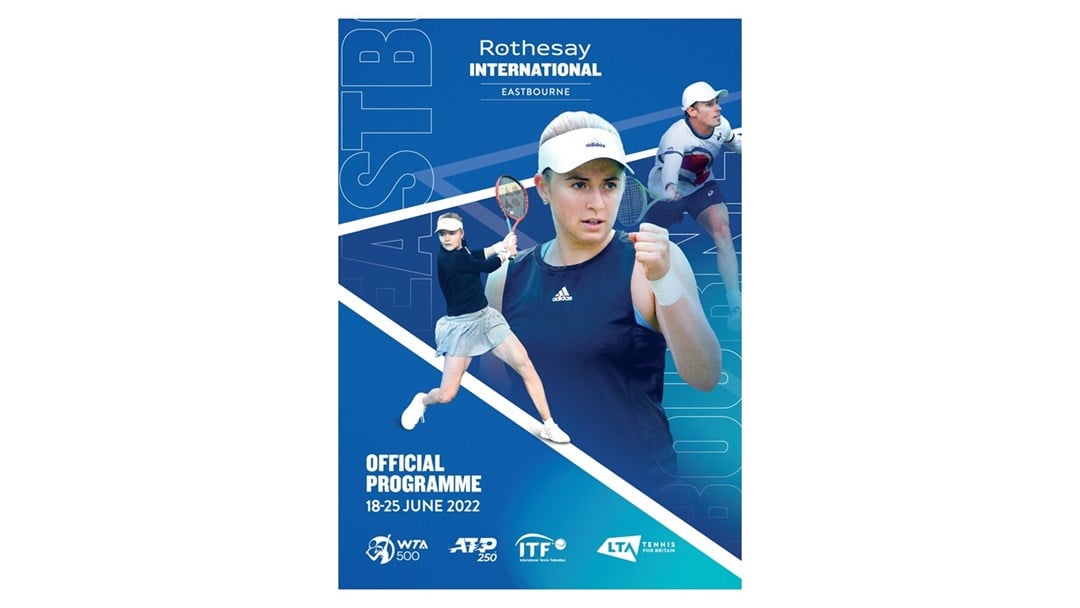 Fan
Don't miss out on the official Rothesay International Eastbourne programme
• 2 MINUTE READ
An action-packed Rothesay International Eastbourne tournament deserves an action-packed programme – and fans can now get their hands on a copy!
Supporting this famous event on the sunny south coast is the LTA's official, 116-page publication filled with everything you need to know about the tournament. The glossy programme is available on-site or via post and is crammed full of articles, photographs and vital information.
As you would expect, the headline-grabbing confirmation of Serena Williams' participation in the 2022 Eastbourne tournament is among the numerous features, as is the in-depth interview with defending women's champion, Jelena Ostapenko.
Ostapenko also forms part of the programme's 'Ones to Watch' section which highlights many of the top international talents on grass court display over the week from the women's and men's singles and doubles competitions, as well as the women's wheelchair event.
A treasured keepsake for any tennis fan, the programme looks back on an incredible year for Emma Raducanu following her sensational run to capture the US Open women's singles title, and pays tribute to the career of multiple Grand Slam semi-finalist and recently-retired former British No.1, Johanna Konta.
A breakthrough year for British doubles partners, Alicia Barnett and Olivia Nicholls, deserves the special treatment it receives in the publication, as does the rapid rise of Sutton-born former Junior Wimbledon finalist, Jack Draper, and Dorset wheelchair tennis sensation, Lucy Shuker.
The life and career of tennis legend, Martina Navratilova, is covered extensively alongside that of celebrated match official, Alison Hughes MBE – both keeping in line with an in-depth feature on women and girls who have broken barriers in the sport.
The spotlight also falls on Glasgow as the location for both Davis Cup and Billie Jean King Cup events later this year, while the important role of parks tennis, the growing popularity of Padel plus the crucial investment in the state-of-the-art National Tennis Centre in Roehampton are all covered in the programme.
In addition, LTA Youth ambassador, Paul Jubb, British youngster, Sussex's rising star Sonay Kartal, and deaf tennis champion, Esah Hayat, feature among the pages along with an Eastbourne Wall of Champions pictorial, LTA Tennis Foundation article and pieces on Colour Holders, coaching, LTA Tennis Award winners and sustainability at the Rothesay International Eastbourne.
The A4-size official Rothesay International Eastbourne Programme costs £10 plus £2.99 post and packaging to a UK address. Overseas deliveries with incur an increased P&P charge which will be calculated based on the shipping address provided.
The programme can be bought on-site from our vendors at Eastbourne's Devonshire Park or ordered directly from the LTA's official publication partners, Ignition Sports Media. It will be despatched by first class Royal Mail in environmentally-friendly paper wrap within two days of an order being placed.