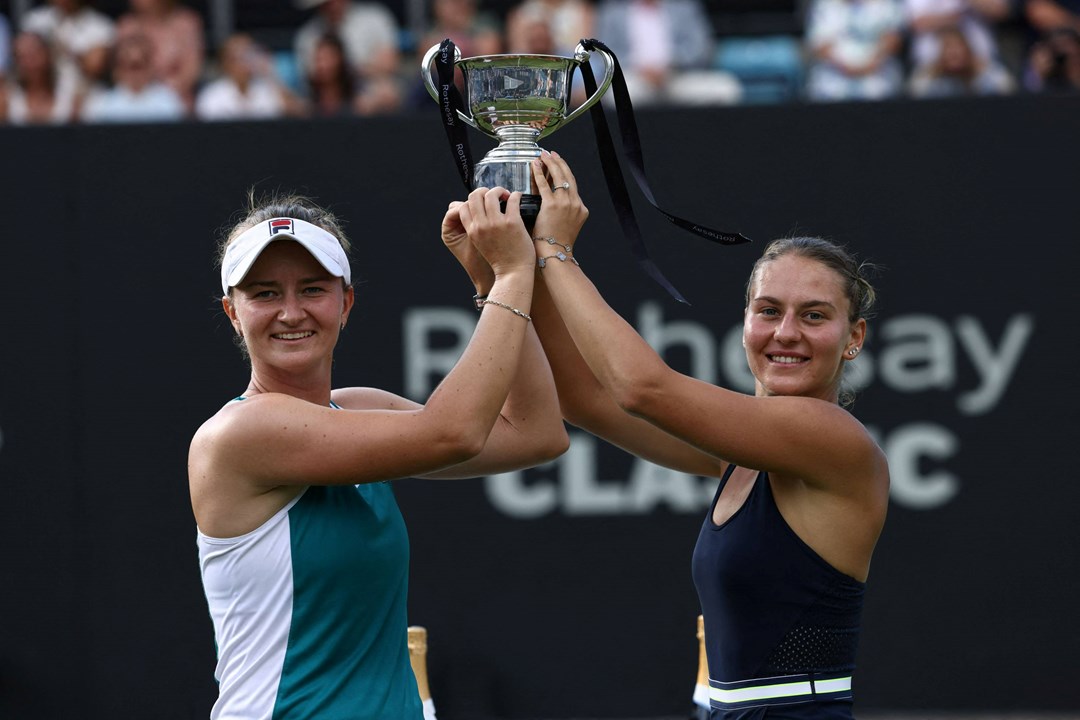 International
Rothesay Classic Birmingham 2023: Krejcikova and Kostyuk crowned champions in final doubles showdown
• 3 MINUTE READ
Former doubles world No.1 Barbora Krejcikova and the Ukraine's Marta Kostyuk won their first title together after dispatching Australian/American duo, Storm Hunter and Alycia Parks, 6-2, 7-6(9).
Krejcikova, who finished runner-up in the singles final just hours before, had yet another challenge on her hands, battling in what turned out to be a stellar final showdown to win a draw-dropping 17th doubles title.
With the help of Kostyuk, their win today marked the Czech's third grass doubles title of her career, having previously reigned supreme in two Wimbledon finals with partner, and the doubles world No.1, Katerina Siniakova.
Among her 17 titles, Krejcikova has claimed a phenomenal eight Grand Slam titles as well as Olympic gold at the Tokyo 2020 Summer Olympics.
Reflecting on her third title on British soil, Krejcikova said: "It's definitely very special and I'm very happy that I can end my last match in Birmingham with a win. It makes it a little sweeter.
"Playing singles and doubles definitely helps my game and I think it's changing a bit – more singles players are starting to play doubles. I think it's really good for the sport."
For Kostyuk, however, her win at the Edgbaston Priory Club marks her first-ever doubles title, but a second overall after winning the ATX Open singles event in March.
"This has been a big confidence boost before Wimbledon and I'm very thankful to Barbora for playing with me. I'm very happy with the title.
"I knew [Barbora] wouldn't be as fresh after the singles so I wanted to do my bit to make sure we only had to play two sets."
The second seeds put in a gunning performance in the opening set, winning a breath-taking 93% of points on first serve to deliver a cushioning double break to claim the advantage.
However, the third seeds weren't to be written off just yet, pushing Krejcikova and Kostyuk to a tiebreak before saving an impressive five championship points to keep themselves in contention.
Although Hunter and Parks were awarded set point after two successive mini-breaks, they were unable to capitalise as the Czech/Ukranian force forged another double mini-break to coast to victory.