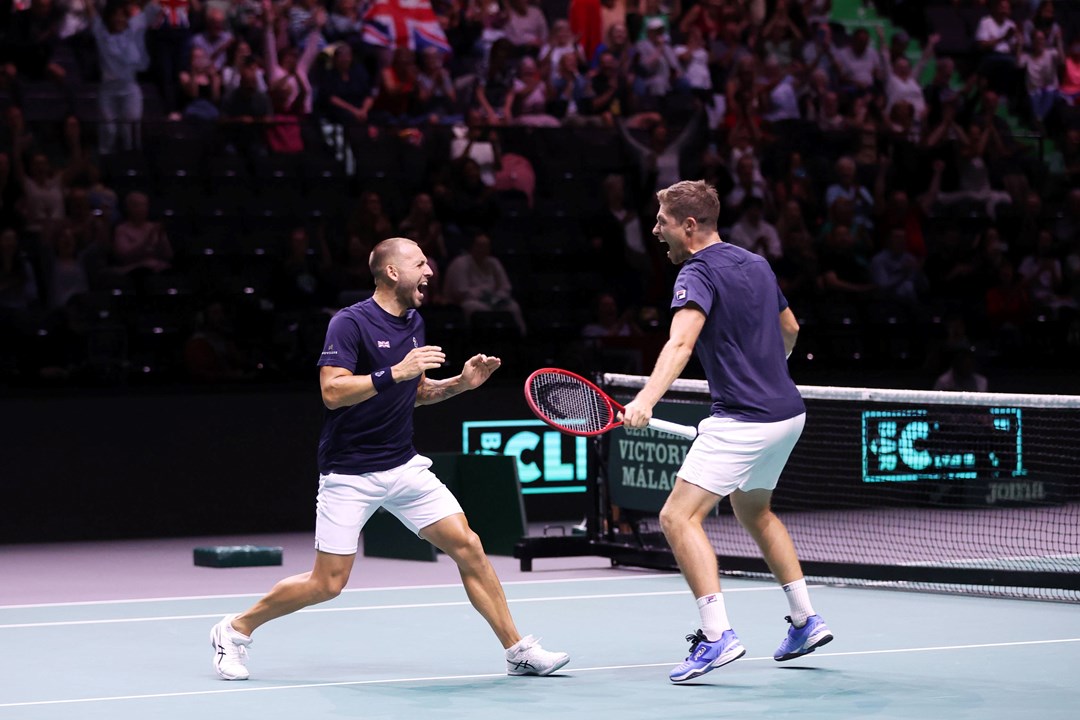 GB Teams
Great Britain make it two wins from two against Switzerland
• 2 MINUTE READ
Get the latest match results and updates from Great Britain vs Switzerland in the Davis Cup Finals Group Stages at Manchester's AO Arena.
Result: Great Britain 2-1 Switzerland
Match summary
Great Britain are now in the driving seat in Group B as the only team with two wins after defeating Switzerland 2-1.
On an emotional day for Andy Murray, the British star claimed his 42nd Davis Cup win over Leandro Riedi, before Dan Evans and Neal Skupski were eventually called upon to clinch the GB win in straight sets.
Captain Leon Smith has now used every member of his squad and will have every option ready to go for Sunday's sell-out tie against France.
"We're using the whole squad and that's really important - everyone has played their part," said Smith.
"We knew it would be tough today. Andy did a fantastic job in our first match, Stan played incredible against Cam, and I hoped for a quick doubles - that's what we got."
Highlights
Match three: Evans & Skupski win in doubles decider
Dan Evans and Neal Skupski secured a hard-fought win for Great Britain over Switzerland having defeated Stan Wawrinka and Dominic Stricker 6-3, 6-3 in the tie decider.
The Brits are now in pole position to qualify from Group B, leading the standings with just one tie remaining.
The British team just found the extra level where they needed it in both sets. Evans and Skupski have plenty of experience playing together, having made two ATP Masters 1000 finals as a duo, which proved crucial in breaking 21-year-old Stricker on his first service game.
Coming off a difficult singles match, Wawrinka had difficulty on his serve with both Evans and Skupski able to pick off return winners with ease. They broke the Swiss star at the backend of both sets to wrap up a strong win for GB.
Match two: Wawrinka edges Norrie in close contest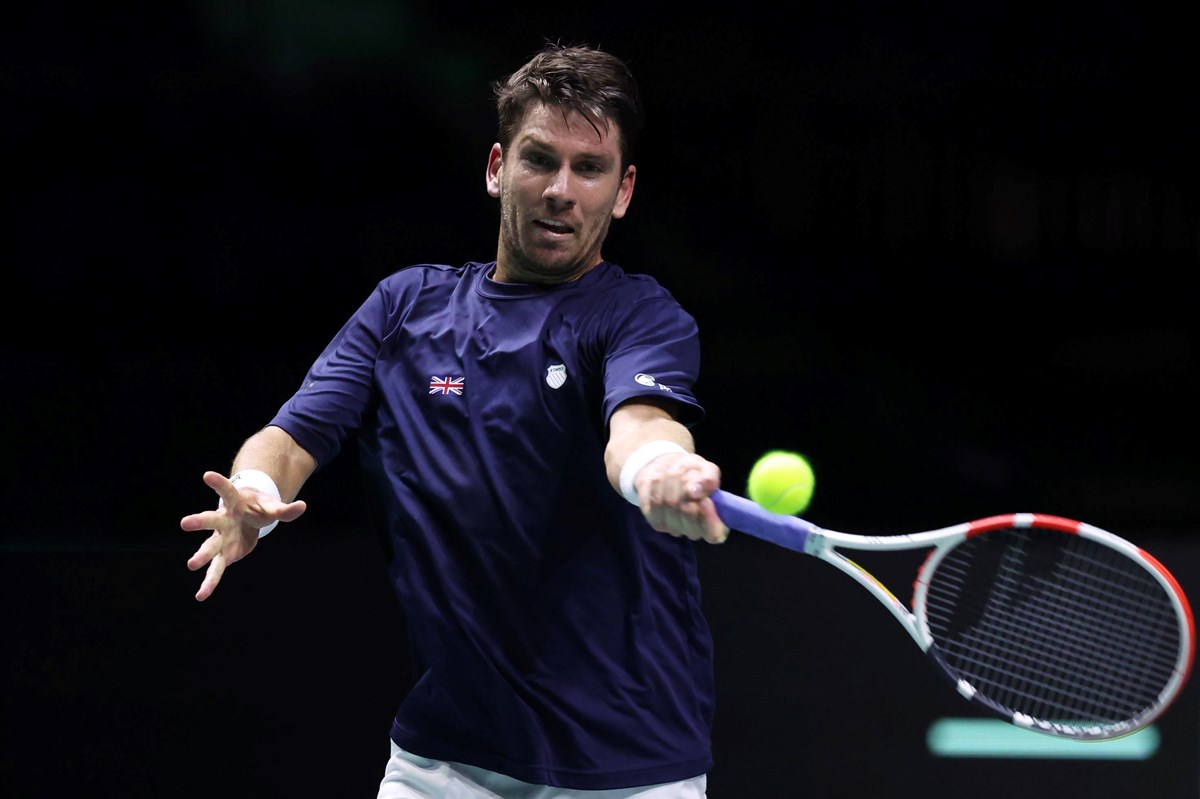 Stan Wawrinka sent the tie to a deciding doubles match after beating Britain's Cam Norrie 7-5, 6-4.
A high-quality clash between the world No.17 and the three-time Grand Slam gave everything the fans would have wanted after the epic battle that came before.
In a tight opening set, missed opportunities would eventually come back to bite Norrie. The British No.1 did well to neutralise Wawrinka's power from the baseline and had chances to break in the first game and also at 4-4, but was unable to make it count.
Wawrinka – who won their only previous match at Queen's in 2018 – just had that extra bit of quality in the closing stages of the first set. With his trademark single-handed backhand on full display, the former world No.3 rifled a winner down the line to break to love and win the opening set.
Having had a disappointing loss to Ugo Humbert is his opening rubber against France, Wawrinka looked a completely different player on the AO Arena court. From 4-2 down, the 38-year-old put on a vintage display to win four consecutive games to keep Switzerland's qualification hopes alive.
Match one: Murray defeats Riedi in three hour epic
Andy Murray got the Brits started with a trademark 6-7(7), 6-4, 6-4 comeback win over Leandro Riedi in three hours and 10 minutes.
"Incredible to get through that one," Murray said. "I just kept fighing, tried to keep focus and managed to turn it around."
The victory held extra significance for the three-time major champion as he later explained in an emotional post-match interview.
"Today is actually a tough day for me. It's my Gran's funeral today. I'm sorry to my family that I couldn't be there, but that one's for you Gran."
Murray's 42nd career Davis Cup win gives him sole ownership of 3rd place on the list for most Davis Cup match-wins by a British player and just one off Mike Sangster in second.
The Brit raced to a 3-0 and then 5-2 lead, but the Swiss star found a way to claw his way back into contention, with both players lacking consistency. Unforced errors proved costly on both sides – reaching 50 between them in the set – as they battled their way to a tie-break.
In the decisive moments of the tie-break, Reidi came in clutch. He saved two set points before hitting a brace of unreturnable serves to take the lead in just under an hour and a half.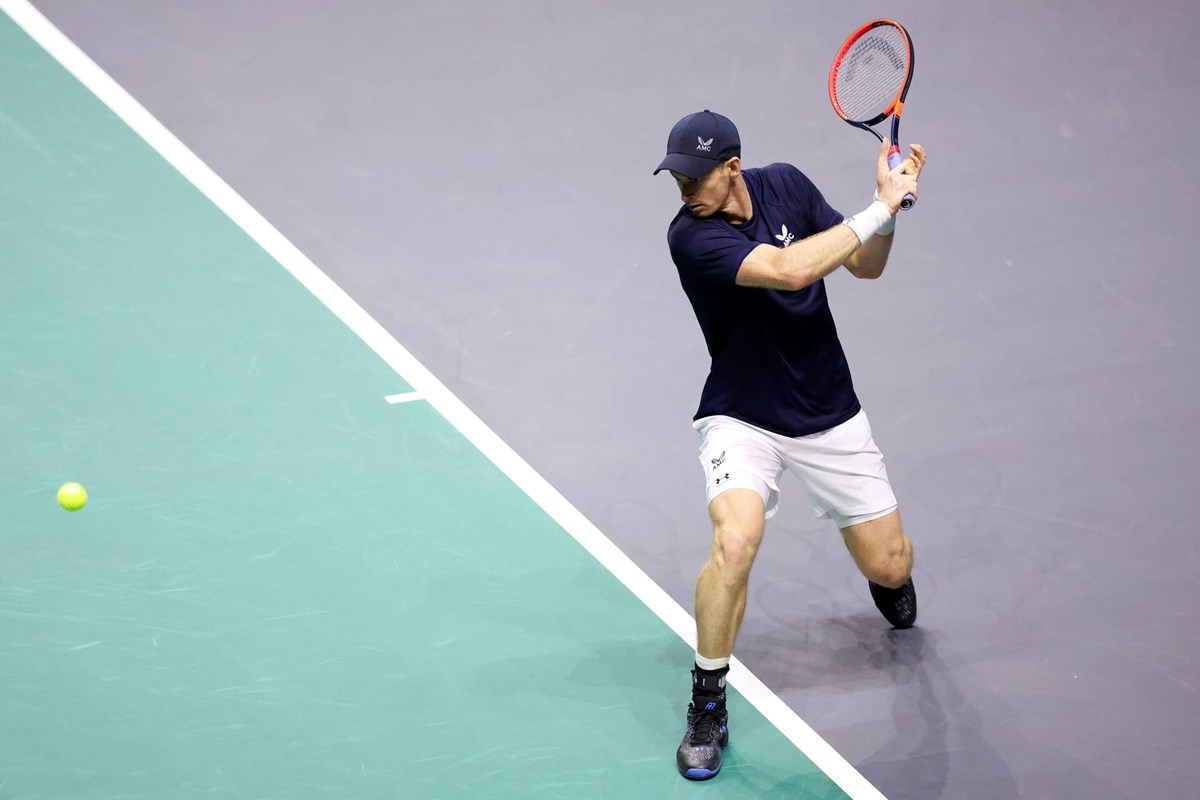 Despite his frustration, Murray kept plugging away at the Swiss star, who was clearly riding the high from the opening set – showing flashes of brilliance from the baseline, which contributed to his 52 total winners throughout the tie.
However, the moment Riedi let his level drop at 3-3, Murray was quick to capitalise and was eventually gifted a break off a double fault. Having let one set point slip, he wasn't going to do so again – finding a killer kick-serve out wide to set the crowd into frenzy.
Riedi's woes on serve continued in the deciding set – and Murray broke twice on the Swiss star's first three service games of the set. While Murray had difficulties serving from in front during the previous sets, he made no mistakes in the third. In fact, as the Brit lined up to serve on his first and only match point, he launched his third ace of the match to seal a significant victory for the Brits.