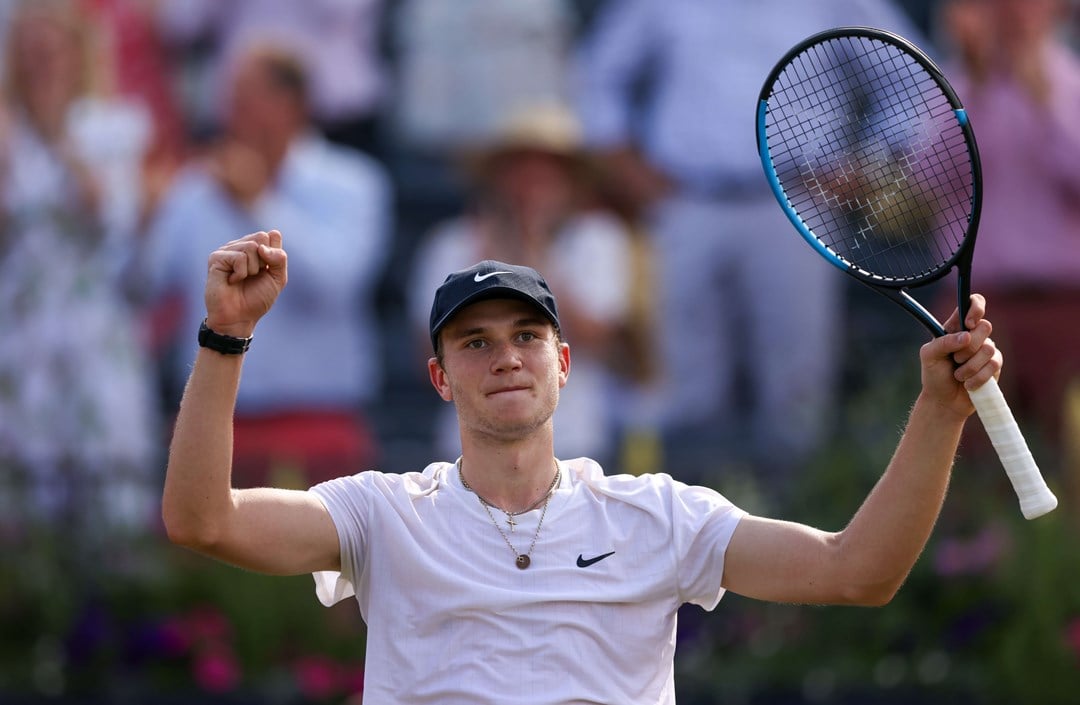 International
cinch Championships 2021: Norrie to face Draper in all-British quarter-final clash
• 3 MINUTE READ
Cam Norrie and Jack Draper both wrapped up straight sets victories in the second round of the cinch Championships to set up an all-British quarter-finals clash at The Queen's Club.
Draper, 19, won the second ever ATP tour match of his career, defeating Kazakhstan's Alexander Bublik 7-6 (5), 7-6 (0) in an hour and five minutes.
After upsetting World No.27 Jannik Sinner in the first match of the tournament, Draper once again dazzled with a brilliant display on Centre Court.
Draper looked calm and composed from the start of the match and never look phased in a tough opening set, which saw Bublik hit 14 aces.
Despite Bublik sitting over 250 spots above him in the rankings, the Brit brought his best tennis and came out on top in the biggest moments. A double mini-break in the tie-break wrapped up the opener for the Brit.
In the second Draper had an opportunity to serve it out at 5-3, but Bublik came firing back with a big response to eventually level the scores.
The World No.309 showed mental strength beyond his years to keep his game together and was firing on all cylinders to take the second tie-break to love – his fourth tie-break win of the tournament already.
"I thought I blew it towards the end a little bit but I'm glad I stuck with it and thank you (to the crowd) for your support as it helped me get over the line today" said Draper.
"It's amazing to play in front of all you guys and thanks again for your support."
In the quarter-finals Draper will face Norrie, who he defeated in straight sets in the December edition of the Battle of the Brits.
"I'm just glad we're going to have one Brit in the semis," he said. "Cam's a great player and a great person as well so I'll be glad to share the court with him in the quarters."

British No.2 Norrie showed his quality in an impressive 7-5, 6-2 victory over fifth seed, and Australian Open semi-finalist, Aslan Karatsev in an hour and 28 minutes.
Norrie furthered his reputation as one of the in-form players on tour in 2021, claiming his 27th win of the season and his 14th against a player with a higher ranking.
Karatsev is one of the highest risers in the ATP rankings this year, jumping 88 places up to No.24 in the world, but struggled to find his rhythm against the British star.
Norrie refused to give Karatsev an inch throughout the match – neutralising the Russian's offensive weapons both on serve and then again on his groundstrokes from the baseline. He broke the 27-year-old four times in the match off just five opportunities in a clinical display on the return.
Unforced errors proved a decisive factor in the match – Norrie limiting his to just seven, compared to 18 from Karatsev, as well as six double faults, including one on a break point.
Winning only his second ever match at The Queen's Club, Norrie said: "It was a big step up, especially on returns where I felt very comfortable. It wasn't easy, Aslan came at me quickly but I managed to stay with him – it's definitely a huge win for me and a big step up from my first round on Monday.
"At that 5-1 game he was serving and volleying out of the blue so it was tricky, but I thought I stayed focused and held my serve in the last game, which was really nice to get through.
"Jack had the biggest win of his career on Monday and I wish him all the best today. Regardless I think it's going to be a tough match and I think it's going to be a really enjoyable one."