CAREER HIGH
22/05/2023 50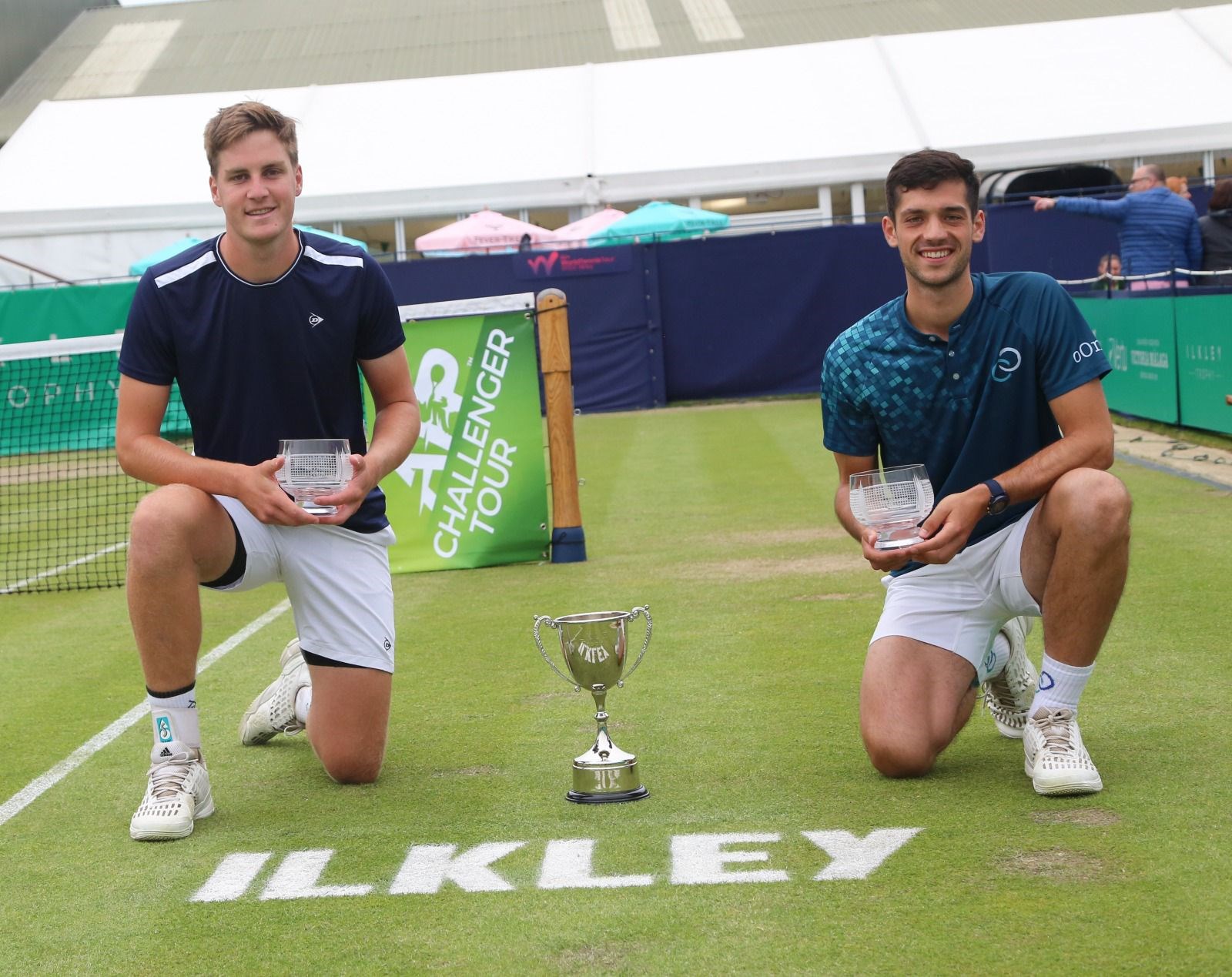 FAVOURITE
SURFACE: Outdoor hard
SHOT: Forehand
AGE27
HEIGHT198 cm
PLAYSLeft-handed
BACKHANDTwo-handed
LTA SUPPORT NTC Pro Access
TURNED PRO2020
FAVOURITE
SURFACE:Outdoor hard
SHOT:Forehand
About
Quick-fire facts
Place of birth: Colchester
Lives: Manningtree
Trains: National Tennis Centre
Family: Parents Lucy and Matthew, younger brothers Arthur and Louis, younger
sister Livvy
Nickname: HP
Hobbies / interests: Padel, Golf, Chess
Tennis idol: Bob Bryan
Coach: Calvin Betton
Doubles partner: Julian Cash
Favourite tournament: Wimbledon
Best opponent faced: Gonzalez/Molteni at Wimbledon
Biggest title of your career: Surbiton CH125k
Friends on tour: Julian Cash, Charlie Broom, Jonny Binding and Mark Whitehouse
Tennis beginnings
He started playing tennis at the age of six in Ipswich.
As a junior, Patten represented his county on several occasions but played a number of different sports, so it wasn't until he was a bit older until he decided to pursue tennis as his passion.
He attended the UNC Asheville where tennis became his priority and the Brit became the No.1 ranked NCAA doubles player and No.32 in singles. Patten was named an All-American in his senior year and also received the Dana Zimmerman Award for excellence in Economics.
During his Masters degree at Durham University, he was thrown into the professional scene, finding himself in a very strong team full of ex-pros and a few players heading out on the Tour. It was here that he decided he wanted to take the leap and turn pro.
Off-court
When he's not playing tennis, Patten enjoys spending time with his family and girlfriend, Ellie.
He also loves playing padel and golf, and likes to attend the Manningtree Chess Club when he's back home.
On Tour he likes playing a lot of chess and exploring new parts of the world with his doubles partner Julian Cash.
If he wasn't a tennis player, Patten would like to work a job related to his degree in Economics.
Tennis Career
November
Moving on to the Bergamo Challenger, Patten joined forces with Francisco Cabral where enjoyed a strong run to the final. However, the British, Portugese pair just missed out on the title to all-American duo Brandon Nakashima and Evan King, 6-4, 7-6(1).
August
On their US Open debut, Patten and Cash made it through to the third round, where they eventually lost to sixth seeds Rohan Bopanna and Matthew Ebden 6-4, 6-7(5), 7-6 [10-6].
Patten and Cash reunited in August for the Golden Gate Open Challenger where the British duo finished runners-up to Diego Hidalgo & Cristian Rodriguez after losing out 6-7(1), 6-4, 10-8 in the final.
June
Patten and Cash then headed to the Lexus Surbiton Trophy, a year on from when they picked up their first of 10 ATP Challenger titles in 2022.
The all-British duo enjoyed a strong run to the semi-final before being forced to give a walkover to fellow British pair Liam Broady and Jonny O'Mara
May
Patten and Cash enjoyed a run to the semi-final of the Sardegna Open, but just missed out on a spot in the final to Argentinian duo Maximo Gonzalez and Andres Molteni, 6-3, 6-3
April
Patten and Cash finished runners-up at the U.S Men's Clay Court Championships in Houston in what was their first final of the year. After a nail-biting victory over Robert Galloway and Miguel Angel Reyes-Varela 6-7(6), 7-6(4), 10-5 in the semi-finals, the Brits just fell short of the title, despite winning the first set against Max Purcell and Jordan Thompson, losing out 4-6, 6-4, 10-5.
Carrying on their form from the previous week, the British doubles duo added an 11th ATP Challenger title to their collection at the Sarasota Challenger. The top seeds cruised to the title without losing a set - defeating Argentinian duo Guido Andreozzi and Guillermo Duran 7-6(4), 6-4 in the final to clinch the trophy.
March
Patten and Cash enjoyed a run to the semi-final of the Phoenix Challenger, where they knocked out reigning US Open champions Joe Salisbury and Rajeev Ram in the quarter-final. The all-British duo faced American pairing Jackson Withrow and Nathaniel Lammons in the semis, where they bowed out in a 6-7, 6-4, 10-4 defeat.
February
Patten and Cash went on to reach the quarter-final of the ATP 250 Delray Beach event. After a tough battle against Robert Galloway and John-Patrick Smith, the Brits marginally missed out on a place in the semi-final in a 6-2, 6-7(4), (16-14) defeat.
January
Patten and Cash made it to the semi-final of the Maharashtra Open before losing out to the home favourites.
The pair won on their Australian Open debut to reach the second round, where they eventually bowed out to Matwe Middelkoop and Robin Haase 6-4, 7(8)-6.
December
Patten and Cash picked up their tenth ATP Challenger doubles title in Maia at the beginning of December.
The British duo breezed through to the semi-finals where they clinched a 7-5, 4-6, (10-4) win over Lukasz Kubot and Szymon Walkow before defeating Portugal's Nuno Borges and Francisco Cabral in the finals 6-3, 3-6, (10-8).
Patten now ends his year 702 places higher than he started the season at world No. 69.
November
Another week and another title as the Brits reached seven Challengers on the season in Charlottesville, where they crusied to a 6-2, 6-4 final win over doubles specialists Alex Lawson and Artem Sitak.
Patten and Cash then went on to compete in Drummondville, where they picked up yet another trophy, after defeating compatriots Giles Hussey and Arthur Fery 6-3, 6-3 in the final. This win saw the British duo clinch their eighth Challenger title of the season.
The British duo broke the Challenger record for most doubles titles one by a team in a single season with a nineth trophy at the Andria Challenger.
October
Patten and Cash equalled the all-time record for ATP Challenger titles by a British team – joining Jonathan Marray and Jamie Delgado – after lifting the title at the Fairfield Challenger.
Only a week later, they broke the record with another trophy at the Las Vegas Challenger - battling past Constantin Frantzen and Reese Stadler 6-4, 7-6(1) in the final.
September
Staying State-side, the British team clinch a fourth ATP Challenger trophy in Columbus. The top seeds didn't drop a set en route to the title, defeating fellow Brit Broom and Germany's Constantin Frantzen 6-2, 7-5 in the final.
August
In yet another first, Patten and Cash won their first hard court Challenger event in Granby – their third on the season – finishing with a dominant 6-3, 6-2 win against Jonathan Eysseric and Artem Sitak.
July
The pair made their Wimbledon doubles debut in a 7-6)5), 6-4, 6-4 loss to Santiago Gonzalez and Andres Molteni.
The following week they secured yet another ITF crown, this time at the M25 Roehampton. Patten also finished runner-up in the singles, narrowly missing out to Britain's Toby Samuel 6-4, 6-7(8), 6-4.
June
Playing in their first ATP Challenger tournament, Patten and Cash stormed to victory at the Surbiton Trophy. The pair won the biggest title of their careers with a comeback win against Aleksandr Nedovyesov and Aisam Qureshi 4-6, 6-3, 11-9.
The duo almost made it two from two at the Rothesay Open Nottingham, but narrowly lost out in a final classic to Jonny O'Mara and Ken Skupski 6-3, 2-6, 16-14.
It was back to winning ways at the Ilkley Trophy as Patten and Cash wrapped up their second Challenger and grass court title with a straight sets win over Ramkumar Ramanathan and John-Patrick Smith.
April & May
April saw Patten team up with fellow Brit Julian Cash for the first time, with the duo hitting instant success with three back-to-back doubles trophies at the M25 Nottingham series. Patten and Cash went on a 12-match winning streak to the loss of just one set in the final of their last of the three titles – defeating Omar Jasika and Eden Leshem 6-3, 5-7, 10-2 to seal the hat-trick.
Patten also reached the final of the singles at one of the events but finished runner-up to USA's Brandon Holt, losing 7-6(2), 7-5.
February
Patten won his first title of the season alongside Australia's Rinky Hijikata at the M25 Santo Domingo. The pair won three match tie-breaks in the tournament, finishing with a 2-6, 7-6(4), 10-3 against Yu Hsiou Hsu and Tung-Lin-Wu.
Staying in Dominica – Patten teamed up with Mark Whitehouse a week later to win back-to-back doubles titles.
Winning the title on ATP Challenger debut in Surbiton
Playing at Wimbledon
Winning their first Challenger tournament on hard in Granby
Winning NCAA Fall nationals and being ranked No.1 in the nation in college
Winning three ITF events back-to-back in Nottingham in 2022
Becoming the joint most successful British team on the Challenger Tour in a singles season - winning five titles
Winning the Andria Challenger - breaking the ATP Challenger record for doubles titles in a single season
2022
Andria Challenger (w/ Julian Cash)
Drummondville Challenger (w/ Julian Cash)
Charlottesville Challenger (w/ Julian Cash)
Las Vegas Challenger (w/ Julian Cash)
Fairfield Challenger 80 (w/ Julian Cash)
Columbus 2 Challenger 80 (w/ Julian Cash)
Granby Challenger 80 (w/ Julian Cash)
M25 Roehampton (w/ Julian Cash)
Ilkley Trophy (w/ Julian Cash)
Surbiton Trophy (w/ Julian Cash)
M25 Nottingham (w/ Julian Cash)
M25 Nottingham (w/ Julian Cash)
M25 Nottingham (w/ Julian Cash)
M25 Santo Domingo (w/ Mark Whitehouse)
M25 Santo Domingo (w/ Rinky Hijikata)
2021
M15 Fayetteville
M15 Heraklion (w/ Charles Broom)
M15 Ithaca, NY (w/ Charles Broom)
*ATP Challenger trophies included in ITF titles