Murray Trophy
Tennis Scotland in partnership with the Glasgow Life, Glasgow City Council and the LTA delivered the Murray Trophy, an ATP Challenger event, at Scotstoun Sports Campus in Glasgow. The return of the Challenger event to Glasgow continued to add to its reputation as a host of major international sporting events. Nearly two-thirds of Great Britain's home Davis Cup ties over the last decade have been staged there.
Jamie Murray played a key role in promoting and hosting the event, as well as finishing runner-up with partner John-Patrick Smith commenting: "Some of the best memories of my career have been playing Davis Cup ties at home.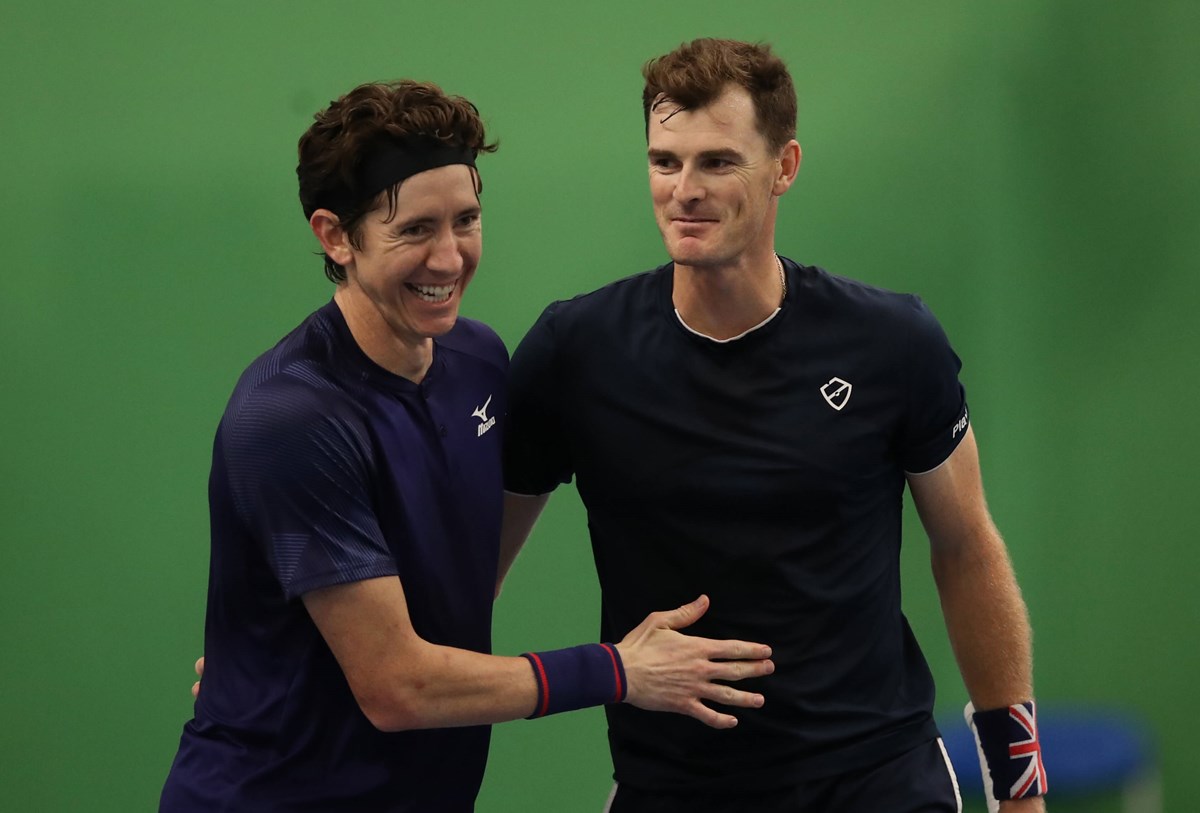 "It's disappointing to lose. We played a good first set then lost our way a little bit in the second set. We managed to fight back to 8-8 in the tie-break then we just lost the last couple of points. It was a great week for the event. A lot of people seemed to come out and enjoy being part of it. Thanks to everyone that came out to support and to all those that helped run a successful inaugural #Murray Trophy."
Prior to the start of the tournament, Jamie took some time out to take on the GB National Tennis Academy players.
After the match Jamie generously spent time on a Q&A session as well as having photographs and selfies! In addition to that incredible experience, just over a week later on finals day, between the singles and doubles finals the GB NTA players performed an on court demonstration in front of a partisan crowd!
Juan Carlos Ferrero Academy
Players at the GB National Tennis Academy enjoyed one week training at the JC Ferrero Equelite Sport Academy in Spain. The players met and spent time on court with former world number 1 Juan Carlos Ferrero. The players were also able to benefit from training and sparring against full time academy players in Spain, bringing variety and a different set of challenges. An important part of the trip was to train outdoors on the clay.
Jose Higueras Delivered Tennis Masterclass in Scotland
World-renowned tennis coach Jose Higueras worked with the GB National Tennis Academy students for a week and then spoke at the annual Tennis Scotland Coaches' Conference.
The highly-respected tennis coach and former player, José Higueras, lent his coaching expertise to the next generation of British tennis stars when he visited Scotland.
José, former coach to tennis superstar Roger Federer, spent a week working the players at the GB National Tennis Academy based at the University of Stirling before sharing his coaching philosophy at the annual Tennis Scotland Coaches' Conference being held at Gleneagles.
José won 16 ATP singles titles as a player and reached back-to-back semi-finals at Roland Garros in 1982 and 1983, the year in which he reached No. 6 in the world rankings. He was also a regular on the Spanish Davis Cup team, playing for eight years.
He has since gone on to coach some of the world's best tennis players, including Roger Federer, Pete Sampras and Michael Chang, and was recruited as the United States Tennis Association's director of coaching 2008 where he now acts as a consultant.
José Higueras said: "I'm delighted to come to Scotland for the first time to help the GB National Tennis Academy in Stirling as well as participating in the Tennis Scotland Coaches' Conference.
"I have always been in love with Scotland and its beautiful landscapes and I have always enjoyed the British tennis culture and tradition when visiting Wimbledon, both as a player and as a coach. I am aware of the very positive momentum and growth that tennis in Scotland is experiencing now and I thoroughly enjoyed my trip to Scotland."
"I'm a massive believer that sharing knowledge and experience between cultures can only be positive and beneficial for tennis."
Players at the GB National Tennis Academy as well as benefitting from a week-long training camp with Jose Higueras also gained some valuable work experience in supporting the running of the National Coaches Conference, in addition to participating in some on court demonstrations.