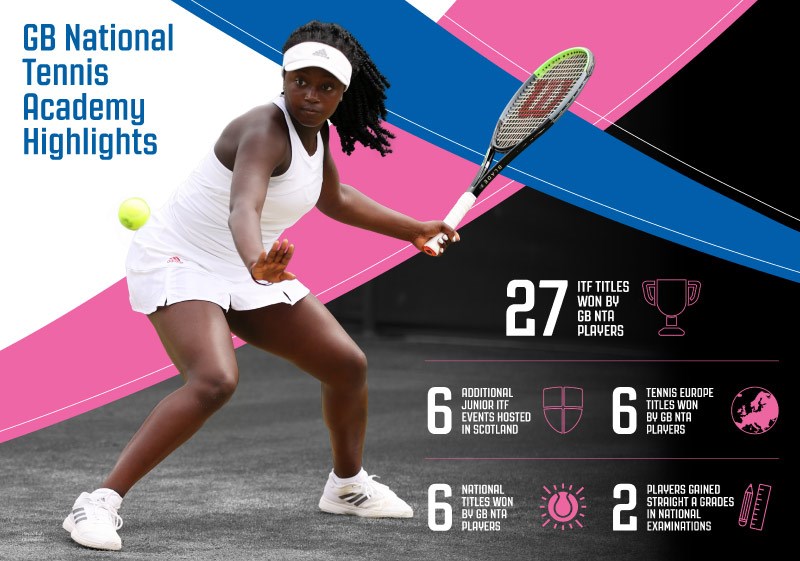 A summary of GB NTA Highlights include:
Ella McDonald broke into the ITF Junior top 100 with victory at the ITF J2 in Santo Domingo, Dominican Republic, beating world number 14 Johanne Christine Svendsen 6-4, 1-6, 7-6 (4) in the final
Hephzibah Oluwadare became the second youngest Brit ever to win an ITF Junior Title after Emma Raducanu
Hannah Read became the first British Girl for 8 years to reach the semi-final of Les Petits As (Tarbes) since Maia Lumsden in 2012
Matthew Rankin did the double at the ITF in Wrexham winning the boys singles, before partnering Sam Reeve to win the doubles.
Millie Skelton won the first ITF event in Stirling, before Matthew Rankin and Sam Reeve won the boys doubles and Hannah Read won the Girls doubles with Issey Purser.
Ella McDonald won back-to-back ITF J3 titles in Loughborough and Glasgow
4 players selected to represent GB Winter Cup Team – girls finished third
27 Junior ITF Titles won by GB NTA players
Hephzibah Oluwadare became the first GB NTA Junior Grand Slam player at the age 13
6 players with wins at professional tour events
2 players were ranked in Top 6 in Tennis Europe 14U Rankings
2 GB NTA Players gained straight A grades in National Examinations.
First GB NTA graduate to go to University of Memphis on a combined Tennis and Academic Scholarship.