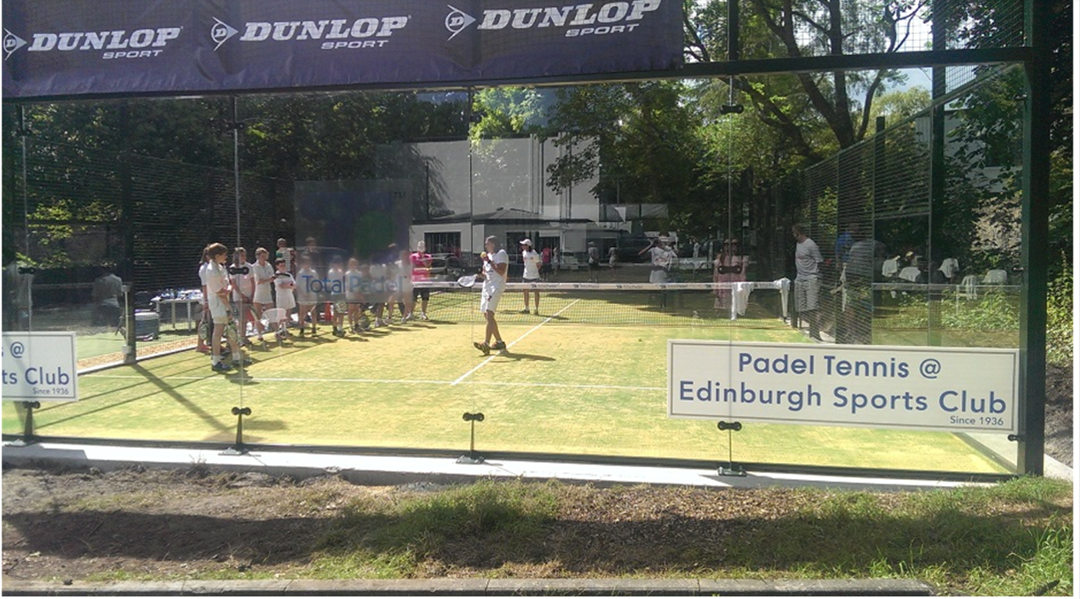 Tennis Scotland outlines padel tennis opportunities at first-ever conference
• 4 MINUTE READ
Tennis Scotland held our first ever Padel Tennis Facility Development Conference to set out the vast benefits of investing in the fast-growing racket sport, writes RJ Mitchell.
Representatives from tennis clubs and local authorities were invited to Edinburgh Sports Club (ESC), where they heard about exciting opportunities to develop padel tennis facilities at their venues.
As the governing body for padel tennis in Scotland, Tennis Scotland has been supporting the construction of new courts across the country, with plans in place for many new facilities in the months and years ahead.
Guests heard from speakers including court manufacturer Padel Tech, Edinburgh Sports Club - which already has three padel tennis courts - and Kirsty Humphries, Head of Facilities at Tennis Scotland.
Kirsty spoke about global trends, business planning and support available from Tennis Scotland for venues looking at developing padel tennis facilities.
'Pipeline of courts'
Reflecting on the importance of the conference in terms of laying the groundwork for the coming year, Kirsty said: "We are keen to focus on the local authorities and partners who will create a pipeline of padel tennis courts in 2024.
"It was
great having Padel Tech here supporting the event, and I hope the conference underlined that padel tennis is an exciting opportunity for all clubs, venues and local authority partners to get at the front of the curve in terms of growth in an emerging market."
'Clubs can thrive'
Andy Ponton, Estimating Director of Padel Tech - which recently helped develop two new courts at Aberdeen Tennis Centre and is registered with the Sports and Play Construction Association (SAPCA) - advised delegates on technical and construction considerations.
He said: "We were delighted to be at ESC to support Tennis Scotland as this coming together helped explain exactly how clubs can thrive by introducing padel tennis.
"It was great to talk to clubs and local authorities from all over Scotland and share with them the service we offer, providing a better understanding of all that Padel Tech does."
'Transformative'
As well as hosting the conference, Edinburgh Sports Club manager JJ Tait provided insight into the positive impact the introduction of padel tennis has had on the venue.
He said: "The surface has been barely scratched and it will only grow because of the game itself, which is fun and can also be unbelievably competitive.
"From an Edinburgh Sports Club point of view, padel tennis has been transformative and we can now afford to do things we could not do before."
'Massive growth for vibrant sport'
Blane Dodds, Chief Executive of Tennis Scotland, underlined the governing body's commitment to the growth of padel tennis.
He said: "We are right at the start of the growth curve in terms of padel tennis's introduction to Scotland and the sport is a massive opportunity for our venues to bring another racket sport to their facility.
"That will help them introduce more members, customers, and potentially investment to their venues, helping their sustainability and development.
"The game in Scotland is already vibrant and there is massive growth for padel tennis in Scotland ahead."
Clubs and venues interested in developing padel tennis facilities can contact kirsty.humphries@tennisscotland.org