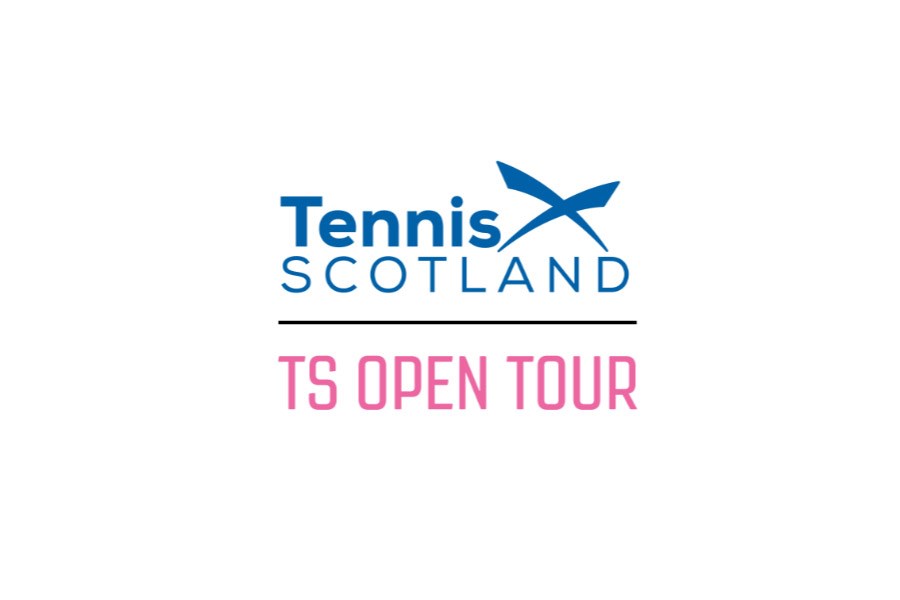 New Investment Announced For Enhanced 2023 TS Open Tour
• 4 MINUTE READ
Tennis Scotland (TS) has announced further development of the TS Open Tour, with significant investment into the 18 event 2023 competition creating a quality domestic competition calendar.
The 2023 TS Open Tour will be enhanced with a significant investment, via sponsorship, with increased prize pots of up to £7,600 for some events with the goal of encouraging player development and raising the level of competition for players.
The Tour has been created by Tennis Scotland in partnership with clubs and organisers as a national structure of competition for yellow ball players, creating opportunities for all levels of play.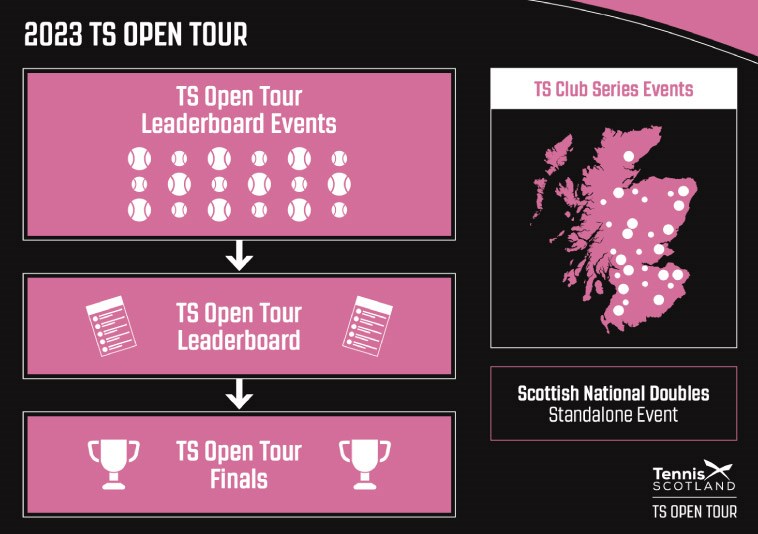 The objective of the increase in prize money is to help retain adult players in the game and allow them to continue to compete across Scotland which in turn will raise the level of domestic competition for all players. TS will also work with the LTA with the aim of including Wild Card feed-ups into Pro events.
Across 2023, yellow ball players can be a part of 18 TS Open events spread across the length and breadth of Scotland culminating with the end of season TS Open Tour Finals on 18 and 19 December. Players will qualify for the Tour Finals by accumulating points from TS Open Tour events throughout the year.
Through the TS Open Tour Club Series, further support will be on offer for clubs to deliver local competition to help increase opportunities for players of all levels.
TS Open Tour Leaderboard
The TS Open Tour Leaderboard returns once again in 2023.
By competing in TS Open Tour Leaderboard events, players accumulate points which mirror the ranking points players receive after every event.
The top 16 male and female players on the leaderboard after the Scottish National Championships in November then qualify for the two-day TS Open Tour Finals in December where they will compete for a prize pot of £10,000 and the coveted Sword trophies.
Current holders of the Sword trophies: Phoebe Mitchell and Nicolas Rosenzweig
TS Open Tour 2023 Leaderboard events:
1. North East of Scotland Indoor Championships 2023 (January)
2. LTA British Tour Stirling (February)
3. University of Stirling Open (February)
4. Scottish National Indoor Championships (March)
5. Whitecraigs Easter Championships (April)
6. Moir Construction Tennis Tayside Open (May)
7. East of Scotland Championships (May)
8. Craiglockhart Open Championships (July)
9. British Tour - Scottish National 'Grass' Championships - Giffnock Open (July)
10. East Lothian Open (July)
11. West of Scotland Open Championships (August)
12. North East of Scotland Championships (August)
13. Ayrshire Open Championships (August)
14. Highland Championships (September)
15. British Tour - Scottish National 'Clay' Court Championships (September)
16. British Tour – Glasgow (October)
17. University of St. Andrews Open Championships (October)
18. Scottish National Championships (November)
The Scottish National Doubles Championships take place in November and the TS Open Tour Finals culminates in December.
TS Open Tour Club Series
Tennis Scotland work with local tennis clubs and organisers to deliver a range of Club Series events and have coordinated more than 100 events since the inception of the tournaments. The half-day to full-day events are hosted by local clubs across the country, making use of a Fast4 format.