5 MINUTE READ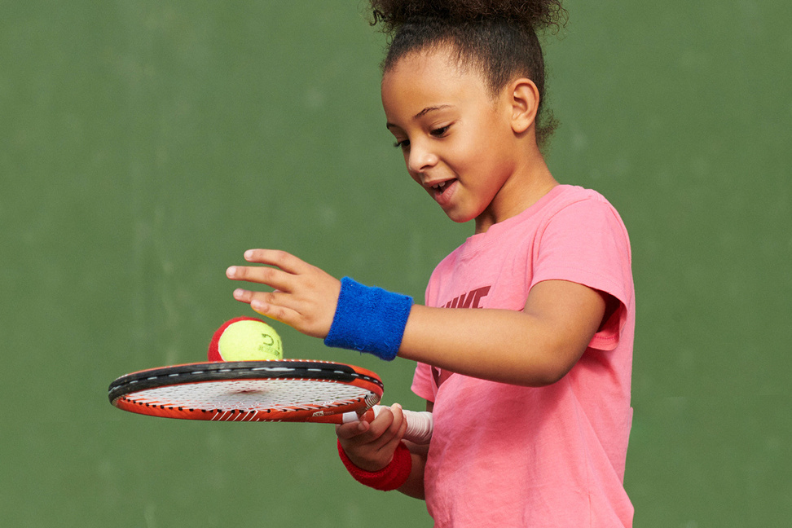 Supported by the LTA Tennis Foundation
Are your kids ready to level up? LTA Youth Start is for kids aged 4-11 years who are new to tennis. We'll help teach them new life skills, developing them as both players and people.
This is a modern approach to tennis training. Forget standing around waiting for your turn to hit a forehand. Think dynamic sessions catered for all abilities.
We want to encourage children to play tennis throughout their lives – and be active too. So, if your child is aged 4-11, why not give it a try?
£29.99 (+£5 P&P) gets you:
Six top-class tennis sessions with specially trained coaches

A tennis racket and set of balls

A branded t-shirt

Activity cards, a lanyard, stickers and a certificate (provided by the coach)
*If your child has played tennis before then they should try our LTA Youth Programme.
Search for a LTA Youth Start course
What is LTA Youth Start?
LTA Youth Start is designed to help children who are new to tennis start playing, building their confidence and skills along the way.
Who is LTA Youth Start suitable for?
The LTA Youth Start programme is suitable for children aged between 4-11 years old who have never played tennis before. If your child has played tennis before, then our Youth Programme might be more suitable.
What does the LTA Youth Start programme include?
The LTA Youth Start programme includes:
Six top-class tennis sessions
Equipment
Branded t-shirt
Activity cards
Certificate upon completion from your coach
Frequently asked questions
Our LTA Youth Start programme is designed to introduce children as young as four to tennis. Fun, dynamic sessions will help kids get to grips with the basics of the game, improve their co-ordination and make some new pals along the way.
Any age is a great age to start playing tennis. It's never too late to pick up a racket, learn some new skills and improve your fitness – parents, that includes you too!
If you're looking to get your kid into competitive tennis, then the earlier they start the better. LTA Youth Start is designed to introduce children as young as four to tennis. But if your kid starts later than that, there's no reason why they can't still play competitively or for fun.
Where do we start? Tennis can benefit your kids in so many ways, by providing physical, mental and social skills for life. As well as the obvious fitness training, your child will also:
Find their passion and motivation
Learn resilience through friendly competition
Understand and practise emotional control (no frustrated racket smashes here)
Develop respect, communication and teamwork
Focus on personal best, not just winning
Improve balance, agility and co-ordination
Release endorphins and destress
Improve focus and reaction times
Meet new people and make friends
Whether your child's a beginner or a young pro, LTA Youth will help them become a confident, well-rounded individual, as well as a skilful player.
When it comes to clothes kids can wear whatever they're most comfortable in really. Just remember they will be active – think shorts, tracksuit bottoms, t-shirts, sweatshirts and hoodies. Keep the jeans and coats at home.
Shoes wise, we'd suggest that kids wear a comfortable pair of trainers, as these will stop them from slipping and getting foot and ankle injuries when on the court.
Tennis as a sport is relatively safe. Of course, there is always a small risk of tripping over or being hit by a ball, but overall the risk of serious injury is minimal. If your kid is attending one of our LTA Youth sessions, our coaches will make sure they are playing in a safe environment, with the right equipment and to a level that suits their physical ability.
Play with friends – playing in a group is always much more fun. Why not find a few school friends for your kids to play with or take a look at local tennis courses for children?
Mix it up – keep kids entertained with a variety of games and activities using different skills and equipment. Let them explore, try out new things and use their imagination.
Set a challenge – kids love a bit of competition so set them a challenge to do on their own or in a team with friends.
In need of inspiration? Check out our LTA Youth Tennis at Home page for plenty of games, exercises and challenges.
Search for a LTA Youth Start course