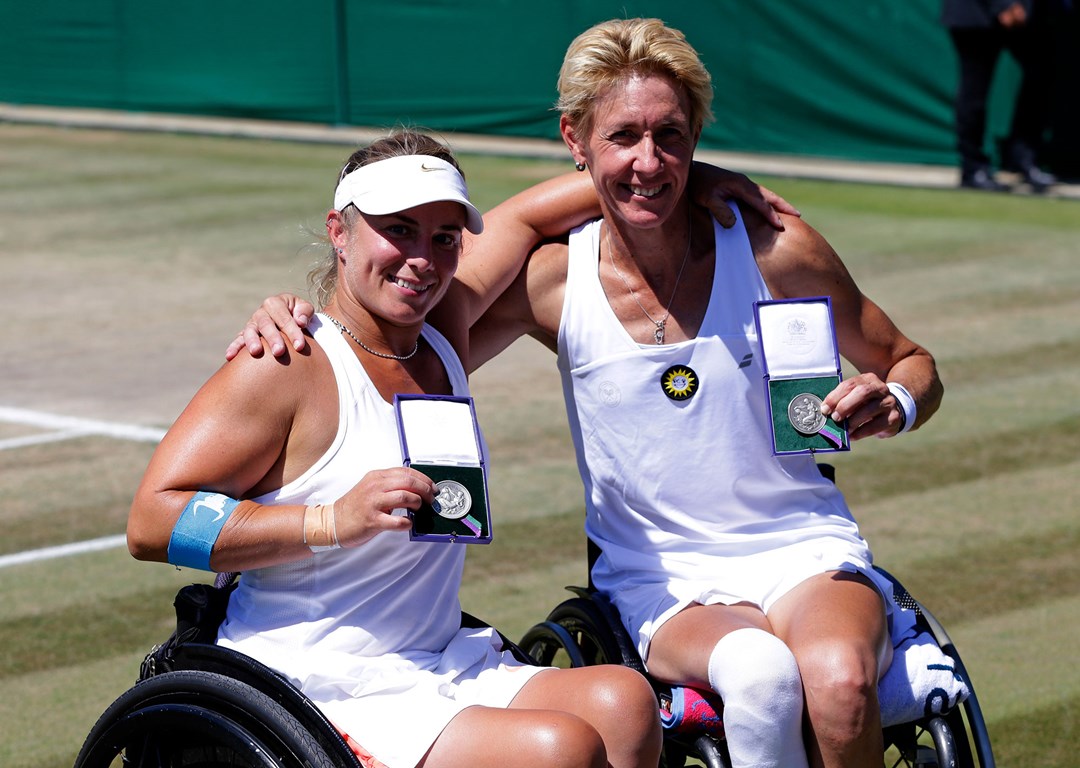 Grand Slam
Wimbledon 2018 review – a successful week for Brits in wheelchair tennis
• 6 MINUTE READ
DAY 4 ROUND-UP
'Shuker shines at Wimbledon but misses out on first Grand Slam title'
British No.1 Lucy Shuker had a tournament to remember at Wimbledon but missed out on winning what would have been her first ever Grand Slam title.
Sunday's final saw Shuker contest her first Grand Slam final for five years, partnering Germany's Sabine Ellerbrock in the Ladies Doubles final.
After successive straight sets semi-final defeats over the last four years in the Wimbledon doubles event, Shuker and Ellerbrock defied the odds to defeat Dutch second seeds Marjolein Buis and Aniek van Koot 3-6-4, 6-4 in this year's semi-finals. That win saw Shuker playing some outstanding tennis, while her renowned attitude and determination was very much reflected in her partnership with Ellerbrock.
In the final, the duo pushed eventual champions and top seeds Diede de Groot and Yui Kamiji in the vast majority of games, something not reflected in the 6-1, 6-1 score line against a pair who are the world's top two ranked singles players.
Speaking after the match, the British No.1 said
Shuker, who was injured in a motorcycle accident shortly after her 21st birthday, is the most physically impaired athlete among the world's top 10 ranked women of a sport that she says has "transformed my life", telling the BBC's Claire Balding after the match, which was screened live on BBC2, "wheelchair tennis has given me the opportunity to realise so many dreams, it really is amazing".
Buoyed after reaching her first Grand Slam final for five years, she is relishing the opportunity to once again challenge barriers and perceptions at next week's British Open Wheelchair Tennis Championships in Nottingham. At that event the Britain will partner Dana Mathewson of the USA in the women's doubles, as well as seeking success in the women's singles. She returns to Nottingham on the back of winning the mixed doubles title at last year's Super Series event.
Looking ahead to the event, Shuker said "It will be a totally different surface back on the hard court, which for me in singles will be a lot easier with the movement. Obviously we haven't got long before we are competing, just one day so it will be tough. I think my tennis is going really well and I feel confident so I'm looking forward to it.'
Shuker's achievement in reaching her first Grand Slam final since the 2013 Australian Open was part of much wider Brit success at Wimbledon this year, with Alfie Hewett and Gordon Reid completing a hat-trick of Gentlemen's Doubles titles. Meanwhile, Andy Lapthorne was on the winning side of the net in the first-ever quad doubles match to the be staged at Wimbledon after the Londoner partnered American David Wagner to an historic exhibition match win in the journey of a sport that is continually breaking new barriers.
Elsewhere on the final day of action on the grass at the All England Club, Sweden's Stefan Olsson defended his men's singles title. The grass court specialist, having overcome Alfie Hewett in the semi-finals, defeated world No.3 Gustavo Fernandez of Argentina 6-2 0-6 6-3 in a rematch of the 2017 final to add the Wimbledon to the inaugural Queens title he won last month.
All of the Wimbledon wheelchair tennis finalists will be among the world's top players heading to Nottingham for the British Open. Since 1995 the tournament has had Super Series status, making it one of the sport's six most important tournaments outside of the Grand Slams.
DAY 3 ROUND-UP
'Hewett and Reid secure hat-trick of Wimbledon Doubles titles'
Great Britain's Alfie Hewett and Gordon Reid thrilled a near-capacity crowd on Court Three on Saturday to become the first three-time champions of the Wimbledon men's doubles wheelchair tennis title after a 6-1, 6-4 victory over Belgium's Joachim Gerard and Stefan Olsson of Sweden.
'Shuker through to Wimbledon finals after Lapthorne earns historic quads win'
Lucy Shuker will be playing to win a first ever Grand Slam title on Sunday after a brilliant performance saw the British No.1 partner Germany's Sabine Ellerbrock to a semi-final victory over the second seeds in the Ladies Doubles.
The victory means Shuker has reached her first Grand Slam final since 2013 and her fourth Wimbledon ladies' doubles final, on a day of wheelchair tennis success for Great Britain, begining with a third Gentlemen's Doubles title for Alfie Hewett and Gordon Reid and continuing with an emotional win for Andy Lapthone in the first ever quad match to be played at Wimbledon.
Shuker, partnering Ellerbrock on the hallowed SW19 grass for the fifth year in a row, completed a 3-6, 6-4, 6-4 victory over Dutch second seeds Marjolein Bius and Aniek van Koot in a semi-final contest that had been suspended for bad light on Friday evening with Shuker and Ellerbrock leading the final set 3-1.
A series of successive breaks of serve saw Shuker and Ellerbrock maintain the two-game cushion they had earnt on Friday evening. Renowned for her touch at the net, Shuker produced an impressive drop shot to leave her and Ellerbrock 5-3 up and serving for the set. However, it was not until two games later that the crucial breakthrough came as Buis failed to clear the net with a forehand to give Shuker and Ellerbrock the victory after exactly two hours and 30 minutes of play.
"I'm absolutely over the moon. I think we had the momentum last night when the match had to be called off due to bad light, which was right, and starting today I think we were both a little bit nervous. But we're so happy to come through that because, you know, they are a very good pair and Aniek is on absolute form I think this year on the grass. We managed to really stick to our game plan and come through with the win," said Shuker, who was previously a Wimbledon finalist in 2009, 2010 and 2012.
Shuker and Ellerbrock will now play top seeds Diede de Groot of the Netherlands and Yui Kamiji of Japan on Sunday. Looking ahead to the final, Shuker said "I'm the first to say that in Grand Slams you've got the best players in the world. They are the top seeded pair so they are going to be very strong and they will play some amazing tennis."
Her last Grand Slam final before this week came at the Australian Open final in 2013 and she will now bid for a first career Grand Slam title.
"It would be a lifelong dream, since I've been playing wheelchair tennis, to get a Grand Slam title. Other players have won one and I've yet to do it and for it to be here at Wimbledon would be unbelievable, but it's going to be tough and I'm very realistic about that, but I'm definitely going to give it my best shot."
The win capped a special day for Shuker, who had earlier met the Duchess of Cambridge and the Duchess of Sussex.
Earlier in the day Britain's Andy Lapthorne made history when he was on the winning side of the net in the first ever quad doubles exhibition match to be staged at Wimbledon. Lapthorne and the USA's David Wagner, three-time Australian Open champions and reigning US Open champions, recorded a 6-2, 6-3 win over Dylan Alcott of Australia and South Africa's Dylan Alcott to repeat the outcome of two Australian Open finals against the same opponents.
The quad doubles exhibition is intended to be a stepping stone towards the introduction of quad wheelchair singles and doubles as Championship events in the future.
"It was amazing. It's what dreams are made of. It's something that I have campaigned for for a very long time – for it to actually become a reality today was very special and I enjoyed every second," said-six-time Grand Slam champion and three-time Paralympic medallist Lapthorne.
"It's always important to win and be the first two names up on the honours board is amazing. It's special and I am just lost for words. It was a really special day, everything I dreamed of and more – just an amazing experience."
Lapthorne and Wagner will now be among the rest of the world's best wheelchair tennis players who travel up to Nottingham for next week's British Open 'Super Series' event.
"It's going to be tough. I've got to go there and focus and mentally prepare in the right way. For now I'm going to savour this and we'll think about next week when next week comes," added Lapthorne, a multiple British Open singles finalist.
DAY 2 ROUND-UP
'British duo through to Wimbledon final'
Alfie Hewett and Gordon Reid will bid for a hat-trick of Wimbledon men's wheelchair doubles titles on Saturday at the All England Club after coming through a thrilling final set tie-break on the grass of SW19 on Friday.
The Brits beat Gustavo Fernandez of Argentina and Shingo Kunieda of Japan 6-4, 3-6, 7-6(3) to huge acclaim from an excitable home crowd as they the reigning Wimbledon and US Open champions remained on course for yet another Grand Slam title.
From 3-1 down Hewett and Reid won the next four games before taking the opening set as Hewett put away a forehand winner on their sixth set point.
It was Fernandez and Kunieda's turn to come from 3-1 down as they forced the deciding set, but Hewett and Reid emulated their first set performance after once again finding themselves 3-1 down in the final set and they reeled off the next four games. Fernandez served for the match at 6-5 but Hewett and Reid would not be denied, breaking their opponents to love.
With the tension mounting on Court 17 Hewett and Reid built momentum after sharing the first six points with Fernandez and Kunieda and at 5-3 up Hewett fired an unreturnable serve to bring up three set points. The defending champions only needed the first as Fernandez sent a backhand into the net. Hewett and Reid have now beaten Fernandez and Kunieda in their last three doubles semi-finals, including at Wimbledon in 2017.
Speaking after the match Reid reflected on how the momentum had changed numerous times, as well as the impact the home crowd had in helping the duo secure the win: "The were a lot of ups and downs, a lot of tired bodies out there especially at the end but I think overall it was a really high quality doubles match and obviously we are both really buzzing to get the win."
"When you need that little bit extra to pick you up when you are a little bit tired or when it's close or there's a big point, that reaction from the crowd gets the adrenaline flowing gets the heart rate up and really pulls you over the line. It's a massive help and I think it's been unbelievable in our singles and doubles seeing how popular it's been and seeing people queuing up and standing on the next court to try and watch".
Hewett had gone into the match with the disappointment of having lost his single semi-final against defending champion Stefan Olsson earlier in the day, with the Swede prevailing 6-2, 6-4, and said: "I think Gordon did a really good job at picking me up, I was a little bit flat to start with. I was really disappointed after this morning but I think our reactions at the end showed how much it meant to us."
"We know when we are playing well what we are doing and what we need to do to play well so it was just reinforcing that. There were times in the match where we just lacked a little bit of intensity and aggression on the court but when we stepped up to the ball and really took it on that's when we won our games."
Hewett and Reid will have different opponents than in their last two Wimbledon finals after Belgium's Joachim Gerard and Stefan Olsson of Sweden defeated French top seeds Stephane Houdet and Nicolas Peifer 6-1, 3-6, 7-5 in the other semi-final.
Looking ahead to the final, Reid said: "They are two guys who have got big serves and are effective on grass. They like to come forward and rush in and take your time away. We've played them a few times over the last 12-18 months so we know what to expect and we know the right things to do to combat it."
"When its live on TV like last year it's an amazing opportunity for us to showcase the sport and we are really happy that we might get another chance to do that tomorrow".
There could yet be a second British finalist this weekend, with Lucy Shuker and Germany's Sabine Ellerbrock leading Dutch duo Marjolein Buis and Aniek van Koot 3-1 in the deciding set of their women's doubles semi-final before bad light caused the match to be suspended. Shuker and Ellerbrock will finish their semi-final on Saturday.
DAY 1 ROUND-UP
'Great Britain's Alfie Hewett into Wimbledon semi-finals'
Great Britain's Alfie Hewett sealed his place in the Wimbledon wheelchair singles semi-finals for the second straight year on Thursday after a 7-6(3), 6-4 victory over Frenchman Stephane Houdet at the All England Club.
Cheered on by an enthusiastic home crowd, world No.2 Hewett reversed the result from their match in the Surbiton Invitational warm-up event last week. The 20 year old edged a difficult first set against the big-serving Frenchman, winning the last four points of the tiebreak.
Houdet continued to prove dangerous in the second set, but Hewett upped his level to come back from 2-0 down and earn his third win over world No.4 Houdet in their last four matches.
"I found it tough" said Hewett. "The score line says pretty much how the match went, a couple of points in it. I felt like it was a pretty similar match to last week at Surbiton when I played him, the only difference then was that the big points went in his favour and this week the big points went in my favour."
"I think we both held our serves quite well and it was tough to break each other's serve. But to finally get out there and play my first match and to get the win in straight sets, I'm relieved and happy about."
Hewett's win was played out in an electric atmosphere on Wimbledon's Court 17 as the British crowd got behind him.
"It was an incredible atmosphere. I had a lot of family and friends here today and I think there is going to be even more tomorrow so I'm glad that I've got another singles match to play for them to get behind me and obviously the doubles as well. I always look forward to this and get excited about it, I've been buzzing for about 2 weeks now."
The British No.1's reward is a semi-final against defending champion Stefan Olsson of Sweden. Having won the inaugural Fever-Tree Championships tournament at Queens last month, the Swede continued to demonstrate his affinity to playing on grass with a 6-2, 6-3 win over Nicolas Peifer of France.
On facing Olsson, Hewett added: "He's got to the final the last two years and won it last year so his game style really suits the surface. He's a tough competitor and player to beat, but I'm trying to focus on myself – that's one of my goals this week, to try and not focus on anyone else and what's happening on the other side of the draw, just to focus on what I do best and my game and mentality. I know that if I play the way I can play then I can beat him."
Elsewhere, Gordon Reid's bid to regain the Wimbledon men's singles title he won in 2016 ended early when he lost out to Belgium's Joachim Gerard. Gerard's serve again proved a potent weapon as he advanced 6-3, 6-2.
Speaking after the match, Reid said: "It was tough, Jo I thought played a good match and I thought we played it more on his terms. He served well especially in the big moments which made it difficult for me."
In the Ladies' Singles, Lucy Shuker bowed out to world No.3 Aniek van Koot. Despite saving two set points in the first set, Shuker was never quite able to recover from a slow start and van Koot booked her place in the semi-finals 6-2, 6-1.
'I think Aniek played some really good tennis, she was really sensible with her slice and didn't give me very many cheap points, so that was tough" the British No.1 said after the match. "Obviously for me with my movement singles is incredibly difficult on the grass, I struggle with those last second adjustments because I'm so strapped in with my chair, but you know it's a love hate relationship for me here at Wimbledon – I love being here and it's an absolute honour and I hate that I never seem to play my best tennis. You can't not love being at this place, you know there's so much history here. I just wish that I played better in a singles match on the grass courts".
Shuker will aiming to reverse the result against van Koot as they face each other in the doubles on Friday. The Briton partners Germany's Sabine Ellerbrock as they team up at Wimbledon for the fifth year in a row, with van Koot playing with her compatriot Marjolein Buis.
Despite the singles defeat, Shuker remains rightly upbeat ahead of the doubles after some excellent performances this year, adding "I'm very excited for the doubles. I think Sabine and I have a real good chance, she's playing really well. Her singles match was good and I think together using our angles and our drop shots as well, hopefully that will put us in a good place."
Friday's second day of wheelchair tennis competition at Wimbledon also sees Hewett and Reid in men's doubles action. The British duo face Argentina's Gustavo Fernandez and Shingo Kunieda of Japan in the semi-final as they aim for a hat-trick of Wimbledon doubles titles
Both players are looking forward to the chance to reach another final together, with Reid saying "It's exciting to get out in doubles with Alfie here again. We've had good results here for the last couple of years so hopefully we can keep that momentum going tomorrow."