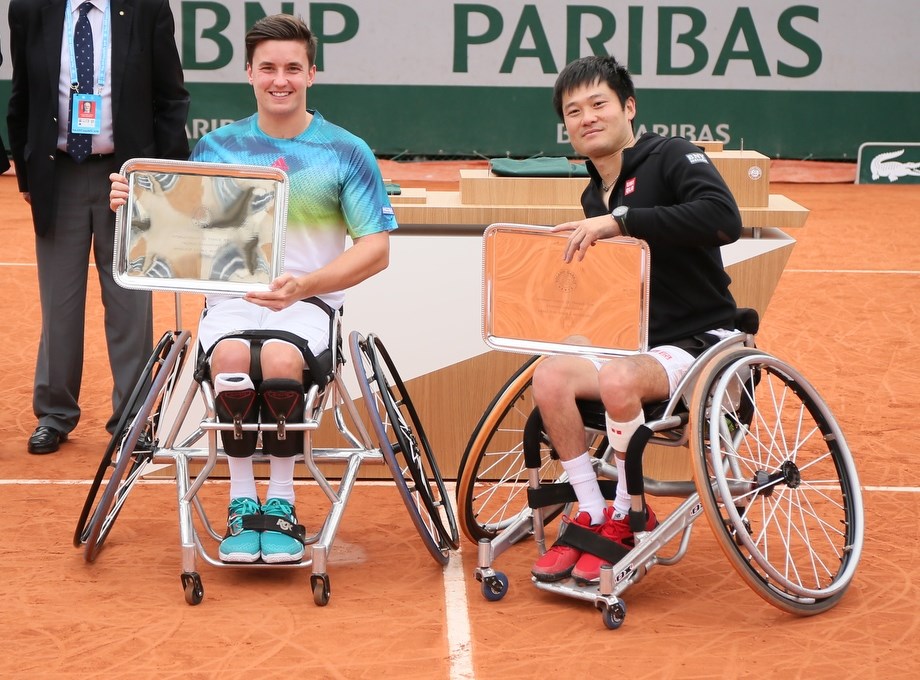 International
Reid and Whiley clinch second Roland Garros doubles titles
• 8 MINUTE READ
Gordon Reid and Jordanne Whiley won their second Roland Garros men's and women's doubles titles apiece on Saturday with their respective Japanese partners Shingo Kunieda and Yui Kamiji.
Meanwhile, another successful Grand Slam tournament for players on the Tennis Foundation's Wheelchair Tennis World Class Programme saw Reid finish runner-up in Paris in his second men's singles final of the year at one of the sport's four majors.
Second seeds Reid and Kunieda raced into 3-0 leads in both sets of their men's doubles final against Frenchman Michael Jeremiasz and Stefan Olsson of Sweden before sealing a comfortable 6-3, 6-2 victory to retain their title. Reid has now won three Grand Slam doubles titles.
"I'm pretty tired but feeling good after that. It was a high quality match with a really good crowd and I was proud I could refocus and come back and win the doubles title," said Reid, who had earlier slipped to a 7-6(4), 6-1 loss to Argentinian world No. 6 Gustavo Fernandez as the British No. 1 attempted to add to his Australian Open men's singles title.
"It's been a good week to get this far and get to back-to-back Grand Slam singles finals. I wasn't good enough today and he was very strong in his hitting zone and he was hitting his backhand really well.
"He had all the momentum in the second set and was very aggressive. It's a massive disappointment as these are the matches you want to win most of all. But it's still good for gaining confidence ahead of Rio and enjoying more experience of playing in front of big crowds in important matches," added the Scot, who joined countryman Andy Murray in reaching successive Grand Slam singles finals.
"I'm sure Murray can win tomorrow - it won't be easy but I'll be backing him! But I'm also looking to do well at Wimbledon; my style of play suits the grass. I love playing at Wimbledon and I'm very excited about singles and it will be extra special for us British players."
Whiley and Kamij built on a 3-0 lead to take the opening set of the women's doubles final, only to be taken to a deciding match tie-break in Paris by defending champions and Dutch top seeds Jiske Griffioen and Aniek van Koot for the third year in a row.
However, from 5-3 down Whiley and Kamiji won seven of the next eight points in the match tie-break to wrap up victory and regain the title they won for the first time in 2014. Whiley and Kamiji are now seven-time Grand Slam doubles champions, having won two Australian Opens, two Roland Garros titles and two Wimbledon titles.
"It's been a very successful week in the end with another Grand Slam title and finishing off with an ace," said Whiley, the reigning US Open women's singles champion, who also beat world No.1 Griffioen earlier this week to reach the singles semi-finals.
"I put myself in with a really good chance to be in the singles final here and even though I didn't make it, I feel positive about how my game is going and I'll take more positives than negatives out of this week. Me and Yui both had little wobbles throughout the final today, but we lift each other up and I never have any doubts in her ability, as she's like a boomerang and always comes back into it!
"I'm really confident for Wimbledon now and even though the grass can be tough, like clay, I can't wait to play singles and doubles there and do everyone proud."
03/06/16
Britain's Gordon Reid booked his place in his second successive Grand Slam men's singles final on Friday after beating world No.1 Stephane Houdet of France at Roland Garros.
Australian Open champion and world No.4 Reid will play world No.6 Gustavo Fernandez of Argentina in Saturday's final before partnering Japan's Shingo Kunieda later in the day in the men's doubles final as the second seeds bid to retain their title in Paris.
Brits on the Tennis Foundation's Wheelchair Tennis World Class Programme will contest three finals on Saturday, with Jordanne Whiley also partnering Yui Kamiji of Japan in the women's doubles final. However, Whiley saw her bid to reach her first Roland Garros singles final come to an end in the semi-finals after a close three set encounter against Germany's Sabine Ellerbrock.
Reid had opportunities to earn a two-game cushion early in his semi-final, especially during a marathon sixth game, but finally earned the crucial breakthrough to lead 5-3 before closing out the opening set.
The British No. 1 then came from behind in the second set to seal a 6-3, 6-4 victory and his eighth win over Houdet in their last nine matches.
"Playing Stephane is always tough, he's not world No.1 for nothing, but I've got a good record against him and know what to look out for now," said Reid
"But today, trying for my first Roland Garros final in his home country, it's a big win for me and I'm delighted. I can't wait until tomorrow. It's going to be another tough match, as my Australian Open semi against Gustavo was a very long three sets, but I'm really up for it and it should be a great contest."
Reid and Kunieda, the men's doubles champions at Roland Garros in 2015, were runners-up at the Australia Open in January shortly after Reid gained the first Grand Slam singles title of his career.
After dropping the opening set of her women's singles semi-final world No.4 Whiley raced through the second set. However, the 2015 US Open champion was just edged out as world No.5 Ellerbrock moved into the final 6-3, 1-6, 6-4.
Six-time Grand Slam champions Whiley and Kamiji will contest their third successive Roland Garros women's doubles final on Saturday, when they will attempt to regain a crown they won for the first time in 2014 before finishing as runners-up last year.
02/06/16
Jordanne Whiley and Gordon Reid both beat higher ranked players on Thursday's opening day of the Roland Garros wheelchair tennis event to reach the men's and women singles semi-finals, Whiley doing so at the expense of world No. 1 and defending champion Jiske Griffioen.
On a good day for players on the Tennis Foundation's Wheelchair Tennis World Class Programme, Whiley and Reid also reached the men's and women's doubles finals. Whiley and Japan's Yui Kamiji won a deciding match tie-break that saw Lucy Shuker on the other side of the net in the same semi-final.
World No.4 Whiley made a sensational start to her latest singles campaign in Paris against top seed Griffioen, racing through the opening set 6-0. Griffioen hit back to take the second set, but Whiley secured an early break in the decider and maintained her cushion to wrap up a 6-0, 2-6, 6-3 victory.
"I was just focussing on my game today and trying to worry less about Jiske's," said a highly-delighted Whiley after beating the Dutchwoman for the third time to reach her first Roland Garros singles semi-final. "I kept good movement around the court, which was tough on wet clay. Every match at a Slam is really difficult and, I'll be honest, I'm not a fan of playing on clay, as it doesn't suit my game, but I adjusted well today.
"I can't believe I've beaten the world No. 1 when I've never won a singles match here in Paris. But I had a new game plan and played to my strengths more. After winning the US open last year I've got more self-belief that I can beat these guys, so I'm going for the title and I've got two matches left to do it," added Whiley, who will now play German world No.5 Sabine Ellerbrock for a place in the final.
British No.2 and world No.7 Shuker put in a solid effort as she tried to join Whiley in the women's singles semi-finals but eventually bowed out to Dutch world No.6 Marjolein Buis 6-1, 4-6, 6-2.
Reid, also world ranked No. 4 in men's singles, edged a close first set against world No.3 Peifer after the Frenchman retrieved a break to level at 5-5. However, the Australian champion clinched the breakthrough in the second set to seal a 7-5, 6-3 victory for place in his third Roland Garros men's singles semi-final.
"I'm really happy with how I played in quite tricky conditions in the cold. I think everyone was feeling it a bit out there so I'm glad I could stay focused and dictated the points," said Reid, who will now play French world No.1 Stephane Houdet in the last four.
"It was a tough match and you never quite know how Nico is going to play so I had to stay on top of each point as he's such a tough opponent.
"I'm here to win the singles and follow up from my success in Australia, so am really looking forward to playing in the semis tomorrow and warming everyone up in the crowd!
Reid and Japan's Shingo Kunieda began the defence of their men's doubles title in fine form when the second seeds defeated Argentina's Gustavo Fernandez and Joachim Gerard of Belgium 6-2, 6-3 in their semi-final. They will find out who they will play in the final during Friday's scheduled second day of play.
With a Brit guaranteed a place in the women's doubles final, Shuker and Buis made a promising start to their semi-final against second seeds, 2014 champions and 2015 runners-up Whiley and Yui Kamiji.
However, Whiley and Kamiji held on to win a thrilling contest 4-6, 6-4, (10-3), reaching their third successive Roland Grarros final. They will also find out on Friday who they will play in the final as they continue their quest for a seventh Grand Slam doubles title together.