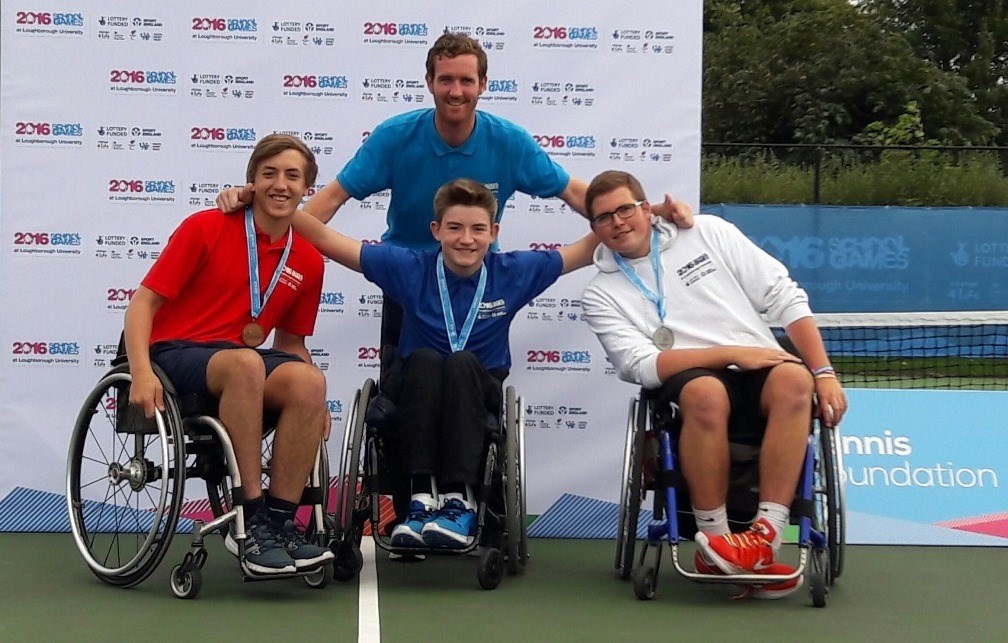 National
Wheelchair tennis medals decided at National School Games
• 3 MINUTE READ
Scotland's Ruairi Logan upgraded his boys' singles silver medal at the 2015 National School Games to gold at this year's event in Loughborough as Abbie Breakwell, representing England North gained the girls' singles gold medal.
Ben Johnson-Rolfe and Clayton White secured the gold medal for Wales in the boys' doubles, while Abbie Breakwell and Megan Bradley, gold and silver medallists in the girls' singles, paired up to seal the girls' doubles gold medal.
Fourteen-year-old Logan and eighteen-year-old Josh Cooper, the gold medallist in 2015, raced to early success in the boy's singles, winning their opening games without dropping a single game, as Johnson-Rolfe followed suit.
Logan was also awarded the Fair Play Award.
Ulster's Ross Gourley, a semi-finalist in 2015, completed the semi-final line-up again with a 4-2, 4-0 win over White, but found the going much tougher against Cooper, as the defending champion eased into the final with another 4-0, 4-0 victory. Logan dropped his first two games of the event in a 4-1, 4-1 semi-final win over Johnson-Rolfe to set up a rematch of the 2015 final and he then earned a commanding 4-1, 3-0 lead over Cooper, before the England North athlete had to retire.
Johnson-Rolfe improved on his quarter-final berth in 2015 to win the bronze medal this time, beating Gourley 4-0, 4-1 as the Ulsterman finished fourth once again.
The girls' singles started with two round-robin groups of three players and Breakwell finished unbeaten at the top of her group after 4-1, 4-0 and 4-1, 4-2 wins over Jade McGoldrick and Kate Harris.
Bradley had to show great determination to reach the final from her round-robin group after surviving two deciding match tie-breaks. However, she did it, edging out Martha Harris 4-2, 1-4, (12-10) and narrowly overcoming Elle Robertson 3-5, 4-0, (10-8) too book her place in Sunday's final against Breakwell.
On the day Breakwell proved strongest, winning the gold medal with a 4-1, 4-1 victory, while Martha Harris won the bronze medal for England South, defeating Kate Harris 4-5(7), 4-2.
Logan and Leo MacLeod put Scotland into another gold medal match after two 4-1, 4-0 wins to finish top of their boys' doubles round-robin group. Meanwhile, Johnson-Rolfe and White earned a 4-0, 4-0 win against England South's Alex Chaston and Lewis Evans and a 4-1, 4-2 win against the Ulster duo of Gourley and Nathan McCabe to also secure their place in the final.
There was a thrilling end to the final as Logan and MacLeod attempted to force a deciding match tie-break, but the Wales partnership of Johnson-Rolfe and White eventually hung on to seal the gold medal with a 4-1, 5-4(5) victory.
The Girls' Doubles saw the three partnerships from England North, England South and Scotland play each other twice in round-robin competition, with the top two teams going forward to the final. Kate and Martha Harris battled valiantly to edge out Scotland's Jade McGoldrick and Ellie Robertson 5-4(6), 2-4, (11-9) after a deciding match tie-break in one of their round-robin contests and earned themselves a place in the final against Breakwell and Bradley, but the England North duo maintained their unbeaten record to win the gold medal 4-2, 5-4(2).
The medals were presented by National School Games Athlete Mentor and former pro tennis player Nathan Rooney.