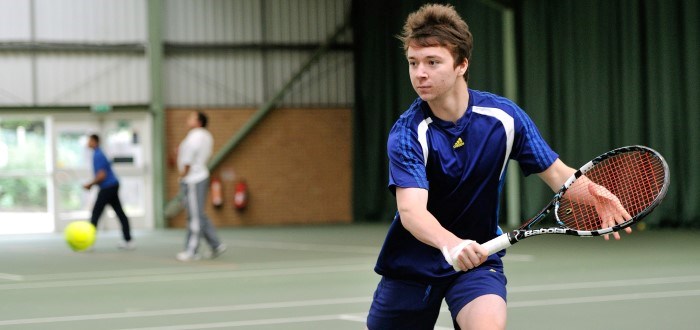 International
Tennis Foundation wins bid to host INAS World Tennis Championships
• 3 MINUTE READ
The Tennis Foundation, in association with the UK Sports Association (UKSA) and the recognised International Federation for elite athletes with an intellectual disability (INAS), are delighted to announce that the seventh INAS World Tennis Championships will take place in Bolton, England in 2017.
With a long history and commitment to hosting world class events for disabled people, the Tennis Foundation, Britain's leading tennis charity, is looking forward to welcoming the world's best players to the USN Bolton Arena from 9-14 April 2017.
The prestigious INAS event will see athletes compete across singles and doubles events to be crowned World Champion in their division.
Fabrice Higgins, Great Britain's World ranked No. 2 learning disability player said: "It is really exciting news that the INAS World Tennis Championships will be coming to England in 2017. I've had some really great results at previous Championships and I'm looking forward to competing for more gold medals and to do that in front of a home crowd will be fantastic."
Fellow GB player and UKSA My Sport, My Voice! Ambassador Peter Millar said: "Having the INAS World Championships in Bolton in 2017 is an amazing opportunity to play on our home soil against the world's top players; it is almost too hard to put into words how exciting it is.
"If I am fortunate enough to be selected it will be a great honour to be part of the GB team. I have played in four INAS tournaments, all of which have been amazing experiences, and to put on a GB kit is a dream come true. As an ambassador for UKSA and supported by the Tennis Foundation I'm always looking to promote disability sport. My sport is my passion and all I want to do is help others achieve and reach their potential."
Liz Terry, Disability Competitions Manager at the Tennis Foundation and Tournament Director for the event said: "We are delighted to be bringing yet another world class event to Great Britain when we host the seventh INAS World Tennis Championships in 2017. The USN Bolton Arena is a fantastic venue and we look forward to working with INAS and UKSA to put on a fantastic event in 2017 that players and fans alike will love."
Tracey McCillen, Chief Executive at the UK Sports Association said: "We are delighted to support the Tennis Foundation in this important bid. UKSA strives to ensure elite athletes with learning disability are given the platform they deserve to excel both in Paralympic sport and the wider performance landscape through INAS.
"We congratulate the Tennis Foundation on embracing this principle, and urge other sporting organisations to follow suit."
Paul Bartle, Managing Director USN Bolton Arena added: "USN Bolton Arena are proud to host such a prestigious event, we look forward to welcoming the athletes and building upon our excellent reputation for providing bespoke sporting disability activity and events."
The Championships are one of many events that the Tennis Foundation will use to encourage more people with a learning disability to enjoy all of the many health and social benefits of playing tennis. In 2015, over 2,000 people with a learning disability played tennis once a week at venues supported by the Tennis Foundation to provide inclusive or impairment specific sessions and that number continues to grow.