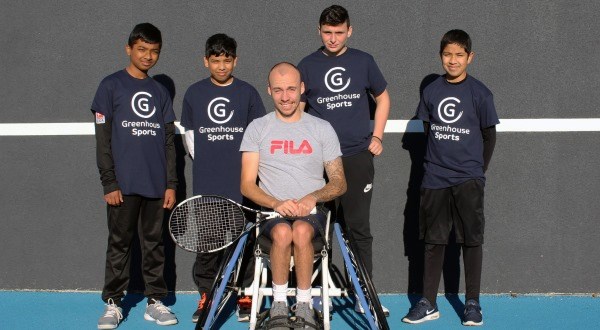 Community
Tennis Foundation and Greenhouse Sports extend successful partnership
• 2 MINUTE READ
Young tennis players met Rio 2016 double Paralympic medallist Andy Lapthorne yesterday in the lead-up to the NEC Wheelchair Tennis Masters at Lee Valley Hockey and Tennis Centre, where the youngsters will put their skills to use as ball crew for the competition.
The East London teens qualified for the ball crew after being introduced to tennis through school sport programmes delivered by Greenhouse Sports with support of the Tennis Foundation. Greenhouse Sports and the Tennis Foundation have come together in partnership to provide more opportunities for young people from disadvantaged parts of London to play tennis and gain new experiences, including training as ball crew and meeting inspirational figures like Lapthorne.
The two organisations aim to double the number of Greenhouse Sports tennis programmes delivered in London by 2020 to engage more young people and help them reach their full potential.
"Participating as ball crew at the NEC Wheelchair Tennis Masters is an extraordinary chance for our participants to develop new skills and meet new people at a world class event where they will be given significant responsibility to the smooth running of the event", said John Herriman, Chief Executive of Greenhouse Sports. "That's what our programmes are all about – offering opportunities for our young people to develop life skills through sport and giving them every opportunity to succeed. We are delighted to have support from the Tennis Foundation to help us achieve these goals."
"At the Tennis Foundation we are dedicated to providing children more opportunities to play tennis and reap the numerous benefits that it brings. We are really proud of our partnership with Greenhouse Sports and the work that has been done to give these children, who may have never experienced tennis before, the opportunity to play tennis and develop their skills on and off the court. We are really looking forward to the NEC Wheelchair Tennis Masters where the ball crew will play a crucial role," said Christine Sprowell, Schools Manager at the Tennis Foundation.
Greenhouse Sports tennis programmes, with support from the Tennis Foundation, operate in the East London communities of Newham, Hackney and Tower Hamlets. In 2015-16, Greenhouse Sports coaches delivered over 2500 hours of tennis coaching to 250 young people, some of whom had never played tennis before. The programmes also had positive impact on student attendance in participating schools as players on the programmes attended approximately four more days of school than their non-Greenhouse peers.