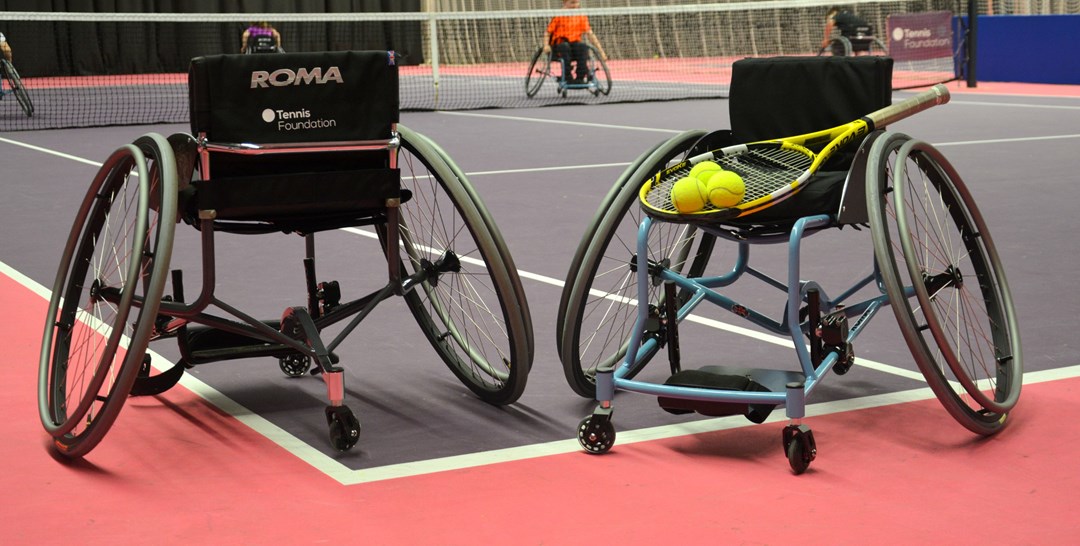 Diversity and Inclusion
Tennis Foundation and ROMA Sport launch new affordable grass roots tennis wheelchair
• 3 MINUTE READ
A partnership between the Tennis Foundation and ROMA Sport will tackle one of the key barriers to junior and grassroots participation in wheelchair tennis with the launch of a new specially designed, affordable chair.
The chair has been developed to help deliver on the Tennis Foundation's vision of making tennis a sport which is inclusive and accessible to people from every community.
Great Britain is one of the leading wheelchair tennis nations in the world, and the Foundation's performance coaches have worked with ROMA to use their expertise and technical knowledge from the elite level of the game to develop a chair that will help more people play the sport at a grassroots level.
The launch sees tennis-specific chairs being made available for £645 for adults and £620 for youths, with a further discount for any chairs ordered through the Tennis Foundation – making the cost over 60% less than a typical entry level tennis specific chair.
The new chair is designed to ensure that a player's first experience of the game is as good as possible and encourage them to continue playing tennis. It is available in both youth and adult sizes, and has a lightweight steel frame construction to make it easier and faster for players to move around the court. The chair also has adjustable settings so it can be adapted as a player develops from a beginner to a regular player.
Joanna Farquharson, Deputy Executive Director of the Tennis Foundation, said "Wheelchair tennis in Great Britain has never been as strong – we saw record numbers of players picking up a racket at venues supported by the Tennis Foundation last year, while our elite players achieved unprecedented success at the Paralympic Games in Rio in winning more medals than any other nation.
"The development of this chair in partnership with ROMA will enable the Tennis Foundation to capitalise further on this success and help achieve our wider aim of supporting over 10,000 disabled people to play tennis regularly at venues we support by the end of 2020. I'd encourage anyone, of any age, considering giving wheelchair tennis a go".
Manufactured in Britain at ROMA's Bridgend base, the chair is the result of a year-long process of development, testing and refinement involving players, the Tennis Foundation's disability development team and performance coaches.
The specification is such that not only will the chair make a difference to disabled people in Britain but potentially around the world too, with it already having generated international interest.
John Pitt, Director of Roma Sport, said "We are immensely proud to manufacture this chair in Britain and be able to add a tennis-specific chair to our ROMA Sport portfolio of chairs – especially one which has been the result of such a collaborative process with the Tennis Foundation. A focus for us was on having a quick manufacture turnaround – not only have we achieved that but we will also be keeping a stock of chairs in the different sizes to enable us to get them to players as quickly as possible".
Martyn Whait, Elite Analyst Coach at the Tennis Foundation who helped develop the chair with ROMA, said "We knew the need was there for a cost-effective chair for beginners that was safe, mobile and would give players the best possible experience of playing tennis – and this chair delivers that. ROMA have been a fantastic partner to work with. It's great to see the development process come to fruition and players using and enjoying the new chair. It will without doubt make a real difference".