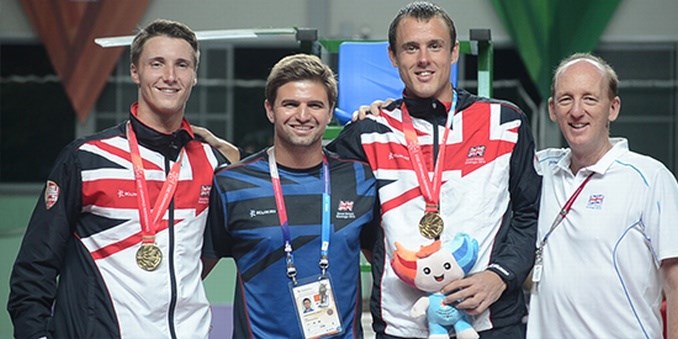 GB Teams
Team GBR – Who is representing us in the World University Games?
• 6 MINUTE READ
Six British tennis players are currently representing Team GBR at the World University Games (WUGs) in Chinese Taipei hoping to add to the two medals the team won last time out.
Joe Salisbury, a gold medallist at the 2015 games in Gwangju alongside doubles partner Darren Walsh, made his Wimbledon debut this year showing the calibre of the WUGs competitors.
Held biennially in major cities across the globe, WUGS, or the Summer Universiade, is the second largest multi-sport event after the Olympics, bringing athletes together to compete across 22 sports.
Team GBR also took silver in the mixed doubles two years ago and this time sends a formidable squad with three members winning bronze as part of the European Team Masters Great Britain squad earlier this year.
Team GBR - Ones to watch
Having recently graduated from a science degree at Clemson University in South Carolina, yorkshireman Luke Johnson will use the experience of the World University Games to help build his professional tennis career.
Since finishing university, the 23-year-old has been competing on the ITF circuit and currently has a career-high ATP doubles ranking of 673.
University of Bath's Emma Hurst was BUCS singles champion in 2016 and has carried this good form into 2017, making it into the main draw of several tournaments on the ITF Women's Circuit.
Hurst's most recent outing was at Chiswick, where she partnered Japan's Yuriko Miyazaki to the last 16 of the doubles.
Mark Whitehouse is the man with WUGs experience, as he made it to the third round of the singles in Gwangju after winning BUCS two years ago.
The Imperial College London student appeared in the BUCS singles final again the following year and achieved a career-high ranking of 1113th in July.
Olivia Nicholls
Rising tennis star Olivia Nicholls says she will use every ounce of experience in a bid to make the podium when she competes in one of the world's most prestigious multi-sports competitions later this summer.
Norwich-born Nicholls is one of almost 10,000 participants from over 170 countries competing at the Games which will be held in Chinese Taipei from August 19 to 30.
"I was absolutely thrilled to get picked – I got to go two years ago and represent Great Britain in South Korea and the experience then was absolutely amazing so I am absolutely over the moon to be able to go again," Nicholls said. "Normally, when I'm playing tennis on the tour it's very much an individual sport, whereas when you go to the WUGs, you have a big team around you to support you, you have all the other athletes there. It's more of a team environment and it's really good fun.
"We get the opportunity to watch other sports and to watch some absolutely world class athletes, whether that's in the pool or on the track. To see them performing at the highest level is definitely encouraging for us as well."
And having lost out in the first stage in three-set thriller last time round after being handed a tough draw, Nicholls is looking to make amends this time.
"That was another reason why I was pleased to be picked again – it gives me another chance to go for it and do better this time," said the 22-year-old, who is currently studying Sports Science with Management at Loughborough University.
"I'm going into it much better equipped than I was before – when it was a new experience for me.
"Now it's a case of seeing how far in the event can I go, and I will be looking to get a medal I think, that's a goal for sure.
"I've been playing full-time for a year now and I've got a singles world ranking and my doubles world ranking is in the top 500."
And Nicholls, who will be playing in both the doubles and singles events, insists composure will be key to performing well.
"I definitely need to take it one match at a time – there's no easy opposition out there, but at the same time, my doubles game has been really good this year.
"I've won a few ITF titles and I've got a few really good partners for the women's doubles and mixed doubles."
And Nicholls says she will be spurred on by her doubles success she has so far enjoyed throughout her tennis career.
"My best moment as a tennis player so far would have to be winning some of the doubles titles – my first ever title was a 25K title in Bath – me and my partner got in as wildcards and we went on to win it – that was pretty special and we won six more after that – so pick any of them!"
Joe Salisbury
Joe Salisbury may have made his Grand Slam debut at this year's Wimbledon but the Londoner has not forgotten another special memory from his time on court.
Two years ago, 25-year-old Salisbury was a part of the men's doubles team which returned from the World University Games in Gwangju with a gold medal proudly around their neck.
Representing the University of Memphis, Salisbury teamed up with Southern Methodist student Darren Walsh to overcome the host team – and South Korea's Davis Cup team – and win 2-1.
That gold helped Team GBR record its biggest medal haul in ten years with the latest cohort of British athletes looking to better that this time around.
And with a six-strong tennis team heading out, Salisbury was keeping his fingers crossed they enjoyed as good a time as he did.
"It was a really big event. I didn't really know much about it before I went but it's like an Olympics for university students," he said.
"They make it a really big deal. There are amazing venues, a lot of people come out to support.
"I know the final we played in was the best atmosphere I've ever played in. The stands were packed.
"We were playing against Korea so they had a lot of support for them, while we had a lot of GB teammates there too.
"We played a lot of good players, we beat a lot of good players and we played well at the key moments. That was amazing and gave me a big confidence.
"It's definitely up there in terms of my achievements and tennis moments."
After his World University Games success in 2015, Salisbury took another notable step in his tennis career this month when he was handed a wildcard to appear in the main draw of the men's and mixed doubles at Wimbledon.
Both outings would unfortunately end in defeat, but he and partner Brydan Klein did manage to take a set off eventual men's doubles quarter-finalists Neal and Ken Skupski.
And while he would have liked to have enjoyed the famous courts of SW19 a little longer, Salisbury was happy to look at the bigger picture.
"It was disappointing because we didn't play as well as we can," said Salisbury, following his mixed doubles defeat alongside Katy Dunne.
"But it's my first Grand Slam, it's my first time at Wimbledon. It's a great experience and I really enjoyed the match.
"This is definitely the best so far, it's the best tournament in the world. Hopefully I'll have many more chances like this."
Men's and women's doubles finals taking place on August 28 before the singles finals and mixed doubles final the following day.
The Team GBR tennis delegation:
| | | |
| --- | --- | --- |
| Women | | |
| Emily | Arbuthnott | Stanford University (USA) |
| Emma | Hurst | University of Bath |
| Olivia | Nicholls | Loughborough University |
| Men | | |
| Jack | Findel-Hawkins | University of North Florida (USA) |
| Luke | Johnson | Clemson University (USA) |
| Mark | Whitehouse | Imperial College London |
Follow the team selections over the coming months, following the hashtags #WUGSGB and #TargetGREATNESS
Content provided BUCS