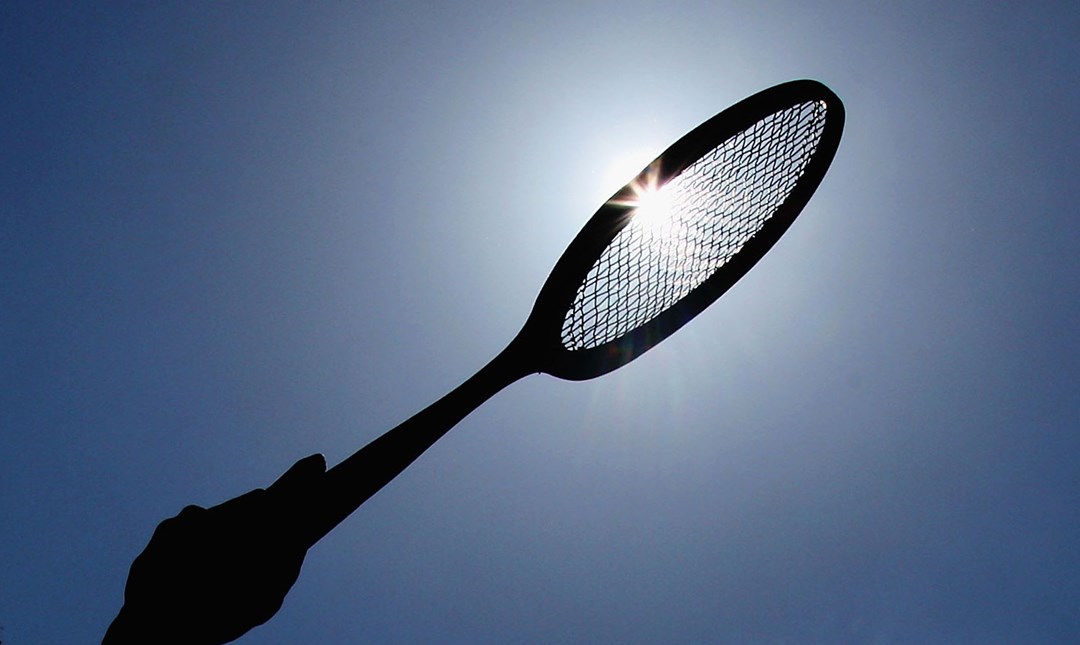 Community
Sunguarding Sport: Stay safe when getting on court in the heat this summer
• 3 MINUTE READ
With the current hot weather being experienced across Britain and as part of the LTA's support for the 'Sunguarding Sport' campaign, Michelle Baker from the Melanoma Fund shares some simple tips tennis players can follow to keep safe when getting on court in hot weather, and just why the Sunguarding Sport campaign is so important.
National Emergency: UK Heatwave
Please be aware that a national emergency has been declared as a result of the current heatwave being experienced across Britain. It follows the first ever red warning for extreme heat issued by the Met Office for large areas of England for Monday 18 July and Tuesday 19 July, and the UK Health Security Agency issuing its highest level four heat alert to health and care bodies – warning illness and death could occur 'among the fit and healthy'.
In addition to the below 'Sunguarding Sport' guidance from Michelle Baker, please also refer to the general Government guidance via the link below - the main advice is to stay hydrated, seek shade and look out for others:
Staying safe in the sun - Michelle Baker:
Playing tennis in a heatwave can put you in the firing line for all sorts of undesirable problems, including sunburn, heatstroke, dehydration, and heat exhaustion.
If the mercury is off the scale, but you just must play, here are some tips from the Melanoma Fund's Sunguarding Sport campaign to help you navigate safely through the heat and keep you winning those points:
The sun is strongest between 11am and 3pm so, if possible, look to play outside of these hours, opting for early morning or evening if possible.
Apply a broad-spectrum product with an SPF30 or higher, before you start playing, paying special attention to your ears, nose, and shoulders, as well as other areas which are prone to burning.
Stay hydrated by taking on as much liquid as you lose through sweat – that's about 32 - 85 ounces (approx 1 - 2.5 litres) during an hour of play.
By placing ice packs against areas where important arteries are located, you will cool down a lot quicker. Sites such as the groin and armpits and wrists are a good place to start as this will help cool the blood and boost the flow to your muscles.
Remember, that thirst is not an effective warning system – in fact, your performance will have been suffering before you feel thirsty at all. Drink at regular intervals whether you feel like it or not.
Baseline players take note that running from side to side will tire you out faster and overheat you. Consider bringing your game closer to the net and end points quickly.
On very hot day, start out your game at a slower pace, letting your body acclimate. Be sure to stay hydrated, even if your body is responding well to the hot weather, as it will catch up on you if not.
Once applied to the skin, reapply sunscreen every two hours, or more often if you are prone to excessive sweating, or playing hard! (If you don't like compromising your grip, Use a sunscreen applicator, or clean palms with a small towel and alcohol gel).
Remember to wear a hat or cap. Your forehead, scalp and ears are vulnerable areas, so be sure to protect them.
Ice is not just for a GnT. Ask the clubhouse to see if they have a bucket of iced water to dip towels and tops in. These when worn or draped will keep you cool for longer but remember to reapply sunscreen as it will wash off!
It is important to take breaks away from direct sunlight. Consider setting up temporary gazebos to protect you if there is no natural shade available.
You will be repeatedly looking up at the sky whilst serving, so wear wraparound sunglasses, as they keep your eyes safe from all angles.
Allowing your skin to breathe will help you stay cool, however ensure that the fabric is tight weave as this will prevent UV from penetrating to your skin beneath.
Keep your cool and be mindful of how your body is adapting or reacting to the heat while you play or train. If you feel dizzy, unwell, or overly tired, stop play and rest in the shade, seeking support if required.
Finally, if you really want to be 100% safe, a warm night is one of the benefits of summer. It's a comfortable way to get your game in for the day and you don't run the risk of sunburn or overheating.
The LTA supports the Melanoma Fund's two sun protection campaigns: Sunguarding Sport, for all in sport, and the Outdoor Kids Sun Safety Code, for children 12 and under.
Sunguarding Sport was launched in June 2022 and is already supported by over 60 national governing bodies of sport. The resource contains guidelines and sport specific advice to help raise awareness of sun protection in sport and outdoor recreation, targeted to all who participate, official or spectate. A toolkit of posters and leaflets can be downloaded and displayed to help raise awareness, where and when it matters.
The Outdoor Kids Sun Safety Code is a free resource for those who are outdoors with children. Written by leading medical experts and endorsed by sports leaders, the campaign is partnered with the Association for Physical Education (afPE), Child Protection in Sport Unit (NSPCC), UK Coaching and the Youth Sport Trust, and is supported by hundreds of national governing bodies of sport, and outdoor organisations.
Find Out More
For further guidelines on how to stay sun safe in sport visit: Sunguarding Sport - Melanoma Fund UK (melanoma-fund.co.uk)