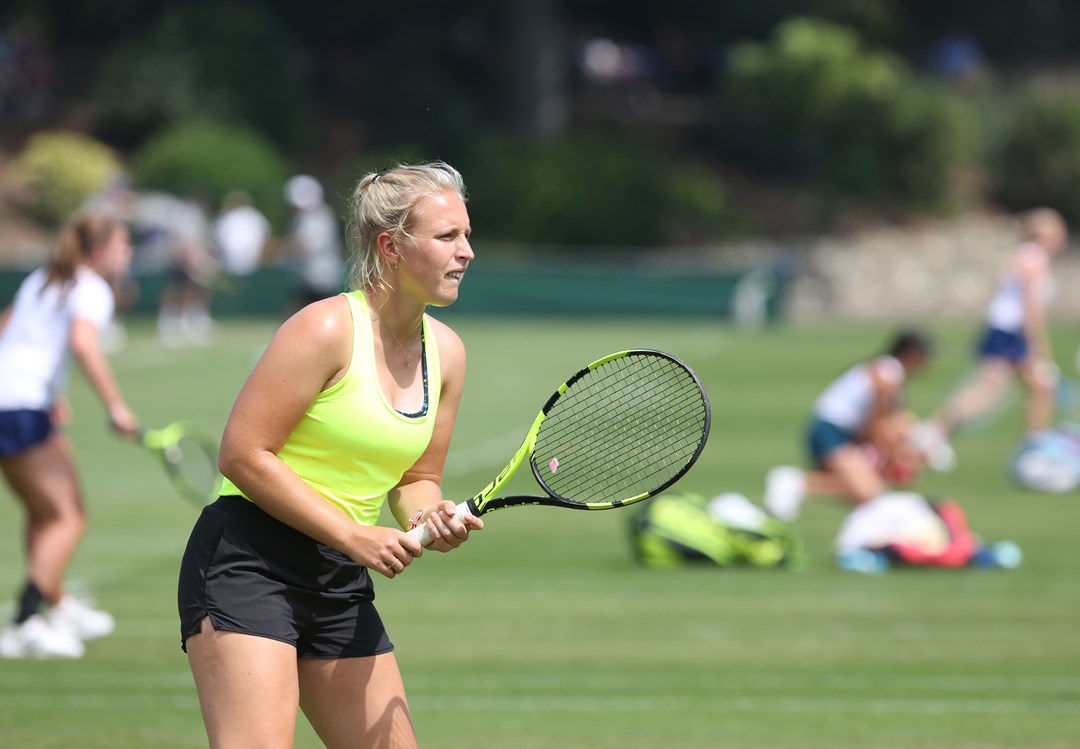 LTA
Summer tournaments get tech upgrade as LTA team up with Catapult in tennis first
• 7 MINUTE READ
As elite professional tennis returns this week, the LTA can begin to unveil several new technologies and initiatives in support of players and coaches, providing unique information and insights previously unavailable in tennis.
In January, the LTA became the first tennis national governing body or facility worldwide to install the indoor Catapult 'Clear Sky' monitoring system at its National Tennis Centre (NTC), as part of their aim to make the NTC the destination of choice for elite British players and their coaches.
Designed to give detailed information on aspects of a player's movement and physicality, Clear Sky is making its tournament debut during this week's Schroders Battle of the Brits, having already been successfully used to support player training. It will then be used by the LTA across this summer's behind closed doors events at the NTC as part of a wider strategy to use innovative technology to support elite players and coaches in training and competition.
With data and technology becoming increasingly prominent across all sports, LTA Head of Performance Science & Medicine, Dan Lewindon explains more about Catapult and the LTA's ongoing work in this area.
Q: Can you tell us more about Catapult, how the LTA came to use it and how it works?
DL: In simple terms the Catapult systems record and analyse how players move on court, giving a much clearer and more detailed picture of their fitness levels and unique athletic qualities, while also shining a much bigger light on the demands of training and matches. This includes specifics like how fast they move, how often and how efficiently they change direction, how hard their cardiovascular system (think heart rate!) is working, as well as capturing the amount of impact or "load" experienced by the body during the training session or match. Over time it can even 'learn' to detect and record different types of shots.
Clear Sky uses sensors set up around the court to accurately measure movements to as little as a few millimetres. The player wears a small vest containing a heart rate belt and a small receiver (about the size of ½ a pack of cards). All the information is viewable live, allowing players, coaches and practitioners to quickly view during or after every session and match. The LTA installed the system in January this year as a part of our drive to find innovative ways to support players, coaches and practitioners throughout the pathway, while also accelerating our understanding of the physical demands of elite tennis. It is one of a number of solutions we are working on to provide high quality tools for players at base and on the road.
Q: How can it benefit players and coaches?
DL : At an individual level, the purpose of using technologies such as Catapult is to provide meaningful information that supports coaches and players - positively impacting development, decision-making and player centred conversations. It's really important to stress that we are not trying to reduce the game and performance to a set of numbers on a piece of paper as we know it is much more than that. We also know that it is the day to day coaching environment that makes the biggest difference. Used effectively this technology should feel a natural part of the coaching process and conversation, providing the team around the player with a physical blueprint of their physicality where it matters most and allowing them to explore key questions in more detail such as:
Are training programmes sufficiently intensive to prepare the player for matches and tournaments?
What is the player's current tolerance levels to training and where are the points of difference?
How efficiently does the player move around the court? How does this compare to others with a similar game style?
How can we be confident the player is ready to return to competitive tennis after injury?
What happened from a physical perspective during the key moment in the match or session? Did fitness and preparation let them down or help them succeed?
Which physical qualities (e.g. speed, acceleration, changing direction) need to be prioritised in physical training to have the biggest impact on the players' development
Has the training off court made a difference where it matters most?
More broadly this information is also very important at an NGB level, developing our knowledge of current and future demands of the sport. It has the potential to underpin and support our coach and practitioner education programmes and better prepare our emerging players by identifying things like how fit, fast, strong tennis players really need to be, and what types of physical training and preparation are most effective.
While other sports are already using this technology, we feel we have a unique opportunity to learn from others and develop this from the ground up in complete partnership with the coaches we work with. We are very fortunate to have highly experienced coaches at the LTA working with our players, and LTA support staff with experience in using this technology extensively across a range of sports and environments with success. Understanding how to identify and filter out the valuable information from the 'noise' is really important as it will prevent the usual pitfalls of drowning in numbers, placing too much emphasis on their importance or using them without coach / player context.
Q: How does it fit into wider LTA work to support players in the pathway?
DL: We are constantly looking to how we can better support and empower our players, coaches and practitioners throughout the pathway. As well as providing physical benchmarks and targets for our NAGP and PSP players, everything we learn from this process will be embedded in our coach and practitioner education programmes and our conversations with coaches and practitioners on the ground delivering support day to day in the UK.
Q: What are your plans for further use of tech and innovation to support players and coaches?
DL: We are also working closely with a number of key partners to provide solutions to support players on their journey and also provide scalable options that provide high quality information on the road at minimal cost. We are currently working in collaboration with First-Beat (a heart rate system) to apply for permission to use their system in all tournaments. This would open the door to widespread, affordable use of similar technology, with a specific focus on the CV demands and 'loads' in training and matches.
We are really excited to be working at the forefront of this area in tennis and for the impact it can have on the future of our sport. However, as I have stressed throughout, the success of any new technology in sport is dependent on how effectively and seamlessly it can be used to create better conversations where it matters most.
In action at the NTC - what they said...
Jamie Murray said: "We're pleased to be working with the LTA performance team at this event to utilise the Clear Sky technology from Catapult. It's providing a range of really valuable insight to players and coaches this week, and will continue to do so throughout the rest of the events at the NTC this summer."
Matt Little, Andy Murray's Strength & Conditioning Coach, said: "Tennis as a sport is lagging behind other sports in terms of what we understand about the physical performance in matches. The players this week have been wearing the Catapult vests to tell us how fast they have been moving and how difficult their matches have been. This can also tell us therefore how much recovery they need and also it can inform their practice sessions so that they match up with the demands of matches. This needs to happen globally in our sport and the LTA are one of the only associations embracing and running with this new technology. It is fantastic that British players can access this level of support at the LTA, but much more work has to be done to get an understanding of the true demands of tennis globally."
Keep up-to-date on the Battle of the Brits
For more information on the 'Battle of the Brits' exhibition and other domestic tennis events this summer, be sure to follow the LTA on Twitter, Facebook and Instagram, and sign up to the LTA's free newsletter.