Diversity and Inclusion
'I laughed at the idea of us delivering tennis to our BAME communities – now we have won awards for it'
• 5 MINUTE READ
When Ruhel Ahmed was first approached about delivering tennis as part of the activities at Manchester's British Muslim Heritage Centre, he simply laughed, saying tennis wasn't a sport for his community.
Roll on to last March and Ruhel stepped on to the stage in front of Sky Sports cameras to collect a national award in recognition of the impact they have had in engaging BAME communities in tennis. The event was the prestigious British Ethnic Diversity Sports Awards (BEDSAs), and ahead of the 2020 ceremony this weekend, Ruhel has looked back on his journey to being named the LTA SERVES Community Tennis Project of the Year last year and what it meant.
Ruhel is the Activities Coordinator at the British Muslim Heritage Centre, a community organisation based in south Manchester. The centre is part of a network of over 220 community venues across the country that are part of the LTA's SERVES programme.
Taking tennis to places it's never been played
SERVES is the LTA's leading sport for development programme that takes tennis to places it has never been played before and to people who may never have picked up a racket or thought tennis was for them. Working with a range of national partners who have expertise and contacts in the target areas, it takes tennis out of its traditional areas and right to the heart of disadvantaged communities. People from those communities are then recruited and trained to help deliver sessions.
Over 30,000 young people have been engaged in the programme to date and over 900 coaches, youth workers, community and faith group leaders have been trained as tennis activators.
'We saw tennis could be fun'
The programme is helping to change perceptions among some communities that tennis is not a sport for them. Ruhel recalled his thoughts when the LTA and Sporting Equals first spoke with him about joining the programme: "When we were first approached about becoming part of the SERVES programme and delivering tennis to BAME communities I was thinking this isn't going to work. First of all, as leader I had to believe in it, then try to sell it to my team and then to the community and the young people, and I couldn't see that happening.
"But when the SERVES team came and delivered training to our staff, that inspired us. We saw that tennis could be fun, and that the SERVES programme gives the flexibility for us to be creative and deliver the sport in a way that works for us.
"Then we were given the opportunity by the LTA to attend a two day training programme along with a whole range of groups from across the country. That really broadened our horizons as to what was possible as we networked with people who had experience of delivering tennis to BAME communities and gained their advice. We left thinking 'we can do this and make it successful for our community in Manchester'.
A new convert to the concept, Ruhel and his team set about making it a reality, with tennis now a firmly established part of the activities programme for the young people at the Centre.
"For us, tennis was something new – we didn't know how the programme was going to evolve but as time has gone on the young people have taken more and more interest in getting involved with SERVES. Through the programme they have developed their confidence and self-esteem, and importantly playing tennis has become fun for them – something they didn't necessarily think would be the case at the outset."
'Celebrating diversity'
Ruhel manages all the youth activities at BMHC, and alongside him on the BEDSA stage to collect the award last year were two of his assistants, Usamah Abdul Kareem and Salman Samir.
"It means a lot for us to win this award" a beaming Ruhel said after the trio had posed for backstage photos. "We were just very happy to be nominated, and be at the awards among such a diverse audience – that was an achievement in itself. To actually then receive the award was just a mind-blowing thing for us, so we want to thank everyone who has supported us with this project and believed in us.
"But most importantly, this is about celebrating diversity. It means we are putting tennis on the map for the BAME Muslim communities in Manchester, so that's why receiving this award is really so important to us."
'Making a difference to the communities we serve'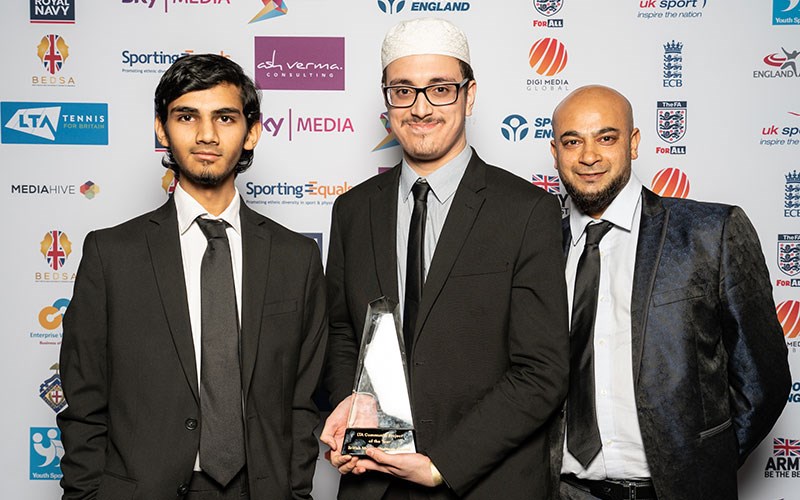 Ruhel Ahmed and colleagues from Manchester's British Muslim Heritage Centre
Reflecting on what has happened since winning the award, Ruhel (pictured above, right) emphasised how the programme has gone from strength to strength and created new opportunities.
"Since receiving the award last year attendance has risen by 30% at our tennis sessions. We have also had the opportunity to link in with other organisations including Greater Sport, Activity Alliance regarding their GOGA project, Breaking Boundaries and Lancashire Cricket Club.
"We now plan to build from this and develop further partnerships. We were very honoured to receive the award last year and want to thank everyone who has supported us in making a difference to the communities we serve in Manchester."
BEDSA's 2020
Created by Sporting Equals, the British Ethnic Diversity Sports Awards recognise and celebrate the contributions made by black and minority ethnic communities to sport. The event has become a key date in the sporting calendar, and aims to help increase sports participation by BAME communities and inspire the next generation of sporting talent. The LTA are a supporter of the awards, along with the likes of Sport England, UK Sport and Sky Media.
The community organisartions on the shortlist this year to succeed the British Muslim Heritage Centre as the LTA SERVES Community Tennis Project of the Year are Manchester's Khizra Masjid & Communities for All, London's Pro Touch SA, and Sunderland's Young Asian Voices. Representatives of all three sites will be in attendance at the 2020 BEDSA's awards night on Saturday on Park Lane, London. The winner will join event host Sir Lenny Henry on stage to collect their trophy in front of a star-studded audience and national TV cameras.
Read more about the 2020 shortlisted organisations and the work they are doing to engage BAME communities in tennis by clicking here.