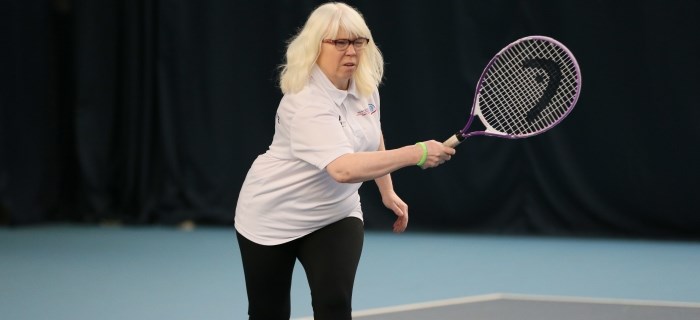 Diversity and Inclusion
Spotlight on: Jan Donnelly
• 3 MINUTE READ
Jan Donnelly is 51 and from Stockton on Tees. She has albinism with photophobia and nystagmus. After taking up tennis two years ago, Jan talks about her love for the sport and the confidence it gives her on and off the court.
I am a fun-loving person with a caring, serious side. I first got involved in tennis in July 2014. My husband was keen to set a group up in Stockton through his work with STEPs, part of Stockton Borough Council. He asked me to go along and I was very reluctant!
I was expecting to attend one session just to support him and then bow out. I went to the first session and I was hooked! I was amazed that I could actually hit the ball! Admittedly, not many stayed on the court but it was just an amazing feeling. I came away on a high and eagerly awaiting the next session.
I play at Splash in Stockton every Wednesday and at Northfield School every Tuesday. I also try to go the Northumberland Club and Sunderland Tennis Centre when I can. I have also played a few times at Tennis World in Middlesbrough when I have the time!
I attend the Tees Valley Sound Tennis group. It meets every Wednesday at Splash in Stockton on Tees. The group began in July in 2014 and it has grown from strength to strength. We now have so many more players attending that we are trying to find a bigger hall to play in!
It sounds corny but tennis has given me a real purpose. It is a fantastic hobby that I can't imagine giving up. I have learned so many skills as well as becoming fitter.
It has also brought out a competitive side in me which I never really thought existed! Playing tennis was initially a bit of fun but now I really want to win!
I also love how it has helped others. Seeing people grow in confidence and improve their game is incredible. I have also completed my Level 1 coaching assistant certificate with the help and support of the Tennis Foundation which is something that I find unbelievable. To me tennis is about improving my game but also reaching out to more people and this has enabled me to do that, seeing people have fun and progressing gives me such a buzz, which means more to me than anything.
And what would Jan say to people who say 'tennis isn't for me' and are unsure about trying it?
I would say "give it a go". I was one of those people but it really has changed my life. Tennis may not be for everyone but it now is so accessible to people who are visually impaired.
I feel privileged to be a part of such a fantastic game and also to be surrounded by some extremely enthusiastic people both at Splash and the Northumberland Club.
I have surprised my family but most of all myself with my enthusiasm and passion for the game. If I can do it then others can, too!
Tennis means different things to different people. For some it is the fun factor whilst for others it is the competitive side. However, what it truly means is an inclusive game where everyone can join together and play on an equal level. Tennis has given me a fantastic hobby and confidence in sport, which I would never in my wildest dreams, have imagined possible.