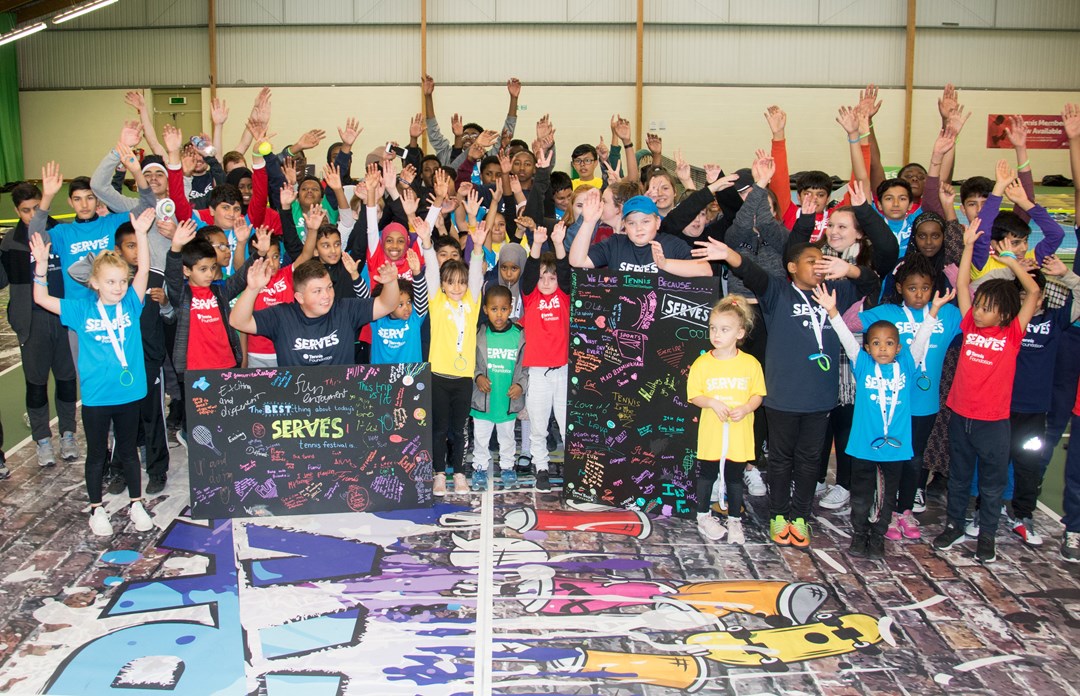 Diversity and Inclusion
From Barrow Hill to Birmingham – How the SERVES tennis programme is bringing diverse communities together
• 3 MINUTE READ
A group of young people from Barrow Hill in Derbyshire have joined diverse communities across the country that are being brought together through tennis, thanks to the Tennis Foundation's SERVES programme.
The group are part of a community project run by Derby County Community Trust at Barrow Hill Park, a site which is among the top 5% most deprived communities in the country. The young people have only recently started playing the sport following a partnership between the Tennis Foundation and the EFL Trust.
Not only does the programme take tennis to new places and new people, many of whom have never picked up a racket before, but SERVES Festivals now see these groups from places as diverse as youth centres, mosques and church halls all come together to play the sport in a fun and social environment.
Among almost 100 young people present at the most recent SERVES Tennis Festival in Birmingham were the group of new tennis enthusiasts from Barrow Hill.
'A chance to come together'
Speaking ahead of the Festival and about the recent introduction of the tennis sessions for young people in the Derbyshire village, Jack Parkes, Community Engagement Officer for Derby County Community Trust, said:
'Bringing new people into the sport'
Claire Wheeler, SERVES National Programme Manager for the Tennis Foundation, said:
"The SERVES programme is really helping to change the face of British tennis, building a greater diversity of both participants in the sport and the tennis workforce. Over a third of our SERVES participants are from BAME groups and 86% live in areas of deprivation, with a similar picture reflected across our Tennis Activators.
"We're bringing new people into the sport, and taking it to places it has never been played before. Tennis may not previously have been perceived by those living in some of the country's most deprived communities as a sport for them, but the SERVES programme is helping to change that as the sport is opened up to anyone and everyone. It is a sport which can generate so many health, social and personal development benefits, and provide new opportunities and experiences.
We're delighted the young people of Barrow Hill Park are enjoying the opportunity to play tennis and had such a great experience meeting fellow young people from other community organisations across the Midlands at the SERVES Festival. Joining up with football club community schemes like Derby County to take tennis into new places such as Barrow Hill is exactly why we are working with the EFL Trust as one of our National Partners".
The SERVES programme will be integrated into the LTA, the national governing body for tennis, at the end of this year along with the Tennis Foundation's other activities as part of a drive to open up the sport with greater scale and greater impact.
To find out more about SERVES, how to get involved and the impact it is having, click here.