LTA
Alison Hughes, Bash Kara and Sue Barker recognised in Queen's Birthday Honours
• 7 MINUTE READ
The outstanding contributions of three figures in tennis have been recognised by The Queen in her 2021 Birthday Honours List which was published today.
Alison Hughes, one of the leading umpires in the world, has received an MBE for services to tennis, community coach and winner of the LTA's Lifetime Achievement Award last year, Bash Kara , has received a British Empire Medal (BEM) following decades of tireless services to tennis, and Sue Barker has received a CBE for services to sport, broadcasting and charity.
Chief Executive of the LTA, Scott Lloyd said: "We are delighted for Alison, Bash and Sue that their respective tremendous contributions to tennis and beyond have been recognised in this way. On behalf of the LTA and the wider tennis community we send them all our warmest congratulations for these deserved awards."
Alison Hughes MBE – Services to Tennis

Dorset's Alison Hughes is one of only two active British Gold Badge tennis umpires on the international tennis circuit, the highest status for a tennis umpire. She is the most senior female tennis umpire in the country, and one of the most experienced tennis officials in the world, as the longest serving active female Gold Badge umpire.
After playing Junior and Senior County Tennis for Northumberland in her native North East England, Alison moved into coaching and organised short and mini tennis in schools throughout Northumberland, where she developed an interest in officiating.
Alison began officiating in 1991, when she began umpiring junior matches in the north east of England, meaning that 2021 represents 30 years of involvement in tennis as an official.
After starting out as an official, she passed the level 2 school in 1995 and then passed the level 3 school in 1998. She became a Gold Badge Chair Umpire in 2003 after a decade of working, training and exams, and became a member of the ITF Grand Slam team, first officiating a singles final in the chair at The Championships, Wimbledon in 2004.
Over the course of her career, Alison has been the chair umpire at many significant matches. These include 22 Grand Slam singles finals; 15 Fed Cup finals; the women's singles finals at the Olympic Games in Athens 2004 and Beijing 2008 and the men's doubles final at Rio 2016.
In 2014 Alison passed the level 3 school to become a Chief Umpire, and in 2018 was promoted to a Gold Badge Chief Umpire. She is now one of the Assistant Chief Umpires at The Championships, Wimbledon.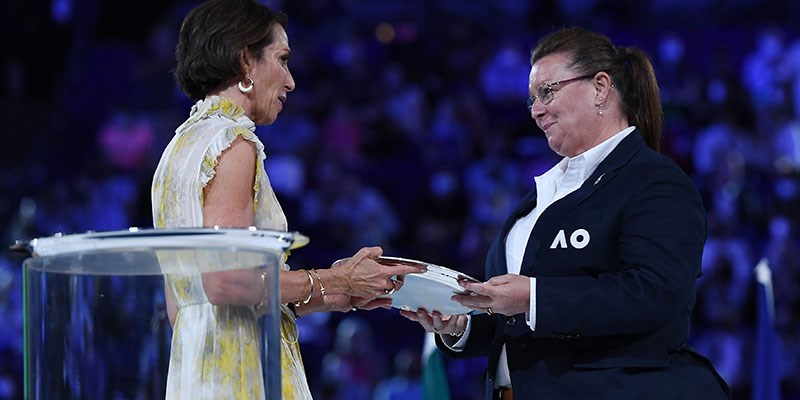 Alison has officiated at The Championships for 27 consecutive years up to the 2019 event, and is one of only two officials in the world, ever, to have been a chair umpire in a singles final at all four of the Grand Slam tournaments. Her contribution to tennis in Britain over the course of her career has been significant. Over 20 years of outstanding service as a chair umpire at the very highest level, she has gained the respect of the tennis community worldwide, and is an inspiration to young aspiring British tennis umpires.
Alison has dedicated many hours of her own time over the course of her career to voluntarily help other officials develop. This has included providing support, advice and mentoring for the LTA's Development Group officials, passing on her own knowledge and experience on a voluntary basis to help develop the next generation of young tennis umpires and officials.
Bash Kara BEM – Services to Tennis


Hampshire's Bash Kara, now aged 81, is an inspirational grassroots tennis coach who has made a significant positive contribution to young people in the communities in which he works for a number of decades.
Having been introduced to tennis himself through a friend, Bash discovered how the sport can be enjoyed by someone of any age, and started a journey to become a coach himself. He progressed through the LTA's coaching pathway, and is now an LTA Level 4 qualified coach.
Bash has a passion for working with children from all backgrounds who may otherwise not have access to tennis, and started his coaching activity in the 1990s by bringing tennis to children and young people in council estates in Southampton with the 'City Tennis Club' programme. He became a tournament organiser for the club to enable the players to take part in affordable local competition.
Over the years, Bash has coached at several other tennis clubs and brought tennis to many village courts in Hampshire, including North Baddesley and Wickham. Despite now being in his ninth decade, Bash still works as part of a coaching team with his two current tennis clubs, Swanmore and Andover, insisting he has no intention of stopping and will continue to coach his young players – in fact, on the morning after being named on the honours list Bash could be found on court delivering his coaching sessions.
Bash, who received the Lifetime Achievement Award at the LTA Tennis Awards last year, is seen an inspirational leader on the tennis court and enjoys working with juniors who show a passion for tennis to bring them through to a good standard. He is particularly committed to inclusion in tennis and providing opportunities to all.
Whilst coaching at the City Tennis Club, Bash introduced an inclusive tennis programme, including a wheelchair tennis session. One of the players to emerge from the programme was Jamie King, who went on to train with the GB National Deaf Tennis Team and was part of the 2012 European Deaf Tennis Championships squad. Jamie was also inspired to follow a career in tennis coaching himself and now works full time in the local area. Bash has subsequently gone on to coach another deaf player who has been part of the LTA's National Deaf squad.
Beyond his tennis clubs and community sessions, Bash has regularly worked in schools, and trains Tennis Leaders at Swanmore College. He runs two after school tennis sessions at his local schools, and has worked as a Tutor for the LTA and previously the Tennis Foundation in running tennis training courses for school teachers.
You can read more about Bash's Lifetime Achievement Award from last year's LTA Tennis Awards here.
Sue Barker CBE – Services to Sport, Broadcasting and Charity
Born and raised in Devon, Sue first started playing tennis at the age of 10, recalling last year how when she was playing against her garage wall at home she would always pretend she was playing on Centre Court at Wimbledon.
It would be just 10 years after first she first started playing that Sue's golden moment as a player would come, lifting the trophy at Roland Garros in 1976, aged just 20. After moving through the rounds, including a tight quarter-final victory 8-6 in the third set, Sue went on to defeat Renáta Tomanová in the final, 6-2 0-6 6-2.
Sue also reached Grand Slam semi-finals in singles and doubles at both the Australian Open and Wimbledon, won 11 WTA singles titles and represented Great Britain in what is now the Billie Jean King Cup in 27 ties, winning 15 singles and 16 doubles rubbers and reaching the final in 1981.
After retiring from playing in 1984 Sue moved into broadcasting, going on to start working for the BBC in 1993 where she would front coverage of The Championships, Wimbledon in the role so many people now associated her with.
Alongside Wimbledon, Sue has also presented coverage of the Olympics, Commonwealth Games, athletics, and racing, as well as hosting the BBC Sports Personality of the Year Awards from 1994 until 2012. Last month, Sue also ended her 24 year stint at the helm of iconic sports quiz show, A Question of Sport.
You can read more on Sue's Wimbledon memories in our feature article form last year.