Diversity and Inclusion
Deaf Awareness Week: "I don't know where to start with the difference tennis has made to my life!" - GB Deaf Tennis Player Phoebe Suthers
• 7 MINUTE READ
This weekend GB deaf tennis star Phoebe Suthers from Yorkshire should have been flying to Slovenia in a bid to try and retain the women's singles and doubles titles she won at the Slovenia Deaf Tennis Open in 2018.
The event is held every two years and would have coincided with this week's annual Deaf Awareness Week. Here, Phoebe looks back on her tennis journey and we hear how she is handling life during lockdown.
Born deaf, Phoebe's love for tennis began at the age of eight in school PE lessons, with her school subsequently suggesting she attend 'Come & Try' sessions at Huddersfield Lawn Tennis and Squash Club to further nurture her talent.
The Elland youngster was already part of junior squads at her home tennis centre when, in 2013, her mum saw an advert about deaf tennis. Together they attended an LTA (former Tennis Foundation) Deaf Tennis Camp and later that year Phoebe competed in her first National Deaf Tennis Championships, where she met Catherine Fletcher, the LTA's National Deaf Tennis Coach.
"That weekend I played some tennis and watched Cathy, who has been a great inspiration to me. I enjoyed the weekend so much I just wanted to play more. Tennis allows me to keep fit while doing something I enjoy and I've also learnt so many skills around discipline, professionalism and about life and sport in general." says Phoebe.
"I don't know where to start with the difference tennis has made to my life. I've made some amazing friends, both hearing and deaf, and I enjoy socialising and playing tennis with them."
An international debut aged just 12...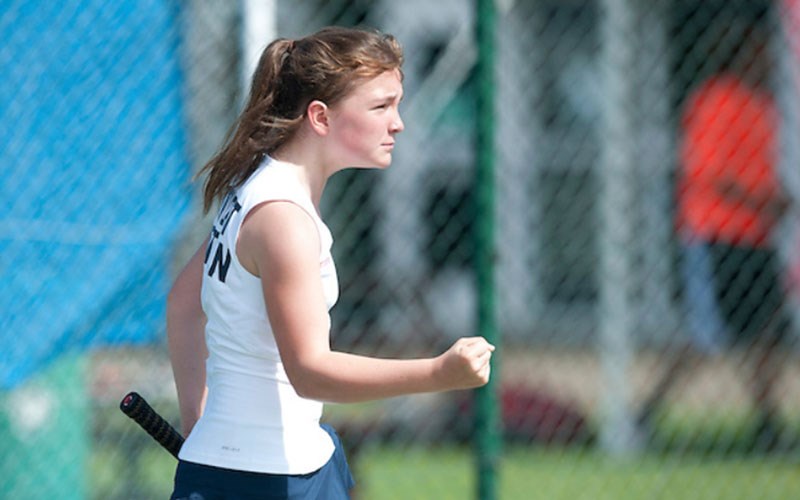 Aged just 12, Phoebe joined the LTA's Deaf Tennis Performance Programme and made her Great Britain debut at the inaugural World Deaf Tennis Championships in Nottingham, where she won the Under 18 girls' bronze medal. A year later she returned from the 2016 European Deaf Championships in Slovenia with silver medals from her girls' singles and doubles events, and her first international gold medal in the Under 18 mixed doubles. Over the past few years, Phoebe has also made great strides in competition against her hearing peers.
"I just love competing and to play for GB at World and European level and to win medals in Slovenia was something very special that I will never forget."
"I have also been part of the Yorkshire Under 14s County Cup winning team in hearing tennis. Given the strength of the county, it has been brilliant to be part of it all and to win my matches. I've also got numerous titles at Grade 3 standard in junior and ladies' hearing events and I'm now winning matches in Grade 2s." says Phoebe.
First senior titles...
On the back of her triple European Championships medal success in Slovenia in 2016, Phoebe went on to win the women's singles and doubles titles in the Slovenian Deaf Tennis Open in 2018, earning her first senior medals in deaf tennis competition. She also won women's singles and doubles titles at the LTA's National Deaf Tennis Championships in 2018 and 2019.
2019 saw Phoebe once again represent Great Britain at the World Deaf Tennis Championships in Turkey. Despite losing her coach during the year and battling with a back injury, she went on to win gold and bronze medals in the junior singles and mixed doubles. She also came agonisingly close to being crowned world champion in the mixed doubles, narrowly losing out to the German top seeds in the final.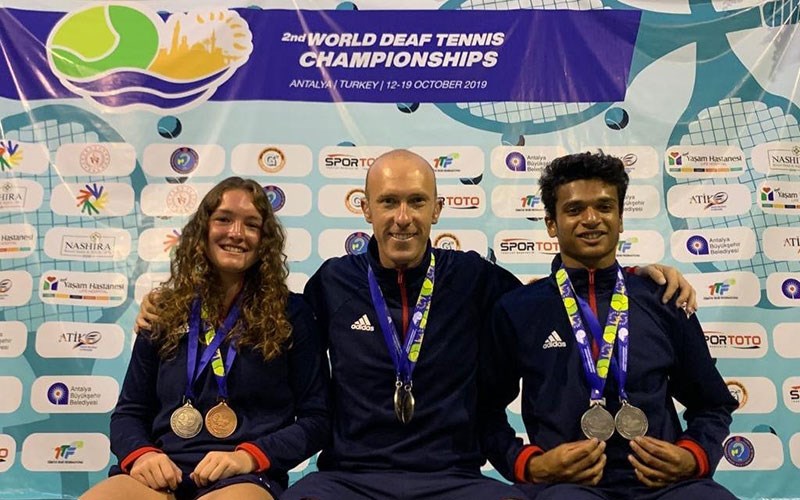 "I was really excited about my planned return to the Slovenia Deaf Tennis Open this year. I'm gutted it won't be going ahead" said Phoebe. "I've really good memories of the tournament in 2018 and enjoy playing on clay. I've been playing really well and felt I was getting back to my best. I also competed for Yorkshire in the Under 18s County Cup final and in hearing tennis this is a very high standard. I won several matches and came close in some others, just losing out in final set tie-breaks."
Life in Lockdown
"In normal circumstances I compete or train most days. I usually compete on a weekend and in school holidays and train during the week. I would have a couple of squads during the week and a lesson with my coach and hitter. I also play for the Huddersfield hearing ladies' teams."
"Lockdown is tough," she continues. "I just want to play my sport and whilst keeping busy with college and studying for my A-levels, it just isn't the same. I'm keeping fit by running each day and doing some weights and exercises, although I can't wait to get back competing and playing. Hopefully it won't be too much longer now."
"I'm very focussed on enjoying my tennis and doing the best I can. I get wonderful help from my current coach Lawrence, hitting partner Craig, National Deaf Coach Cathy Fletcher, my first ever coach and now the ladies' team captain at my club, Becky and Nick, who coaches some of my group sessions They are all brilliant."
"I keep my mind active by studying and chatting to friends and family on FaceTime, given the mental impact and frustration involved with lockdown," says Phoebe. "I admire the support given to the country by the NHS staff and I really feel for those that have lost their lives to the virus, their families and friends."
The Future is Bright
"Who knows what the future holds, but I do know I want to be Deaflympics and World Champion at deaf tennis and to win a Grade 2 competition in hearing tennis," she adds.
Phoebe says her parents remain a huge inspiration – along with a couple of notable Wimbledon champions. Andy Murray and Roger Federer are firm favourites.
"I look up to my mum, dad and sister out of sport and enjoy being with my family and friends. My mum is always there for me, which I really appreciate, and my dad is great for taking me long distances when I need to get somewhere for my tennis, although this isn't necessary right now! I'm learning to drive, so hopefully I will be able to drive myself to training and competitions soon."
'Give Tennis a Go'
During Deaf Awareness Week, Phoebe has some solid advice for other young players and anyone who is deaf or who has a hearing impairment and has yet to try tennis.
"Give tennis a go, there's no harm in trying and I'm sure you'll find all the things I've found that are great about the sport," she says. "Get involved and meet people. I've got to visit places I wouldn't otherwise have been to. All the support is there for you through the LTA Deaf Tennis Programme and Cathy Fletcher is great. She's a big support and great coach"
"When I was born deaf I never imagined I'd be living such a great life and neither did my parents. Tennis has brought me so many more opportunities, so it's lucky I played tennis at school back when I was eight."
Find out more & get involved!
Deaf tennis is supported in Great Britain as part of the LTA's Open Court disability tennis programme. More disabled people than ever before are now playing tennis through the programme with over 12,500 monthly participants at more than 500 venues, making it one of the biggest of its kind across any sport.
The LTA once again had outstanding success on the world stage last year, with Great Britain the only nation to win trophies and medals at all four of the major international disability tennis tournaments covering visually impaired tennis, learning disability tennis, deaf tennis and wheelchair tennis.
To find out more about disability tennis and how to get involved click here.