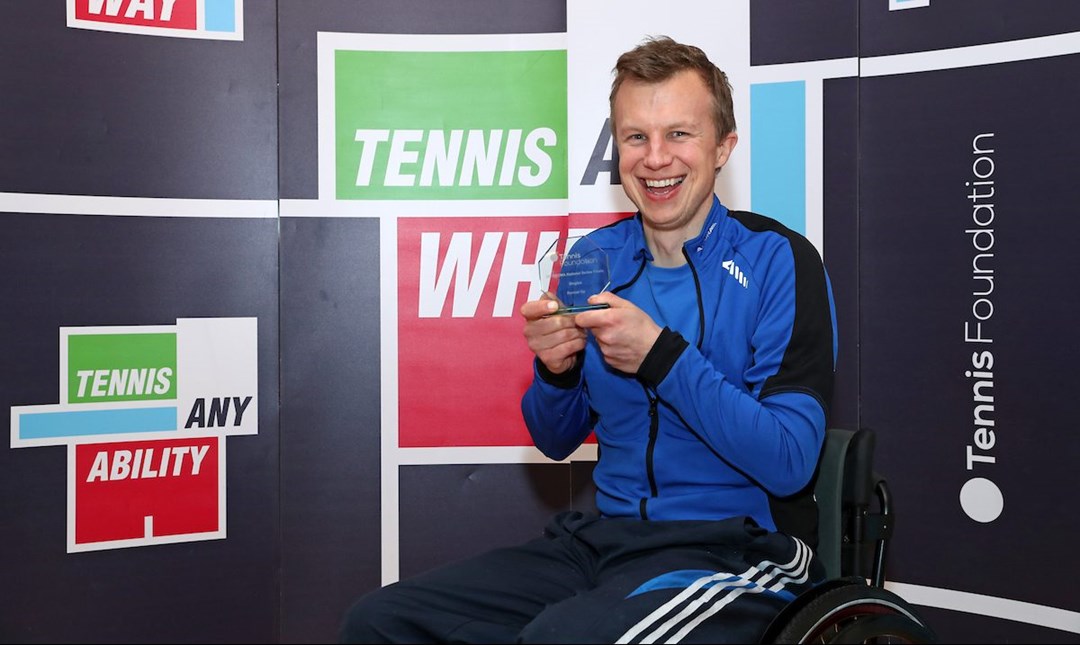 Features
Philip's story: Wheelchair tennis tournaments hold the key to recovery
• 3 MINUTE READ
After suffering a life-changing illness which resulted in a lengthy hospital stay, Philip Fielding was unsure as to how he could continue fulfilling his love of sport.
He had not long taken up tennis, adding to a host of other sports that he regularly enjoyed, when he was hospitalised by what felt like a nasty bout of flu, but was later diagnosed as septicemia.
The infection led to both of his legs being amputated, meaning the father of two now uses a wheelchair to get around, as well as to maintain his sporting interests – he now competes in several wheelchair tennis tournaments each year which are hosted by the Tennis Foundation.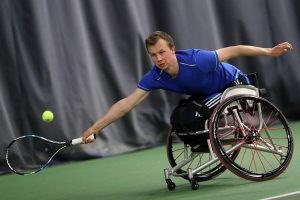 The Foundation's annual ROMA Sport National Wheelchair Tennis Series consists of 11 regional tournaments around the UK and welcomes players of all abilities, including the novice division for those who haven't competed before.
"I played tennis recreationally, at a club level, and during my stay in hospital my wife thought that when I came out, I'd need something to focus on that wasn't just physiotherapy and doctors appointments," Fielding explained.
"As an amputee, tennis is a great way of playing sport without having to put a lot of pressure through my limbs or back, reducing that strain while still working my upper body quite well. I just wanted to get out and get involved."
Following life-saving treatment at Lister Hospital in Stevenage, Hertfordshire, the road to rehabilitation had just begun for Fielding once he had returned home to his family.
But thanks to the thought of his wife Hannah, tennis is now a key part of his life, keeping his mind off both medical appointments and his work as a fund manager in London.
Last year, he attended six of the 11 ROMA Sport National Series tournaments put on by the Tennis Foundation, which he attributes as a "crucial" factor in his recovery. "Coming out of a severe injury or illness is challenging." he explained.
"A huge amount of the challenge comes down to the mental side of things because I was essentially a full-time hospital patient, but now I have something to distract me and focus on which is both physical and fun.
"I've been really impressed with the way the events are organised, and the way the whole programme is run. It's fantastic because you have people within the Tennis Foundation who know the ability of everyone involved and make sure it's a good experience.
"You might win the first couple of rounds easily, but at some point during the weekend everyone has at least one match where they're at exactly the right level, which keeps people motivated."
As the Tennis Foundation work to both nurture and grow their wheelchair tennis campaigns, Fielding is just as keen on getting more people involved; highlighting that the ROMA Sport National Wheelchair Tennis Series provides the perfect opportunity to try out the sport.
"I would definitely encourage people, and I have been doing that already," he said.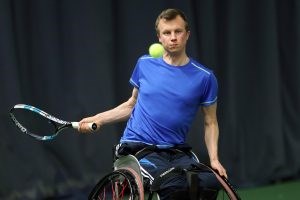 "Everyone who joins a Tennis Foundation-organised tournament will have a good match at some stage – you might play the best player in the first round, but it's not over because you will eventually find a match that is at your level.
"The Tennis Foundation have conducted mixed draws with men and women together, and there are ability-based draws. They make the whole weekend as rewarding as possible.
"I've met people who haven't competed yet, and I tell them to go along. I have found them rewarding, and for most of the people I speak to that's also been the case."