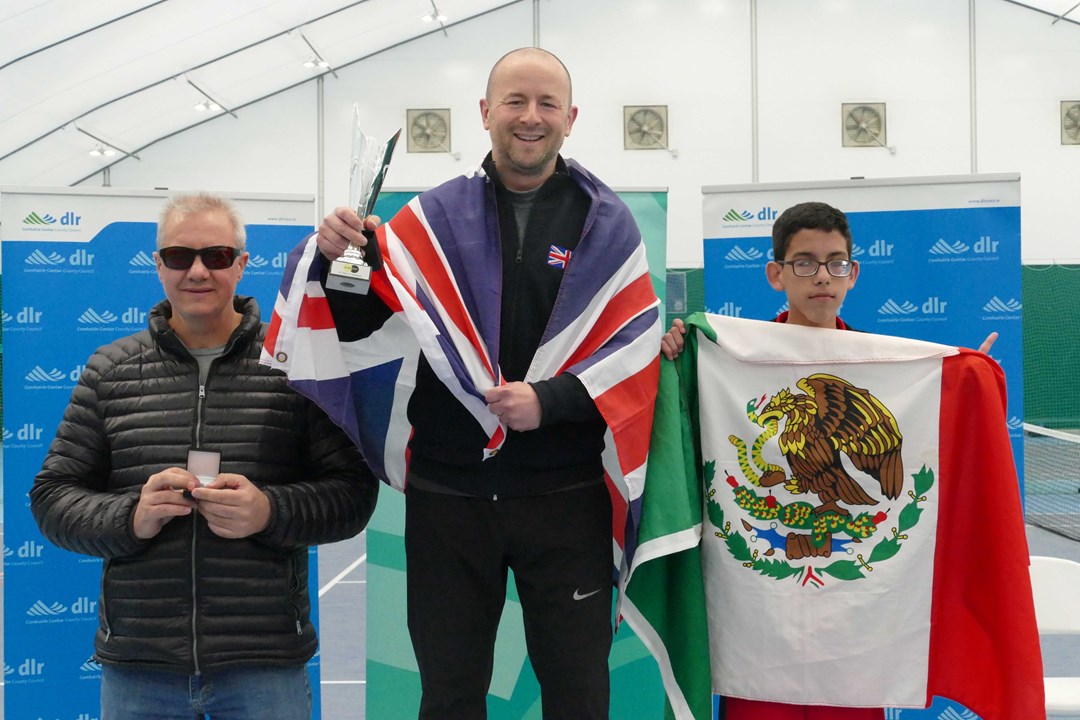 Diversity and Inclusion
Paul's Story: From sight loss to world champion - how tennis has given me incredible opportunities
• 4 MINUTE READ
Paul Ryb lost his central vision in 2007 aged just 37 and, as a result, came to the conclusion that he would never take part in competitive sport ever again.
That initial thought could not have been further off the mark though, as last week Paul won a world title in visually impaired tennis.
Paul's journey in the sport began around eight years ago when he attended a Macular Society forum – a UK charity for anyone affected by central vision loss – and heard a guest speaker from Metro Blind Sport talk about visually impaired tennis and how accessible the sport is for blind and partially sighted people. He then picked up a racket to give it a go, leading to him pulling on a GB top as part of the Tennis Foundation team at the 2018 International Blind Tennis Tournament.
"Everybody dreams of representing their country," he said. "As a boy, I was competitive and loved sport. I'd played lots of sport while growing up but never really excelled playing them.
With the British title came a desire to take his tennis to the world stage, and the opportunity arose in April. Paul would represent his country as he took on the world in Dublin.
"It was incredible for me to get called up to play for Team GB," he beamed. "I'm 47 years old now, so that was exciting. I played as a B3, even though my sight category is B2, so I do push myself to play up a category.
"I've always found that it's a much stronger field in the B3 competitively, and some of the players have got better sight. You get a real test of character, and I had a real battle in a very strong group of six players to get through in Dublin.
"I had to play this Mexican super-kid who turned out to be very good and I had to beat him twice, once in the round-robin and once in the final. What was wonderful was that I was able to say I played South Africa, Australia, Republic of Ireland and Mexico.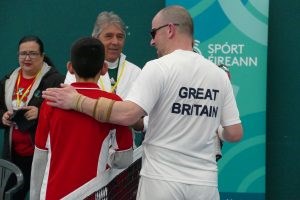 "To be able to play international players who I'd never met before was really exciting."
It all started for Paul within a sports hall without the proper court markings, or the proper equipment, but it was a social setting where he could enjoy himself and be more physically active. A decision then came to become fitter, and success on the court followed.
That upturn in on-court results also coincided with the Tennis Foundation's involvement in the development of the sport, and with it more support in terms of equipment and coaching.
The Tennis Foundation's involvement was his turning point – it was the catalyst for him reaching his potential and being the best player he could be.
"At the International tournament, it was evident that we are incredibly lucky to have the support we do," he stated.
"Firstly, Metro Blind Sport's support, and then their foresight to push it in the direction of the Tennis Foundation, and then the Foundation for adopting it.
"The community of visually impaired tennis has flourished as a result of that. You only have to look at any one of the regional tournaments that the Tennis Foundation puts on, it's standing room only.
"You can be old or young and you don't just have to be visually impaired to enjoy this game – that's the beauty of it.
"If you want to get fit and really test yourself, then there's nothing more exciting than having a go at visually impaired tennis. The beauty of sport is that you don't have to set out to win, you can go along to any session with the sole aim of enjoying yourself."