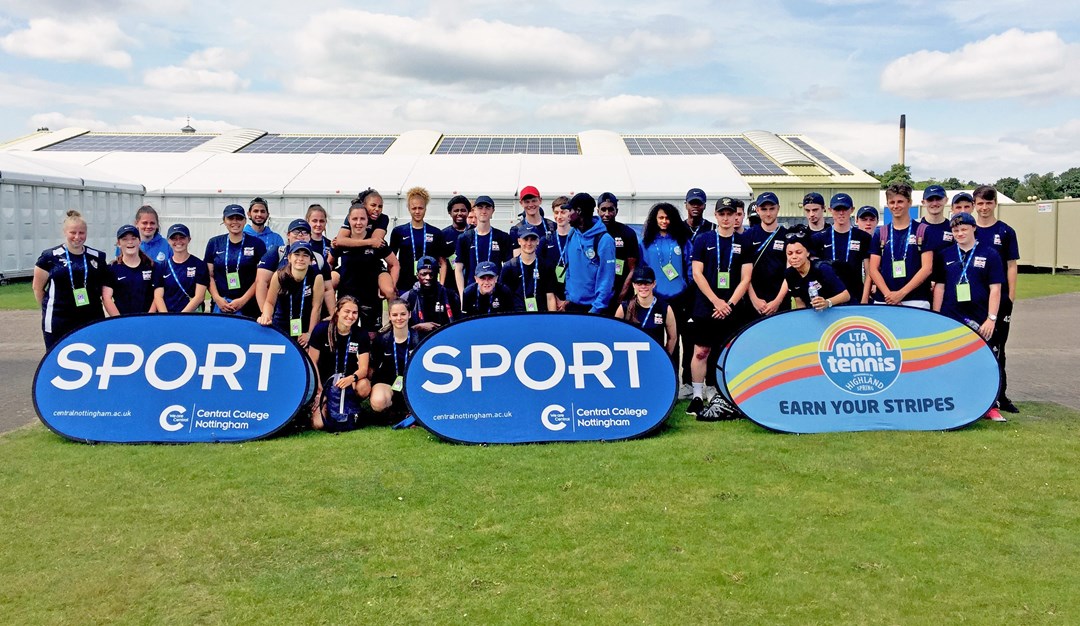 LTA Youth
Nottingham College students serve up top coaching tips for local schools
• 2 MINUTE READ
Tennis Foundation funding helped Nottingham College sport students deliver over 1,625 hours of coaching by supporting the Nottingham Mini Tennis Schools Festival earlier this month.
The festival was organised to run alongside the 2017 Aegon Open Nottingham (9-17 June) at Nottingham Tennis Centre.
Fifty students from the college coached over 2,000 primary school children who attended the mini-tennis festival as part of the celebrations. The students had to undergo pre-event training which was delivered by tennis coaches Dave Everington and Martyn Jones. Then they took part in an onsite briefing and familiarisation session at the tennis centre before the event took place.
Diane Garfield, Community and Performance Sport Manager at Central, said "As in previous years our students had a fantastic opportunity to be part of a major sporting event in Nottingham and develop their sport leadership and coaching skills. Many of the sport students have now signed up to get involved in more events at the tennis centre, therefore working more closely with employers in the industry. Sport work experience is embedded into the students' sport course at college and it develops employability skills for their future careers."
Paul Cummins, FE and Education Projects Manager at the Tennis Foundation, said: "The 50 students have, through funding from the Tennis Foundation, received Tennis Leaders training, with a number also receiving their Level 1 Coaching Assistant. This has played a crucial role in allowing the students to develop their skills on court with the 2,000 school students from local schools.
"Over the last couple of years a number of the students have gained employment with Nottingham Tennis Centre, to help deliver their growing programme. Without the support of Nottingham College, the Nottingham Mini Tennis Schools Festival wouldn't be possible and we look forward to working with the college going forwards."
What's Next At Nottingham?
The next major event at Nottingham Tennis Centre sees the world's best wheelchair tennis players coming to the city! The 2017 British Open Wheelchair Tennis Championships take place from 1-6 August, with adult tickets priced just £2-£5 and children free all week. For more details click here.