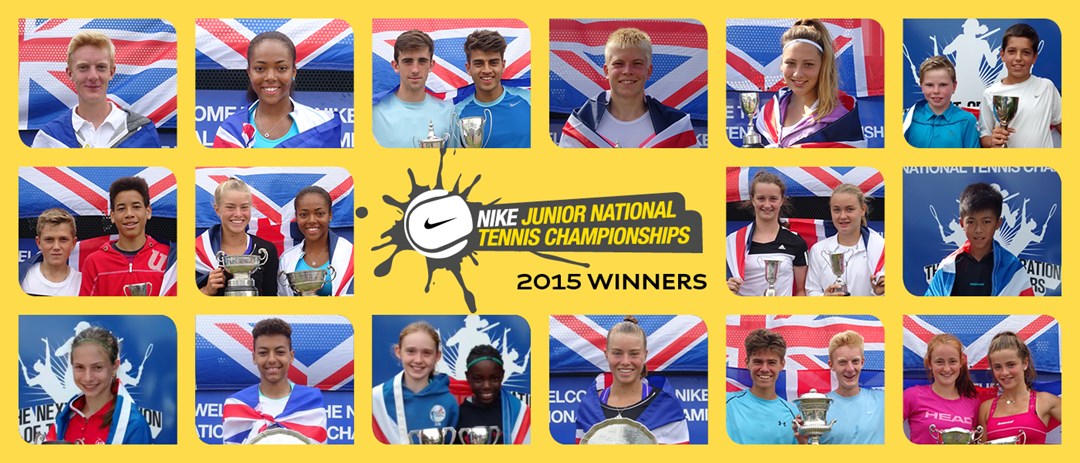 Juniors
Winners crowned after action-packed Nike Junior National Tennis Championships
• 4 MINUTE READ
The winners have been crowned at the Nike Junior National Tennis Championships after a thrilling week of tennis at the Nottingham Tennis Centre and West Hants LTC in Bournemouth.
Two months after some of the world's best players from the WTA and ATP professional circuits travelled to town for the Aegon Open Nottingham it was time for many of Britain's best juniors to take to the courts.
Plenty of high-quality matches took place with the 12U events on the south coast in Dorset and the 14U, 16U and 18U tournaments at Britain's largest public tennis facility in Nottingham.
To see the full draws, click on the links below above each event.
Derrick Chen enjoyed a scintillating week in Bournemouth, overcoming the No.2, 3, 5 and 6 seeds as he picked up the title. In the final the youngster never looked in doubt as he beat Jonathon Price 6-1, 6-2.
Kylie Bilchev was in commanding form throughout the week, knocking out No.1 seed Tiana Fox in straight-sets in the semi-finals and winning four sets 6-0. In the final she battled to a 4-6, 7-5, 6-4 win over MJ Changwereza.
This event went right to the wire with No.1 seeds Luka Petrovic & Jonathon Price eventually sealing a fantastic 6-2, 1-6, (12-10) final win over Jack Batchelor & Joel Pierleoni.
MJ Changwereza & Oriana Parkins-Godwin came through a nerve-wracking final with Millie-Mae Matthews & Sophie Underwood, snatching it 2-6, 7-6(4), (10-6).
The final was contested by No.2 seed Anton Matusevich and No.4 seed Jacob Fearnley, who had knocked out No.1 seed Jack Draper in the semi-finals, with Matusevich battling to a 6-4, 4-6, 6-1 win.
No.1 seed Gemma Heather powered to the title by winning five matches without dropping a set, she overcame Victoria Allen 6-4, 6-3 in the final.
Jack Draper & George Loffhagen came through three Super Tie-break matches on their way to the final before taking down Alex Maggs & Connor Thomson 6-4, 7-6(9)
After an epic semi-final, No.1 seeds Victoria Allen & Sasha Hill got their hands on the trophy by defeating Sonay Kartal & Mae McCutcheon 6-4, 6-2.
Unseeded Paul Jubb stormed to the title in Nottingham, knocking out the No.4, 6 and 7 seeds along the way before cruising past Louis Newman 6-1, 6-3 in the final.
Emily Appleton came out on top in this 32 strong draw and won five matches on her way to the title. The No.2 seed faced Ellie-Rose Griffiths in the final and recorded a convincing 6-2, 6-3 win.
A tense final was settled on a Super Tie-break in this event with unseeded duo Matthew Summers & Thomas Wright coming out on top against Jack Molloy & Louis Newman 6-1, 4-6, (10-8).
The final saw a tussle of the top seeds with Megan Davies & Alexandra Hunter, the No.2 seeds, powering past the No.1 ranked duo of Nell Miller & Hannah McColgan 6-3, 6-1.
Top seed Vincent Gillespie was too hot to handle all week and victory never looked in doubt against James Davis, recording a 6-2, 6-0 win after a faultless performance.
Lauryn John-Baptiste knocked out No.1 seed Jasmine Amber Asghar in a tough quarter-final en route to the last two. The No.6 seed cruised past Florence Abbott 6-2, 6-1 to secure the title.
Vincent Gillespie & Matthew Story dealt with a huge scare in the quarter-final when they took a Super Tie-break 13-11 but had no such issues in the final with the No.1 seeds beating beat Ben Jones & Harvey Shackleton 6-3, 6-2.
The No.1 pairing of Emily Appleton & Lauryn John-Baptiste lifted the title without stepping onto the court in the final when Florence Abbott & Holly Hutchinson withdrew.