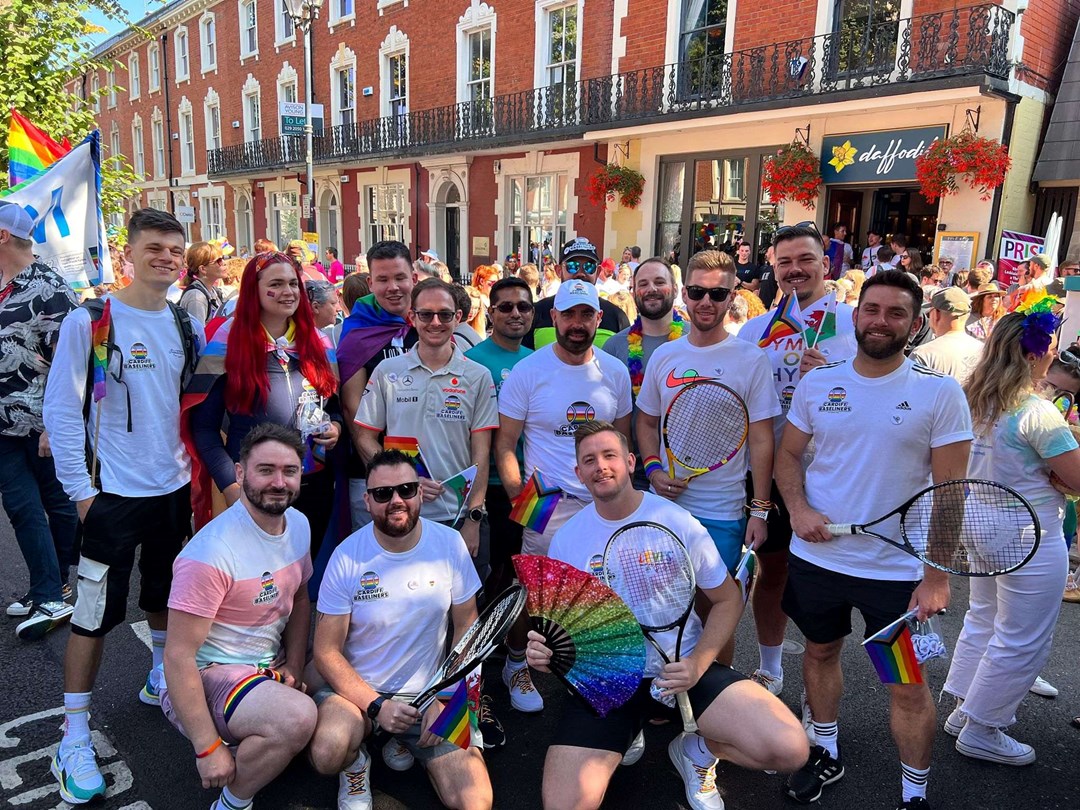 Community
"Sport isn't just for a select group of people" – Neil Roberts of the Cardiff Baseliners LGBTQ+ tennis group discusses the positive impact of tennis on his life
• 4 MINUTE READ
From first picking up a racket in North Wales to setting up and chairing the Cardiff Baseliners and organising Cardiff's first LGBTQ+ tennis tournament this month, Neil Roberts, who also serves as the LGBTQ+ Inclusive Club Liaison Officer for the Pride in Tennis network, outlines how tennis has helped him and many others find a safe space where they can be themselves.
Tell us about your background and your journey into tennis. Have you always had a passion for sport?
I started playing tennis as a young teenager after watching Wimbledon on TV properly for the first time in 2004. I was lucky because where I grew up in Pwllheli, one of my school friends lived right next to the very few tennis courts we had at Canolfan Hamdden Dwyfor, and he was also into tennis. I wasn't naturally gifted at any other sports and found it difficult to mix. A year on from picking up the borrowed racket, I got my first ever tennis racket of my own. I played every day after school and fell in love with the sport, well into my teens and 20s. 19 years on from that first hit, my love for tennis remains.
What has your experience in tennis been like and how has it helped you to express yourself and overcome any prejudices or barriers?
I never felt where I grew up that people understood me fully, nor did I feel like I could be welcomed into any team sport. I was physically strong but I was nerdy, rather strange and was suspicious of those who had treated me poorly. Tennis helped me realise that sport isn't just for a select group of people, and that there truly is a sport for everyone.
Tennis is an individual sport but the strength of this is that as tennis challenges you to adapt to and overcome your opponent, it also challenges you to do so to yourself. The personal challenges you experience both in life and sport are won by how you deal with them, not whether or not they exist. Having a sport you grow in builds character, confidence and resilience - and this is what tennis did for me.
How did the Cardiff Baseliners come about?
I approached Tennis Wales in November 2021 with the idea and thankfully they also wanted to start a similar project. We therefore collaborated on creating the club and preparing it for launch in March 2022. Tennis Wales supported us from day one, and I'll always be grateful for that.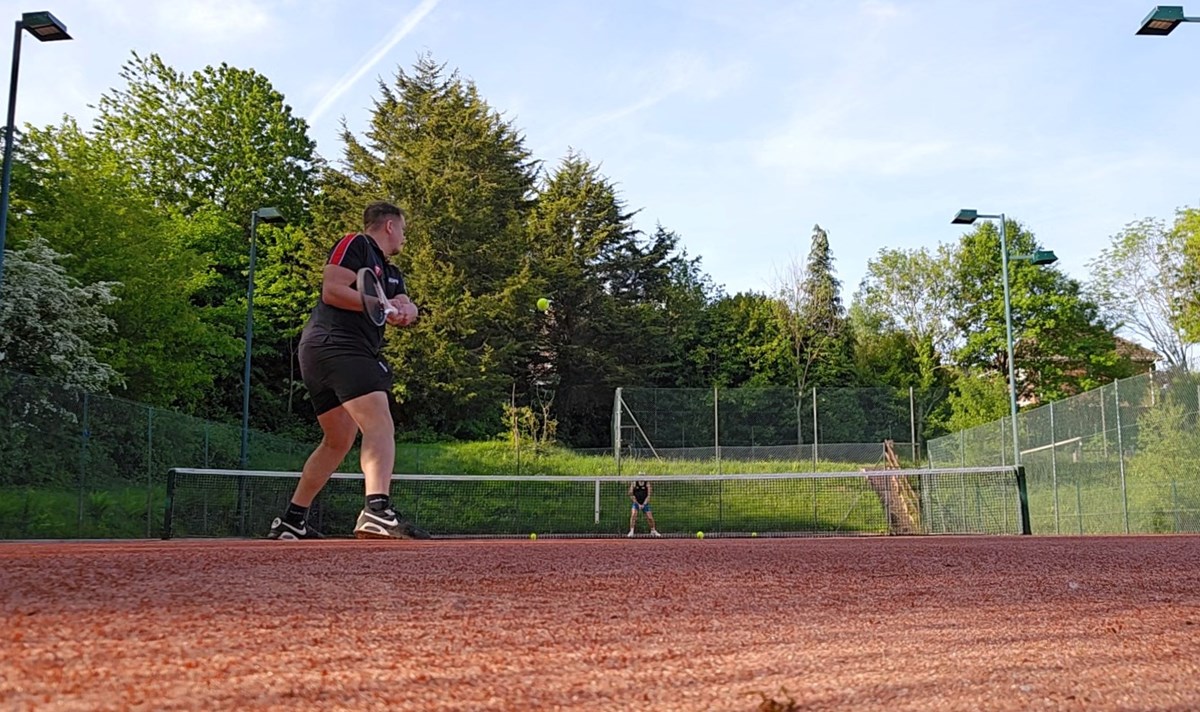 How important has tennis been for fellow members of the Baseliners in overcoming barriers they may have experienced?
Being LGBTQ+ in Wales is a tale of many stories, entwined with both good and bad experiences. Where we are born and who we have around us massively effect how LGBTQ+ start their lives and how they become as people. Still today with so many advances in society, many LGBTQ+ feel or experience phobias, suspicion and in some cases violence.
We at the Cardiff Baseliners pride ourselves in treating everyone equally, above all providing a safe space for all LGBTQ+ to be themselves. This is enshrined into our constitution and all members feel that we really do believe in these values. Our members range from new to tennis, to seasoned players, however each person is treated equally. Seeing members who joined a year ago now playing more confidently, with a new group of friends, is the most important part of this club for me personally. I'm very proud of how far we've come already.
You play on park tennis courts in Heath Park in Cardiff. How important has the accessibility of the courts in Heath Park been in helping the group develop?
Heath Park is a great location which caters to all needs. We are also very lucky to have the Heath Park coaches who have supported us from day one, and treat us with an incredible amount of respect. Park tennis is a huge part of making tennis accessible to more and more people across Wales and the UK.
You're hosting Cardiff's first LGBTQ+ tennis tournament as part of Cardiff Pride in June, just over a year after the group started. How proud are you of the group's growth so far?
I am incredibly proud of how far we've come in such a short time. I wanted this club to be a safe space for all and I really feel that with our friendly tennis sessions and the hard working and committed volunteers, this club can only go from strength to strength from here.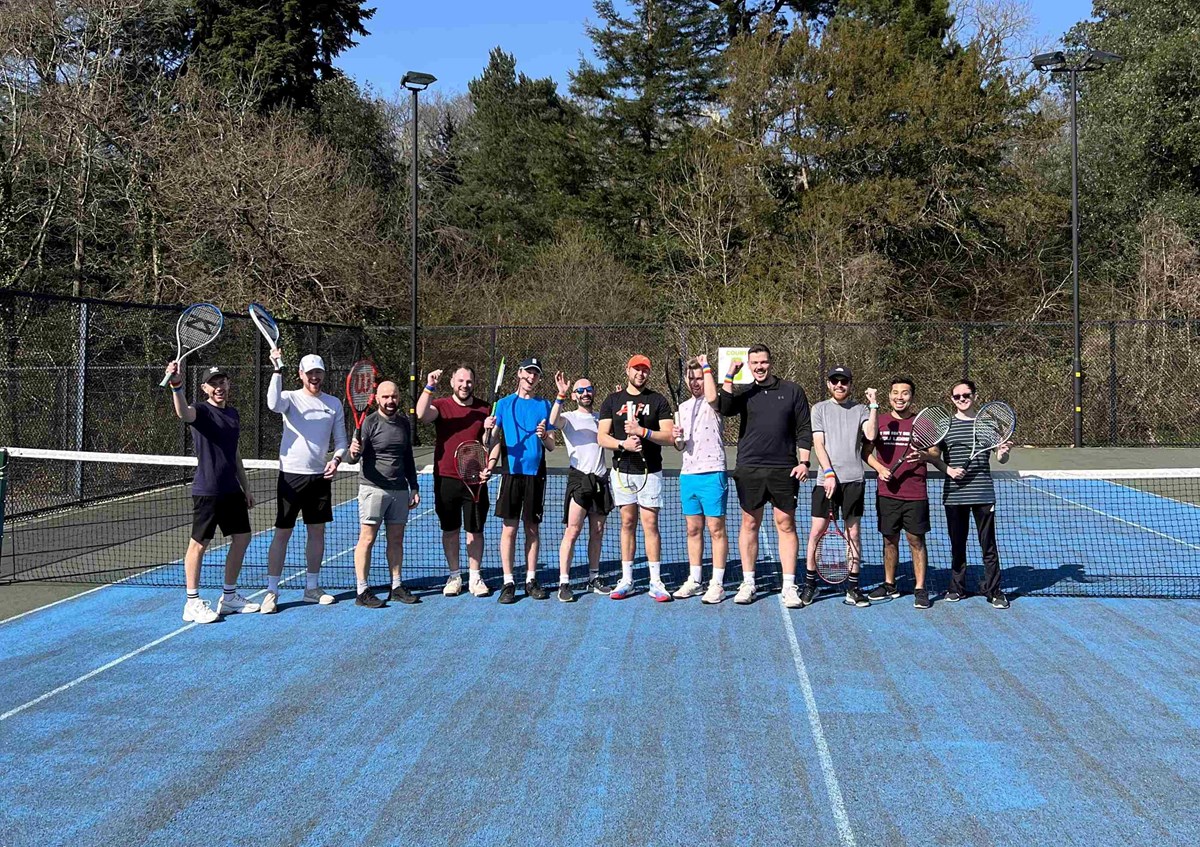 The Cardiff Baseliners are part of a growing network of LGBTQ+ inclusive tennis and padel groups across Great Britain. To find out more about the network, and to find out more about the Baseliners' Court My Attention tournament taking place on the 16th of June at Cardiff Met Cyncoed Tennis Club, visit the Pride in Tennis website.