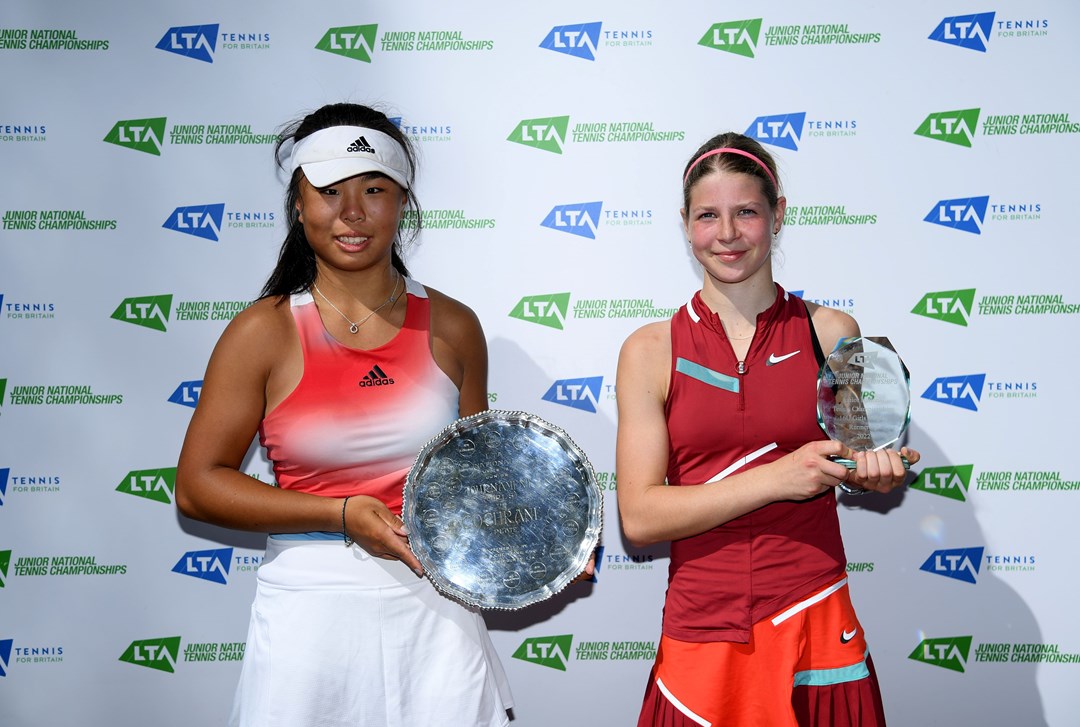 Domestic Competition
Mingge Xu and Henry Searle crowned 16U Junior National champions
• 3 MINUTE READ
Mingge (Mimi) Xu from south Wales has won the 16U Junior National Championships after beating Surrey's Hannah Klugman 6-3, 7-5 in a high-quality Final at the National Tennis Centre in Roehampton on Friday.
Meanwhile, Wolverhampton's Henry Searle beat Welsh-born Viktor Frydrych 6-4, 6-4 in the Boys' Singles Final, ensuring that both he and Xu will now be handed a wild card into the main draw of the Junior Wimbledon championships this summer, while both Klugman and Frydrych earning a place in the qualifying draw for that competition.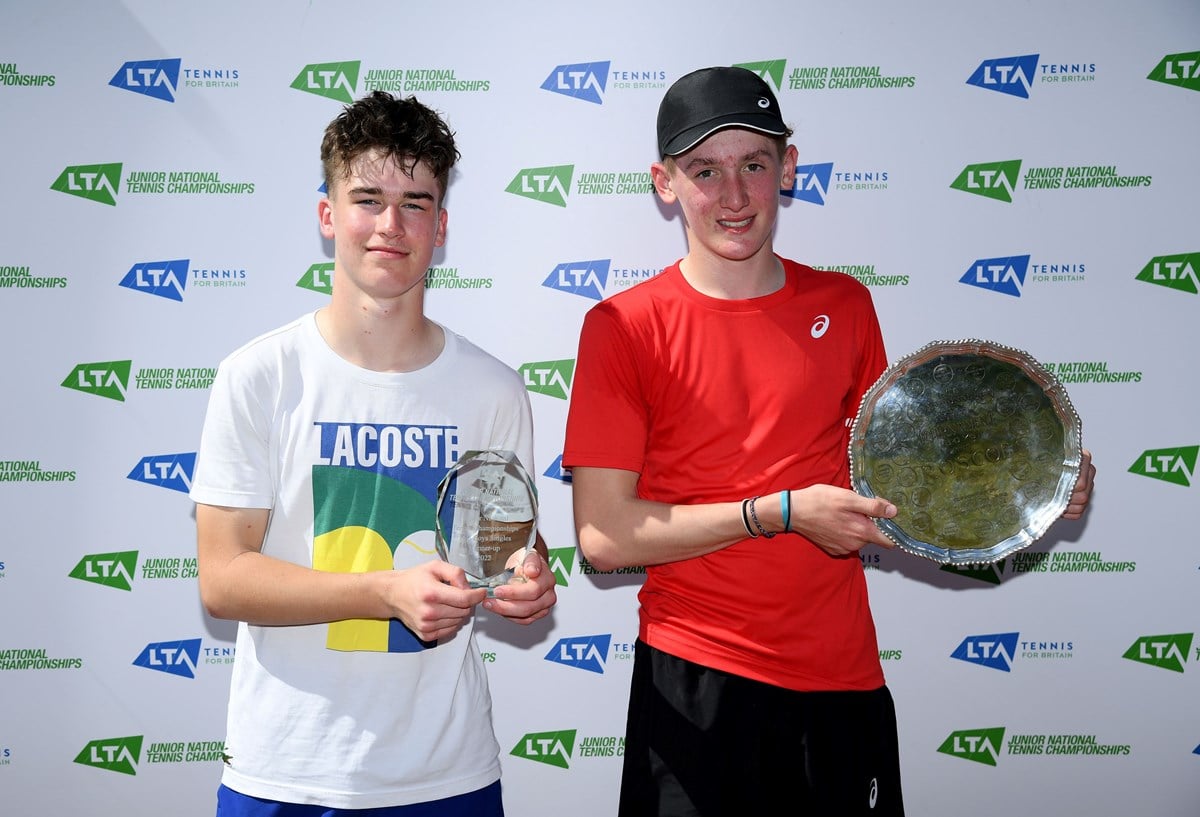 Xu is also looking forward to playing in the main qualifying draw for The Championships, Wimbledon after she won in the 18U Junior National Championships last week.
Both winners of the 16U Junior National Championships are training at the LTA's National Academy in Loughborough and are part of the programme being delivered by Nick Cavaday and his coaching team.
"I am very proud to have won both of the Junior National events at the National Tennis Centre," said Bridgend-born Xu.
"I feel like I played the big points well in this match, but all credit to Hannah because she raised her game in the second set. She is only 13 and is already playing at such a high level. Now I have so much to look forward to in the next few weeks with qualifying for Wimbledon a big opportunity for me."
The two finalists hugged each other after the match, with Klugman quick to congratulate her friend and rival as she said: "It's always hard when you play against Mimi. She was dictating the points in the first set, but I started to play better in the second and didn't quite get over the line in the second set. She is an incredible player. Hopefully we will play a lot of matches like this over the next few years."
Katie O'Brien, a former British No.1 and now LTA Women's National Coach, offered praise for both players as she said: "It was a high-quality final. There was so much depth in the 18U and 16U events this year, so it is a fantastic achievement for Mimi to win both. It has been a great success staging these events at the National Tennis Centre and hopefully we will see a lot of these players in years to come."
Searle, who was cheered on by his proud Mum Emma at the National Tennis Centre, reversed the result of his match against Frydrych in last week's 18U Junior National Championships to lift the title.
"I played pretty well in the final," said Searle, who is a season ticket holder at Premier League football club Wolves. "I played Vik last week and lost, so I needed to come up with a different game plan this time. It worked well and now I can't wait to play at Junior Wimbledon this summer."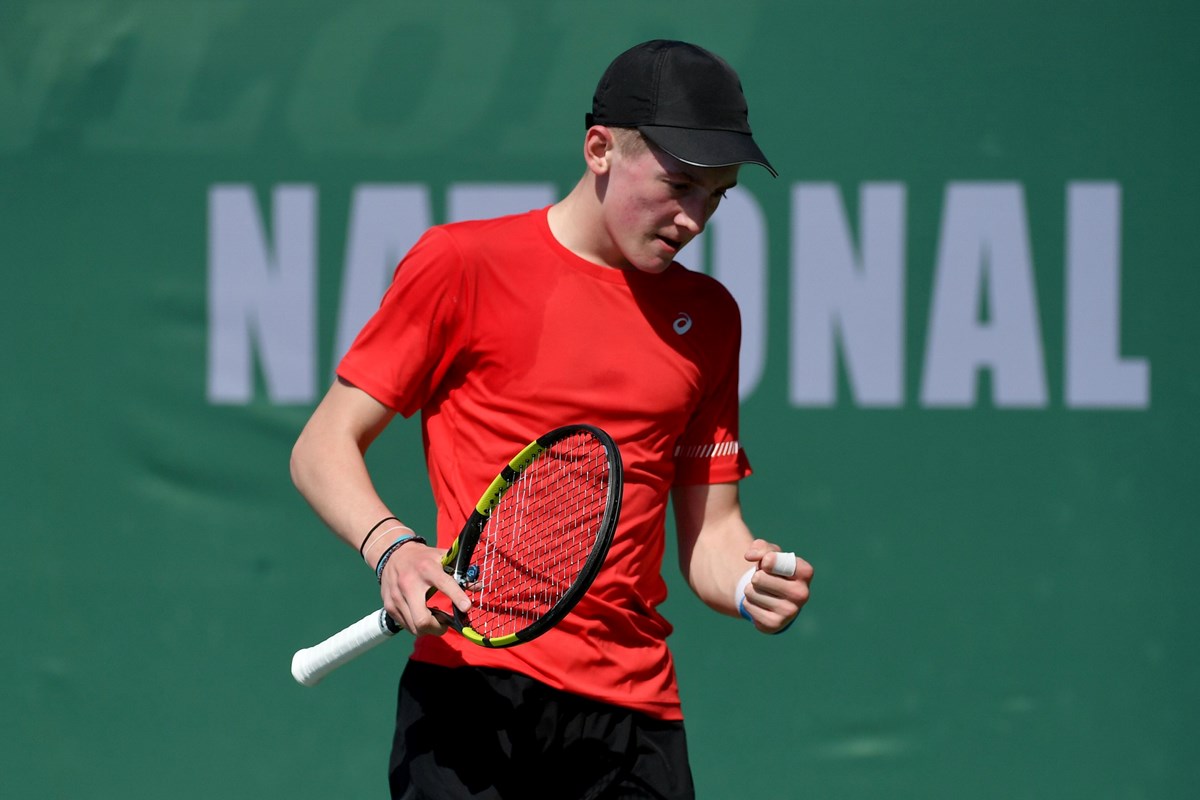 Bangor-born Frydrych was philosophical after his defeat as he said: "I didn't start the match well and gave myself too much to do in the first set. All credit to Henry as he played well and deserved to get the victory."
Alex Lisiecki, LTA Boys Under-16 captain said: "Henry and Viktor may have been the favourites to get to the final and they did a great job to get through. We saw a great final and I'm very enthusiastic about this age group coming through. I think they can go to a very good level in the next few years."
Doubles
In the Doubles event, Xu reigned supreme again, as she lifted the title with partner Hephzibah Oluwadare, beating Klugman and her partner Abby Kelliher 6-1, 2-6, 10-2 in the final.
Meanwhile, Benjamin Gusic-Wan and Jamie Diack took the Boys title, beating Oliver Bonding and Joseph Mazingham 6-4, 7-6 (8) in the final.