Diversity and Inclusion
LTA joins 'From Home 2 The Games' campaign
• 6 MINUTE READ
Ahead of Tokyo 2020, the search is on to find the wheelchair tennis players of the future after the LTA joined UK Sport, the English Institute of Sport (EIS), Team GB, ParalympicsGB and a range of other Olympic and Paralympic sports to launch 'From Home 2 The Games'.
From Home 2 The Games has been specifically designed to engage and encourage young people from all communities in the UK to explore their possibilities in Olympic and Paralympic sports that they may never have thought about getting involved with before, and consequently, discover untapped potential.
It is seeking to reach and engage 11-23-year-olds who are sporting or physically active to participate in Olympic sport and 15-34-year-olds with an impairment that makes them eligible to participate in Paralympic sport.
Get Involved!
Officially launched today at the Queen Elizabeth Olympic Park, potential athletes can now join From Home 2 The Games by completing three simple challenges and submitting their results.
For potential wheelchair tennis players, participants simply need to film and upload the three Paralympic sport challenges;
a 20m push or sprint
a pick-up and throw
an open skill challenge (for wheelchair tennis, you might want to consider something such as showing us your best racket and ball skill as your open skill)
As part of the process, potential athletes will be encouraged to upload their scores and fill in a short form about themselves and their sporting background. Submissions will close at midnight on Monday 6 September and then be reviewed by a team of expert sport scientists and coaches.

A select number of potential athletes will be invited to progress to the next stage of the process in the autumn with sessions held to further explore their opportunity to be a future Olympian or Paralympian and the possibility of being selected to join the LTA's development programme for wheelchair tennis.
Irrespective of any progression and selection towards development programmes, all of the young people who engage with From Home 2 The Games will be signposted as to how they might get involved with Olympic and Paralympic sport in their local areas and communities.
What They Said
Matthew Grover, LTA Interim Wheelchair Talent Pathway Manager, said: "Everyone's journey starts somewhere and with our vision to be one of the most respected tennis nations for wheelchair tennis player development and disability sport of choice across Great Britain, 'From Home 2 The Games' (LINk not working) provides the brilliant opportunity for the journey of our future wheelchair tennis Paralympians to start right now, from their own homes.
"Great Britain has had tremendous success in wheelchair tennis in recent years, with many of our players themselves starting at home and going on to achieve Grand Slam and Paralympic success, and so we are pleased to be working with UK Sport, EIS, ParalympicsGB and all the other organisations to help find the athletes of the future. I'd encourage every young person who may be interested to visit the website and get involved."
Dame Katherine Grainger, Chair of UK Sport, said: "Our hope is that every young person that gets involved with From Home 2 The Games will have a fantastic, positive experience of sport and, wherever it might lead, will be better for having engaged with it. We are committed to discovering the nation's exceptional sporting talent of tomorrow and building a more inclusive and diverse Olympic and Paralympic family.
"From Home 2 The Games is a brilliant example of the Olympic and Paralympic high-performance community coming together to give young people a chance that they may never have had otherwise. We want to get to a place where the only barrier to sporting success is potential, and so I would encourage people from all backgrounds and all corners of the UK to give this a go and have fun with it."

Sports Minister Nigel Huddleston said: "Sport is vital to our physical and mental health and wellbeing so it's fantastic to see so many of our elite sports bodies working together and encouraging young people to get fit and active.
"The expansion of the From Home 2 The Games programme means it will now go even further in its search to get young people involved in sport and hopefully unearthing the Great British Olympic and Paralympic talent of the future."
Penny Briscoe, ParalympicsGB Chef de Mission at Tokyo 2020, said: "We hope this bold new initiative can tap into communities that we have not managed to regularly reach to unearth more talented Paralympic athletes of the future.
"Working in partnership with UK Sport, National Governing Bodies and the English Institute of Sport, we are confident this initiative can be a crucial first step in people fulfilling their dreams of competing at a Paralympic Games and ensure ParalympicsGB is truly representative of the whole nation.
"ParalympicsGB believe passionately in equality and inclusion and we recognise that we need to ensure that there are opportunities for all aspiring athletes throughout the UK, so please sign up and begin your Paralympic journey."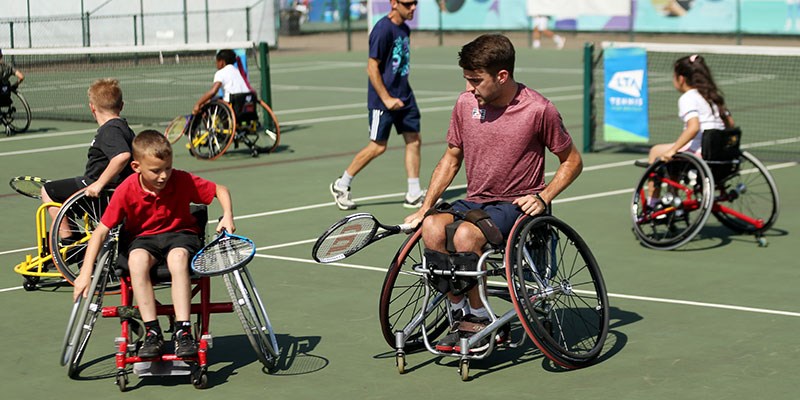 John Alder, Head of Performance Pathways at UK Sport and the English Institute of Sport, said: "From Home 2 the Games represents an exciting chance for us to connect the next generation of sporting talent with an opportunity in Olympic and Paralympic sport.
"The campaign is about finding a connection from home, where many young people have had to spend a lot of time over the past year, to the Games, which are now just around the corner.
"This will be our first digitally led athlete engagement opportunity and we hope this will allow young people of all backgrounds to enter, creating the opportunity for future athletes from right across the UK to maybe one day compete at the very highest level."