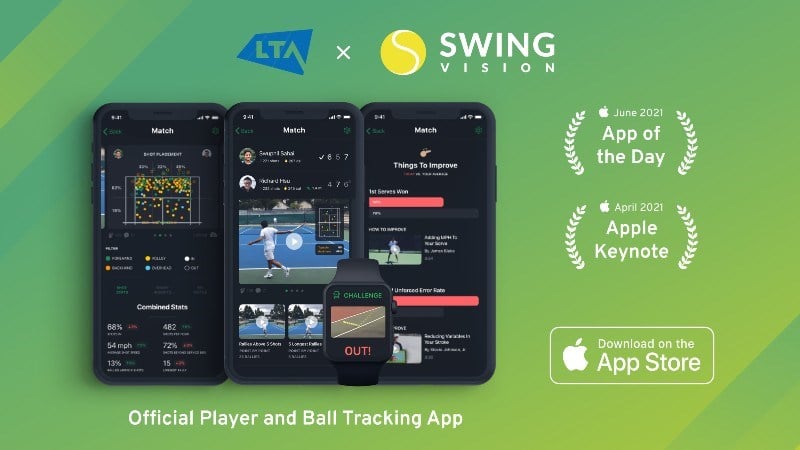 LTA
LTA continue drive for innovation in tennis with new SwingVision partnership
• 3 MINUTE READ
The LTA, the national governing body for tennis in Great Britain and SwingVision has announced a three-year partnership, whereby SwingVision will become the Official Player and Ball Tracking Technology Partner of the LTA.
SwingVision is a mobile app that uses proprietary A.I. to provide automated shot tracking, video analysis, live streaming and line calling all from just a single iPhone or iPad.
Featured in Apple's April 2021 iPad Keynote event and also recognised as the Official Player and Ball Tracking Technology Partner of Tennis Australia, SwingVision was founded by A.I. experts from Apple and Tesla and its early investors include former ATP pros Andy Roddick and James Blake.
LTA Product & Programme Manager Jo-Anne Downing said: "One of our key strategies is to find new ways to grow participation and find innovative new ways to connect people to tennis and innovate the game, which is why we are excited to be working with SwingVision. The product is unique in that it provides real-time statistics and video analysis in an affordable and easy to use package – something that was unheard of before now. Players at all levels of the game can get feedback on things like shot placement, posture or footwork while also tracking speed, type of stroke and spin from anywhere in the world through an iPhone or iPad."
Players and coaches who are LTA Advantage members will receive recurring discounts off of their annual subscription to SwingVision Pro, while the more than 2000 LTA Accredited+ Coaches will receive complimentary access to SwingVision Pro.
"SwingVision's A.I. turns your smartphone or tablet into a personal tennis coach, streaming platform and line judge that you can bring with you to any court," SwingVision CEO Swupnil Sahai said.
"This comprehensive, portable solution will enable entirely new experiences for tennis players of all levels that will make the sport more fun, fair and accessible than ever before."
"We're delighted to partner with such an innovative team like the LTA and can't wait to get SwingVision on every court in the U.K."
To learn more about SwingVision and its services, please click here
Keep up to date with all the latest from tennis in Britain by following @the_LTA on Twitter, @LTA on Instagram, LTA – Tennis for Britain on Facebook and @lta on TikTok.