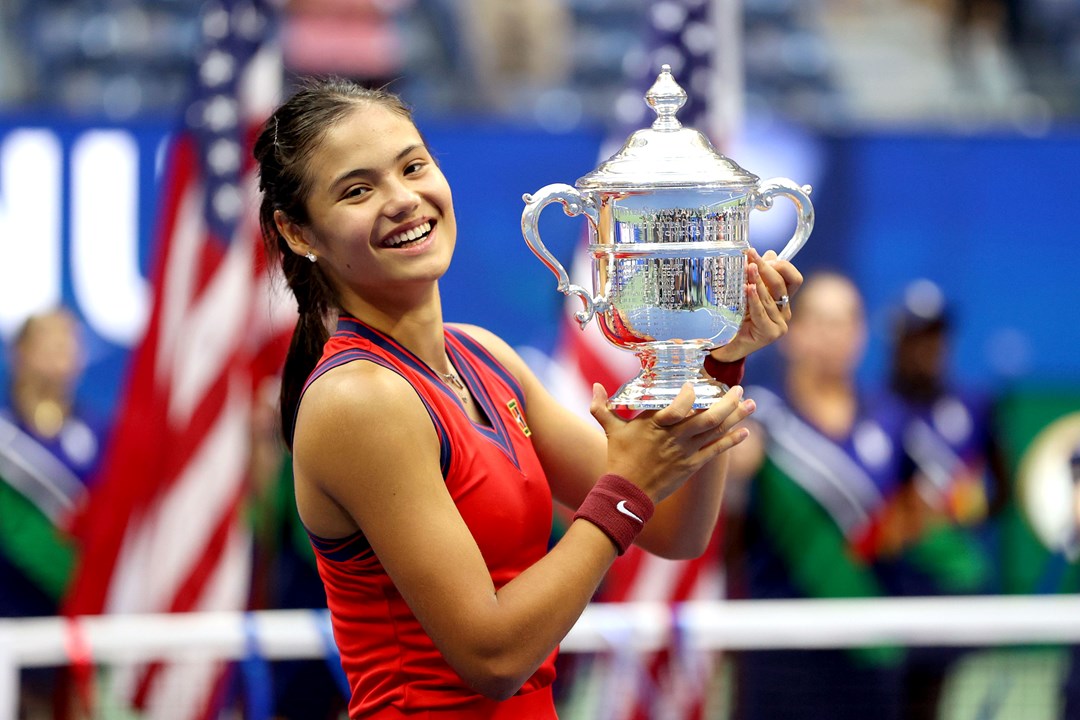 LTA Youth
LTA and Emma Raducanu team up to inspire the next generation with LTA Youth Schools 'Emma Raducanu Trophy Tour'
• 3 MINUTE READ
The LTA and Britain's No.1 women's singles player Emma Raducanu have teamed up to inspire school pupils across the country by taking Raducanu's 2021 US Open trophy on a widespread tour of the country.
The LTA Youth Schools 'Emma Raducanu Trophy Tour' will start on Monday 9 May and see the national governing body for tennis take Raducanu's 2021 US Open women's singles trophy to visit schools across all regions of Britain. All of the schools involved have signed up to deliver LTA Youth Schools for their pupils, a programme that Raducanu is an Ambassador for.
As part of the tour, pupils will watch a special message from Raducanu, as well as get on court for an LTA Youth tennis session delivered by an LTA Youth coach. There will also be opportunities for pupils and staff to have their pictures taken with the trophy.
The Trophy Tour, which is a highlight of the LTA's wider plans to grow tennis, supports LTA Youth, an innovative junior programme aimed to help more children aged 4-18 enjoy tennis. The schools element of the programme is delivered in Primary and Secondary Schools right across the country, and offers free teacher training and content that has been specifically created to help address the nation's challenge of declining physical literacy and activity among children.
The Trophy Tour aims to inspire the next generation of tennis players as we move towards the summer highlight of the tennis season - capitalising on Raducanu's famous success in New York in September 2021 that captivated the nation.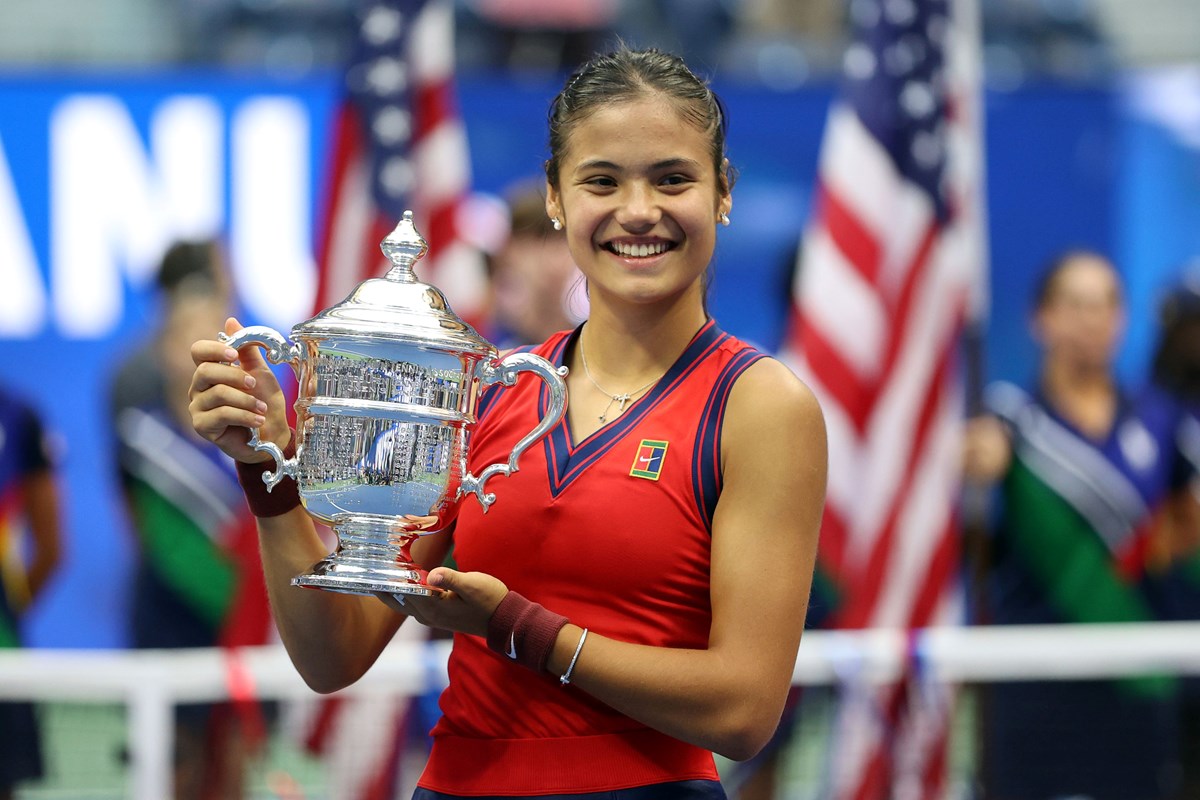 The then 18-year-old defeated Canadian Leylah Fernandez 6-4,6-3 on Arthur Ashe Stadium to become the first British woman to win a Grand Slam singles title in 44 years, making tennis history by becoming the first ever player to come through qualifying to win a Grand Slam title.
"All the schools we are taking the trophy to have played tennis as part of the LTA Youth Schools programme and my hope is that the trophy will inspire them to continue their tennis journey both inside and outside of school," said Emma Raducanu.
Scott Lloyd, CEO of the LTA, said:
"We're excited to be able to take Emma's 2021 US Open trophy to school children up and down the country.
"What Emma achieved in New York was incredible, and we want to use her success to get more school children playing tennis and to encourage our future tennis stars."
The LTA Youth Schools 'Emma Raducanu Trophy Tour' will start at St Paul's Way School in Tower Hamlets, the LTA Tennis Awards School of the Year for 2021, on Monday 9 May, moving on to schools in Bristol, Cardiff, Birmingham, Nottingham, Leeds and Middlesbrough before finishing in Edinburgh on Friday 13 May.
The full list of Schools includes:
Monday AM – St Paul's Way, Tower Hamlets (London)
Monday PM - Gretton School, Cambridge
Tuesday AM – Glenfrome Primary School, Bristol
Tuesday PM - Ysgol Gatholig Cardinal Newman Catholic School, Pontypridd
Wednesday AM – Waverley School, Birmingham
Wednesday PM – Haydn Primary School, Nottingham
Thursday AM - Hovingham Primary, Leeds
Thursday PM – St Bernadette's Primary School, Middlesbrough
Friday AM – Broughton Primary, Edinburgh
LTA Youth Schools is designed specifically for schools to support the curriculum and wider school outcomes. The programme brings together inclusive PE lesson plans, personal development resources, teacher training and much more. It's all been designed by teachers, for teachers, and it's all free.
The LTA offer schools who complete free online primary or secondary teacher training course a £250 reward voucher. The voucher can be spent on tennis equipment or 10 hours of team teaching with an LTA Accredited Coach.
Schools can sign up and register for LTA Youth Schools by clicking here. School teachers that register and complete the online teacher training course before 27 May will be entered into a draw to win a virtual Q&A with Emma Raducanu.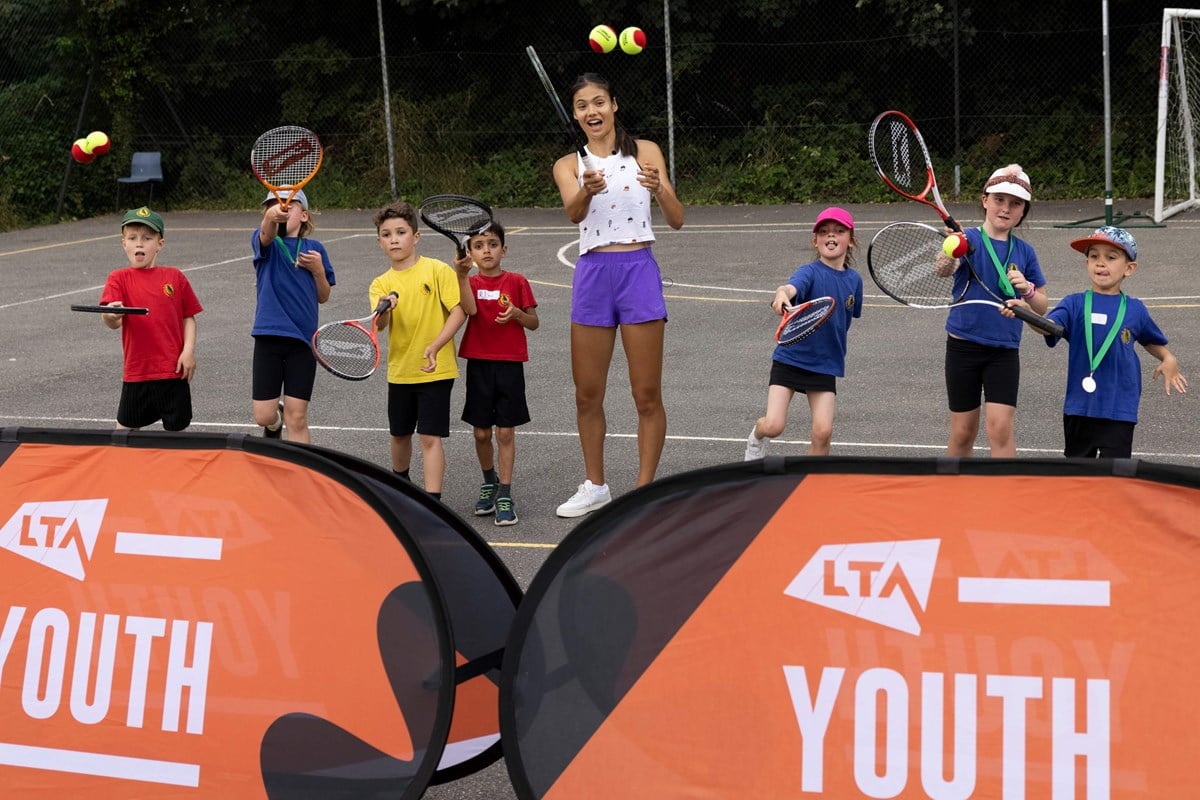 The LTA are an afPE Professional Development Board Approved Provider, recognising the high standard of both the resources and the teacher training we provide.
If you are interested in finding out more about the LTA Youth programme, please visit the LTA Youth page here for more information.