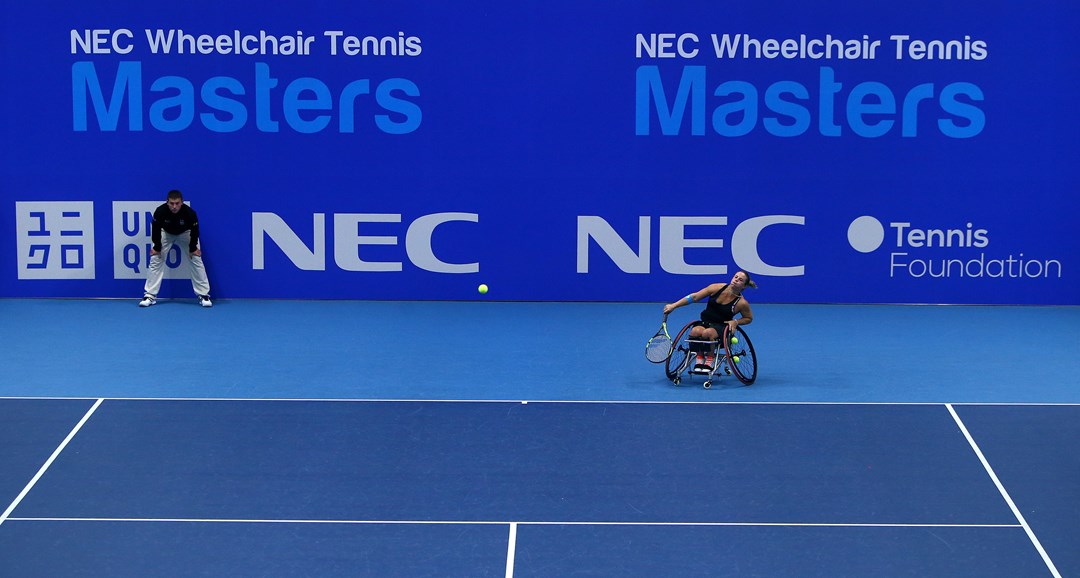 International
Loughborough University to host 2017 NEC Wheelchair Tennis Masters
• 3 MINUTE READ
The world's best wheelchair tennis players will descend on Loughborough University at the end of November after the university's state-of-the-art indoor tennis centre was selected by the Tennis Foundation to host the prestigious 2017 NEC Wheelchair Tennis Masters.
The event is the International Tennis Federation's official year-end wheelchair tennis championship on the UNIQLO Wheelchair Tennis Tour, and will take place from 29th November to 3rd December. The elite field in Loughborough will feature the top eight men, top eight women and top six quad players in the UNIQLO Wheelchair Tennis World Rankings.
Based on current rankings, British Paralympic medallists Gordon Reid, Alfie Hewett, Lucy Shuker and Andy Lapthorne would all be in line to take part. Tickets are available now at www.wheelchairtennismasters.com, priced just £8 for adults, with half price concessions and under 18's just £1.
The tournament moves to Loughborough after three years at London's Queen Elizabeth Olympic Park. The event is an ideal day out for families, schools and community groups and will include a fun activity zone for children and adults alike to give tennis a go.
As part of a community outreach programme, special arrangements are in place for schools and community groups that want to attend the 2017 NEC Wheelchair Tennis Masters. Any formally organised group of people such as clubs, societies, voluntary organisations and charities are invited – groups can register their interest by emailing in.
Joanna Farquharson, Deputy Executive Director of the Tennis Foundation, said: "We are delighted to be able to bring the NEC Wheelchair Tennis Masters to the East Midlands. The Tennis Foundation has been delivering world class tennis events for disabled people for over twenty-five years, using them as an opportunity to encourage more people to play and watch this fantastic sport.
"We have enjoyed record crowds and live TV coverage for the last three years we have hosted the Masters, and so we are really excited to be able to bring the event to Loughborough. We'd encourage everyone to come along and witness the world's best wheelchair tennis players showcasing their outstanding abilities."
Loughborough University's Tennis Programme Director Helen Reesby added: "We are delighted to be hosting the 2017 NEC Wheelchair Tennis Masters for the first time here at Loughborough University. This is an inspirational and prestigious event and we are looking forward to welcoming the best players in the world, and their coaching teams, onto campus for what promises to be a fantastic five days of tennis."
The 2017 edition will be the 24th ITF Masters tournament since the inaugural event in the Netherlands in 1994.
ITF President David Haggerty said: "The ITF is delighted that the 2017 NEC Wheelchair Tennis Masters will be moving to a new home in Loughborough for 2017, with Loughborough University renowned for its world class sporting tradition. The region has a long history of hosting world class wheelchair tennis events staged by the Tennis Foundation, including the British Open Super Series and three editions of the World Team Cup, the ITF's flagship wheelchair tennis team event."
The Tennis Foundation is Great Britain's leading tennis charity with a vision to make tennis a sport which is inclusive and accessible to all. It works to open up tennis to its priority audiences of disabled people, young people in education and in lower socio-economic communities – making it possible for them to enjoy the many health and social benefits of the sport whilst maximising their personal potential.
In staging the NEC Wheelchair Tennis Masters in Loughborough, the Tennis Foundation will use the event as a platform to both raise the profile of tennis as a sport for disabled people and drive wider participation in tennis in the region.