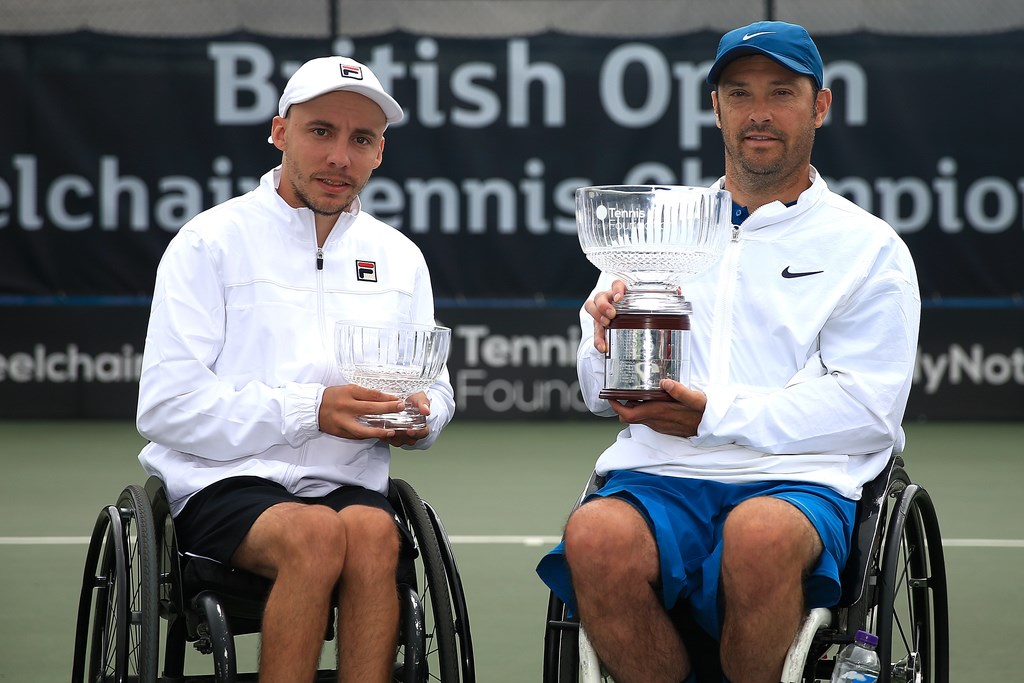 Grand Slam
Lapthorne edged out in British Open final as 2018 champions decided
• 6 MINUTE READ
Great Britain's Andy Lapthorne narrowly missed out on his maiden quad singles title at the British Open Wheelchair Tennis Championships on Sunday as David Wagner of the USA, Japan's Shingo Kunieda and Diede de Groot of the Netherlands took the titles at Nottingham Tennis Centre.
A valiant effort from Lapthorne in his fourth British Open quad singes final in five years saw the world No. 3 ranked Brit produce a clinical and composed first set performance, dropping just one point in his first two service games to build a 3-0 and he closed out the set on his second set point.
However, Lapthorne's composure slightly wavered in the second set, allowing Wagner to get back into the match. Rio Paralympic silver medallist Lapthorne continued to dig deep as he tried to avenge his loss to Wagner in the 2017 final, but the American would not be denied and he recovered from 3-1 down in the final set to wrap up his fourth British Open title 2-6, 6-4, 6-4 at the end of an emotional week, with the world No.1's grandmother having passed away earlier in the week.
"They're not ever easy and they shouldn't be, being the final, but emotionally that one was tough with dealing with the loss of my grandma. Andy played incredibly well all the way through. I don't feel his level dropped a whole lot. So in the second and third sets it was just a case of sticking to the game plan. So my level went up and the scores indicate that," said Wagner.
"It's awesome to have everyone come out to support us. I don't think they were supporting me today, maybe, but what is great is people just enjoying our sport."
"No excuses today," said Lapthorne. "I played a ridiculous level in the first set and to keep that up is very tough. It was just one or two points here or there, so it's just a case of keeping putting yourself out there and one of these days one of these finals will fall to me. Credit to him, at 3-1 in the third and 40-15 he pulled off four of the best returns you'll ever see and that about sums up his class."
With record crowds having enjoyed this year's British Open after the Tennis Foundation made free tickets available, Sunday's crowd was treated to a master class from Kunieda in the men's singles final.
Japan's world No.1 and two-time former champion Stephane Houdet contested a match of the highest quality and on any other day Houdet's tally of clean winners would have earned him a third British Open title. However, Kunieda consistently found a way to win the big points and sealed a 6-1, 6-2 win for his sixth British Open title after an hour and 12 minutes.
"I love Nottingham and I love to play here and today many spectators have turned out, so thank you for watching," said two-time Paralympic champion Kunieda, who first played Houdet at the British Open 10 years ago before beating the Frenchman in the 2009 final. "I lost Wimbledon first round last week and so I really wanted to win here this week and I could play well and hit my peak."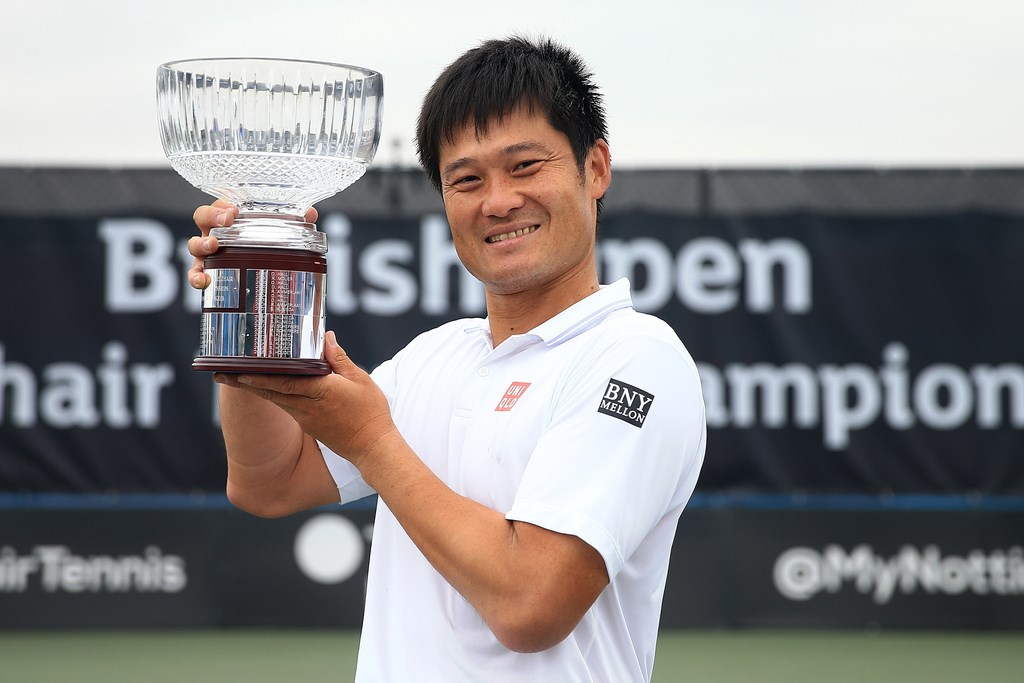 Service holds were at a premium in the early stage of the women's singles final, but defending champion Kamiji finally imposed herself to serve out the opening set. De Groot gained the crucial break for a decisive 5-3 lead in the second set and another break at 4-3 in the third provided a firm grounding for de Groot to clinch her first British Open title 2-6, 6-3, 6-3 as a backhand from the top seed's racket clipped the top of the net and trickled down onto Kamiji's side of the court on de Groot's first match point.
"I could definitely notice we were very tired after having come straight from Wimbledon, so I think today it was who could hold on and keep trying to go for it going for it." said de Groot, who claimed her second Wimbledon title last weekend. "It's been quite mentally tough but, of course, I'm really excited to add the British Open title."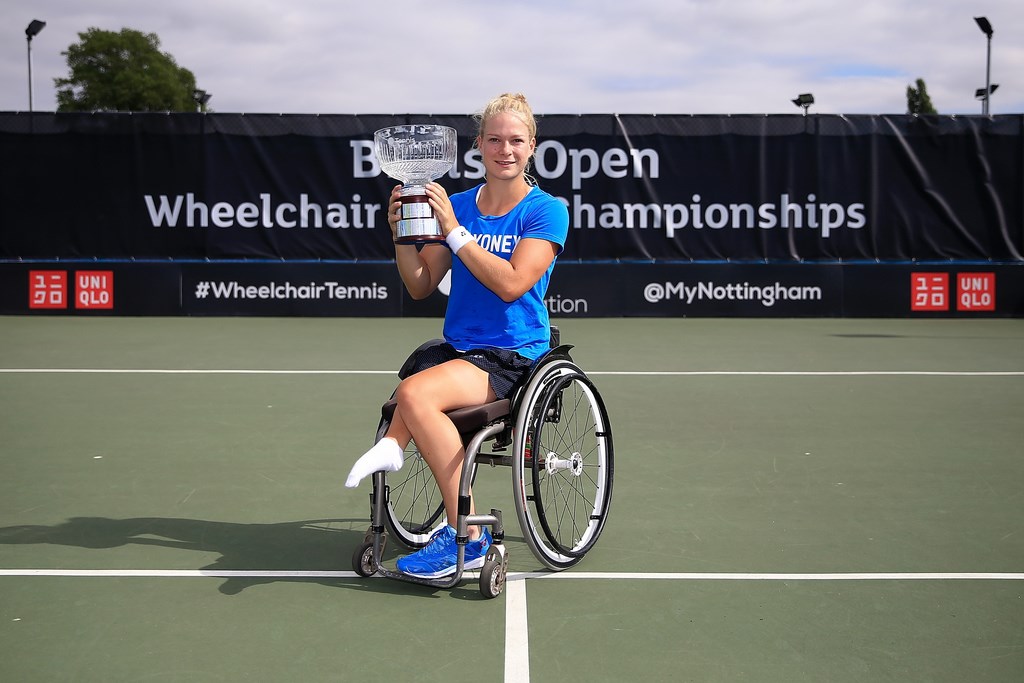 With Sunday's last day of play also seeing the conclusion of the British Open Junior Wheelchair Tennis Championships, there was local East Midlands success for Long Eaton's Abbie Breakwell and Dahnon Ward, who won the girls' singles and junior doubles, respectively, with Ward partnering Norwich player Ben Bartram to the doubles title. Bartram also won the boys singles title to cap a memorable tournament.
British Open
Women's Singles – Diede de Groot (NED)
Men's Singles – Shingo Kunieda (JPN)
Quads Singles – David Wagner (USA)
Women's Doubles – Diede de Groot (NED) & Yui Kamiji (JPN)
Men's Doubles – Stefan Olsson (SWE) & Joachim Gerard (BEL)
Quads Doubles – David Wagner (USA) & Bryan Barten (USA)
Girls Singles – Abbie Breakwell (GBR)
Boys Singles – Ben Bartram (GBR)
Junior Open Doubles – Dahnon Ward (GBR) & Ben Bartram (GBR)
Boys Singles Consolation – Diarmuid Murphy (GBR)
Junior Open Doubles Consolation – Joshua Johns (GBR) & Lucas Town (GBR)
Nottingham Futures
Women's Singles – Elizabeth Williams (USA)
Men's Singles – Ruairi Logan (GBR)
Women's Doubles – Elizabeth Williams (USA) & Cornelia Oosthuizen (GBR)
Men's Doubles – Philip Fielding (AUT) & Mark Langeveld (GBR)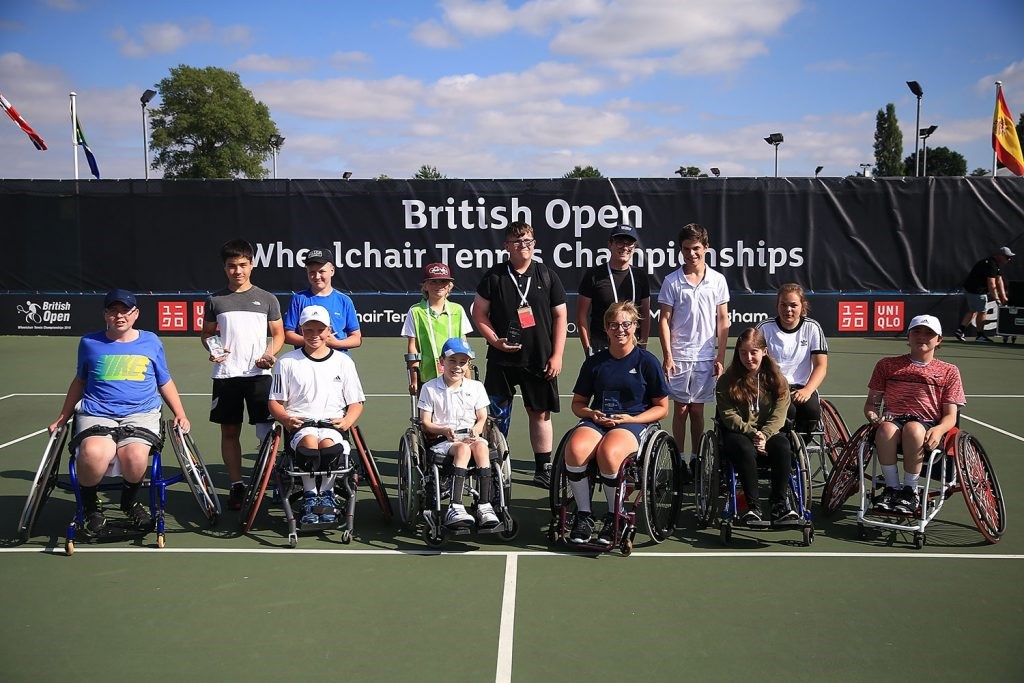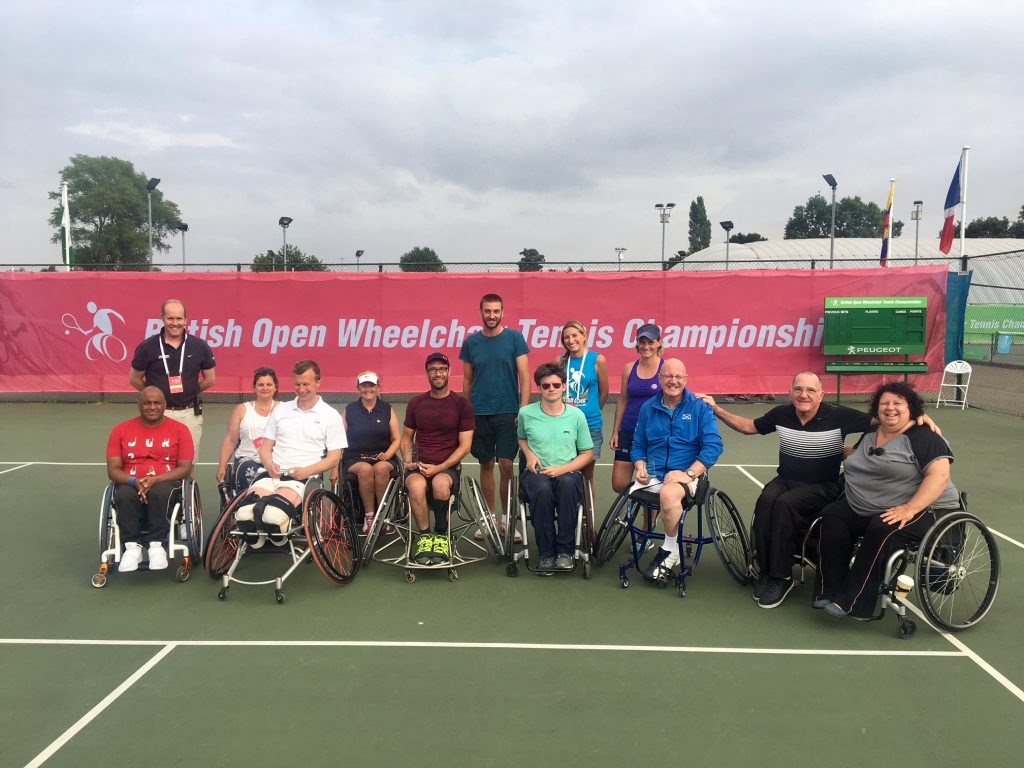 To find out more information about disability tennis or how to get involved, click here.