Players News
Katie Swan on injury comeback, junior success and representing Great Britain
• 4 MINUTE READ
One of Britain's brightest prospects, Katie Swan, has opened up on her battles with injury and her hopes for the future in a wide-ranging podcast interview.
Speaking to the team at the SotoTennis Academy as a guest on 'Control the Controllables', the 21-year-old talked through the highs and lows of her fledgling career to date – from reaching the Australian Open Girls final and playing in the Fed Cup to her recent injury struggles.
Swan, who hasn't competed since March, missed events like the Battle of the Brits and the Progress Tour Women Championships through injury this year, but she is remaining positive during her spell on the sidelines.
"I've been struggling since July with some injury problems," she said. "I tried playing one of the exhibition events in the UK at the beginning of July and I actually went into a full back spasm, so I was recovering from that for a while. At the moment I'm struggling with a left wrist injury but I'm just taking it day by day.
"I'm just waiting until I'm ready, I'm not putting any timelines on events and I'm just trying to get healthy at the moment – that's the number one priority."


Coming back from a series of injuries means the young Brit has had to re-think some of her training methods and discusses how she's working smarter on the practice court.
"I'm having to get used to doing less and being satisfied with that work," she said. "I'm putting the most I can into a shorter session, not even physically but mentally as well and giving it my best when I'm on the court.
"The biggest part is being mentally engaged the whole time. You can sweat, work hard and be tired after a session and say you've worked hard but when you break it down, did I give my best mentally? Do I think I'm a better person and player today?"
Having discovered tennis at a holiday camp Swan's potential was clear to see from a young age. Aged 10 she was competing in national tournaments and when she was 15 she went on an incredible run to reach the final of the Australian Open juniors – something she looks back on fondly.
"It was amazing, it was so unexpected at the time," she said. "I had been progressing steadily throughout the year – when I played more ITFs – and I had my first experience at a junior slam at Wimbledon. I was starting to believe in myself more against the higher girls but nothing crazy had happened.

"There was a lot of attention from the press in the UK. It was important for me to get straight back to work and not really be on too much of a high for too long because it makes the next step a lot harder.
"At that age it wasn't too difficult to deal with that pressure – I was so young that I didn't think about it, I was just playing and enjoying it. I think it's when things aren't going so smoothly that you start to feel the pressure."
In early 2019, Swan was picked by Billie Jean King Cup captain Anne Keothavong to represent Great Britain on two separate occasions in a bid to reach the formerly known, Fed Cup World Group for the first time since 1993. The Brit stresses how important these ties were in advertising women's tennis and getting more kids into the sport.
"We had an opportunity to really showcase women's tennis and Fed Cup when we were playing in Bath for that tie last year," she said. "I think it was great for the viewers – every day we had a full crowd watching. Then that tie obviously led to the tie at the Copper Box in April where again it was big crowds and I think those ties were really important for tennis in Great Britain for women.
"We heard from our media manager that the viewing figures were great and that we'd inspired a lot of young girls and hopefully boys to get into tennis. I think the main thing is just the awareness and for people to understand that we do what the boys do and just as well."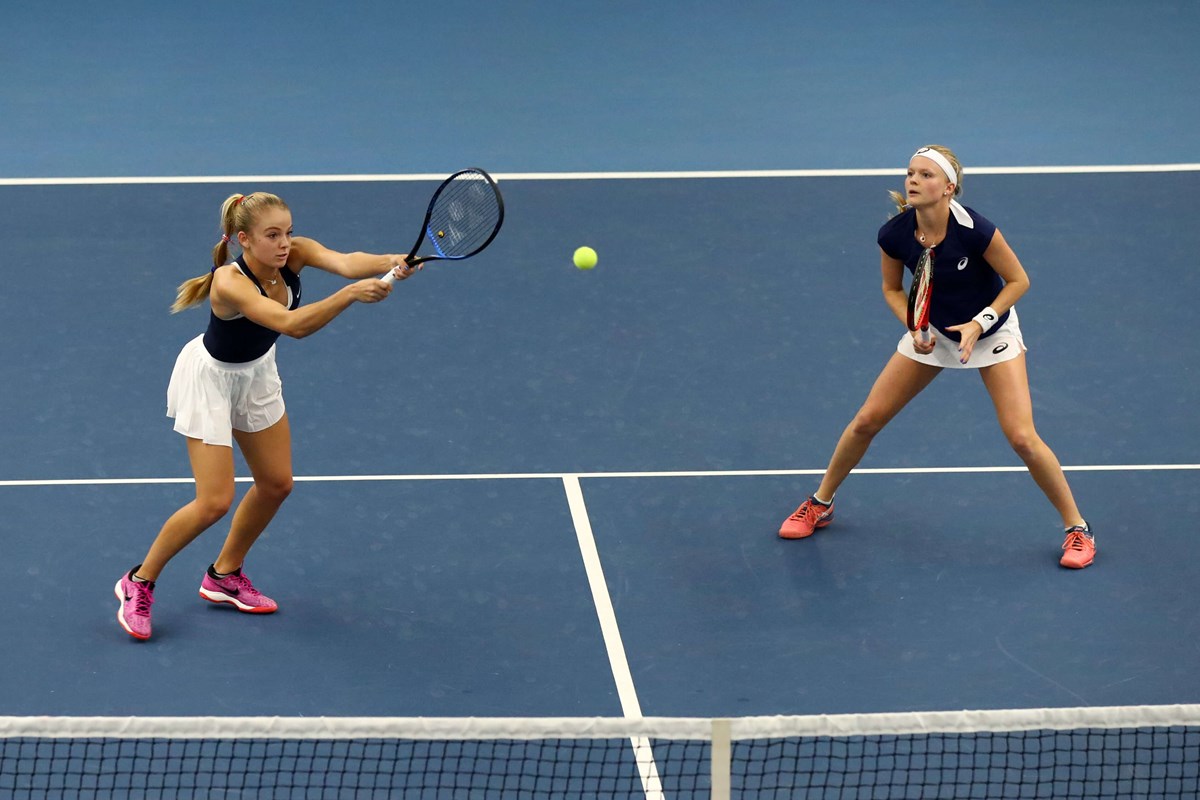 Swan, who earlier this year completed the 2.6 Challenge to raise money for Battersea Dogs Home, also mentioned that she'd bring in some four-legged support for players if she could change one rule in tennis.
"I would, as a dog lover, have a therapy dog at the side of the court if you needed a cuddle."
Listen to the 'Control the Controllables' podcast on iTunes and Spotify