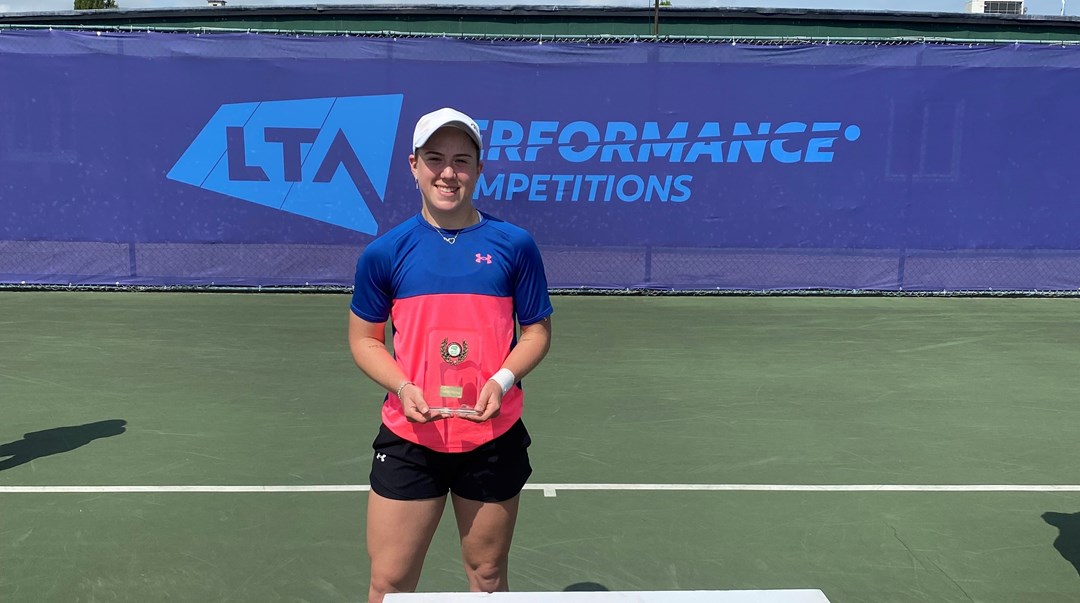 International
Kartal takes the title in third week of ITF event in Nottingham
• 3 MINUTE READ
It was a triumphant Sunday for Britain's Sonay Kartal in the Nottingham sunshine, as she won the final of the ITF W25 event with a convincing 6-1 6-0 victory against America's Danielle Lao.
Kartal lifted the fifth ITF title of her career and her third at W25 level this year with a polished performance at the Nottingham Tennis Centre, as the 20-year-old backed up wins in W25 events in Birmingham and Glasgow in February with another impressive victory.
All three of these tournaments in Nottingham are part of the expanded LTA's expanded Performance Competitions Calendar and Kartal, who was a member of the Great Britain squad for the Billie Jean King Cup tie against the Czech Republic last month, proved to be a worthy champion.
Kartal has now won 20 of her last 21 matches on the ITF World Tour and 36 out of 39 matches since returning to action following an injury last year.
"I was happy with the number of balls I managed to get in the court and I kept a very consistent level throughout the whole match," said Brighton-based Kartal. "It has been a good year for me so far. I have managed to stay injury-free, which is a big thing for me. I'm just going to try and keep this consistent level and I'm excited to play on the grass courts in a few weeks."
It was also an encouraging week for British players in the M25 draw in Nottingham, with Alastair Gray, who is on the LTA's Men's and Women's Support programme, joining Stuart Parker and Billy Harris in the semi-finals.
The title was won by Switzerland's Leandro Riedi, who beat Jersey-based Parker 6-1 6-7(11) 6-1 in a competitive final.
There was also success for Britain in the men's doubles, with Julian Cash and Henry Patten beating compatriots Charles Broom and Jan Choinski 7-6(5) 6-2 in the final.
"Having had a very successful three weeks already at Nottingham, we are looking forward to another great week of tennis," said Tournamanet Direct, Richard Joyner.
"These events have been of great benefit to the British players, and we look forward to this continuing into week four. It's also a great opportunity for spectators to come to watch some high-quality tennis free of charge. The action gets underway on Monday (9 May)."
This tournament was the latest in an expanded LTA Performance Competitions Calendar, with the number of events rising from seven men's events and eight women's events in 2019 to 16 for both men and women in 2022. This is in addition to the grass-court season playing opportunities already in place.
The aim is to provide more opportunities for players to compete more regularly at a higher level and make progressive ranking gains at the early stages of their careers. The increased calendar means that there will be over 40 weeks of either international ranking point or prize money earning opportunities in Great Britain this year.
Across these events, we will be introducing progression through wild card feed ups into higher-level competitions and retaining the LTA Tournament Bonus Scheme in addition to prize money earned.