Grand Slam
Ten-time Grand Slam champion Jordanne Whiley among stars in action at Shrewsbury
• 2 MINUTE READ
Ten-time Grand Slam champion Jordanne Whiley will be among the stars in action this week as the 2018 National Championships and Roma Sport National Wheelchair Tennis Series Finals get underway at the Shrewsbury Club. Managed by Britain's leading tennis charity the Tennis Foundation, the event will be running from Thursday 29th November to Sunday 2nd December, with Shrewsbury playing host to the tournament for the second consecutive year.
Players of all ages and abilities will compete for the coveted titles at the annual season highlight of the domestic wheelchair tennis calendar. Four-time Wimbledon doubles champion and two-time Paralympic bronze medallist Whiley is making her return at the National Championships, after giving birth to her son earlier this year. Whiley is part of an impressive line-up, joining both Lauren Jones – three-time National Champion – and Shropshire's former National Championships finalist Val Fisher to compete in the women's singles.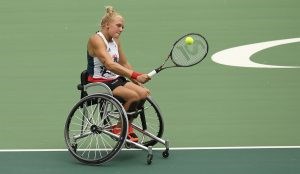 Speaking ahead of the tournament, Birmingham-born Whiley said: "I started back training properly two months ago and I was just missing playing. I've really enjoyed being back on court and I can't wait to compete again. I haven't played a match since the Wimbledon doubles final in 2017, so it will just be nice to play matches again and get a marker of where I am. I'd like the chance to play Lauren and gauge where I am with my game. I've never played at the Shrewsbury Club, so it'll be nice to play my first tournament in 18 months in the Midlands" added the 26 year old.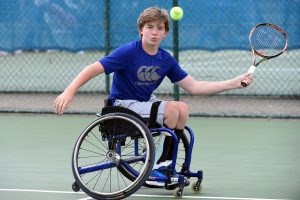 Former National Champion Scott Smith provides local interest in the men's singles, where entries also include up-and-coming 16 year old Ruairi Logan. Entries for the Roma Sport National Wheelchair Tennis Series Finals are also strong, with Shrewsbury's Kevin Drake and Alex Krol, who were wheelchair tennis doubles gold medallists at last year's Invictus Games in Toronto, set to take to the court. Any player who has competed in a National Series event across the country in 2018 is eligible to contest this weekend's Finals, which include both a main draw and also a novice division for less experienced players.
Tournament Director Kirsty Thomson commented: "We're very excited to be heading to Shrewsbury again this year. We have players with a wide range of abilities competing – showcasing how inclusive and open our sport is. Record numbers of disabled people are playing the sport across the Tennis Foundation's network of venues and we are delighted to be bringing our year-end domestic finale back to The Shrewsbury Club. The venue has a long history of hosting National Series events and there was a tremendous atmosphere and some great tennis at last year's National Championships as we deified the heavy snow."
With play starting at 9am every day and entry free for all spectators, it's set to be a memorable weekend of sport in the region.