LTA Youth
British No.1 Johanna Konta joins kids to make a racket on court
• 1 MINUTE READ
World No.7 and British No.1 Johanna Konta got on court to host a special, fun-filled Tennis for Kids session and had the chance to meet some of her younger fans, who Jo has inspired to play tennis.
Eight children who took part in the Tennis for Kids programme last year got the chance to show off their newly acquired tennis skills to British star Johanna Konta, on court at the National Tennis Centre. After the success of 2016, the initiative has returned even bigger and better for 2017 and will give 20,000 children aged 5-8 a free 6-week tennis course and free tennis racket.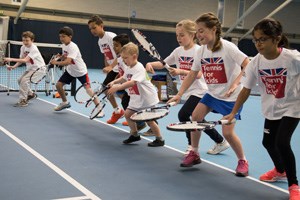 British No.1 Johanna Konta said: "Programmes like Tennis for Kids are great for getting children involved in tennis but also generally active. It's a free course and children get a complimentary racket, so there's really no excuse not to try it!"
Tennis for Kids was launched after the historic victory of the Davis Cup team in 2015 to establish greater accessibility into tennis, with a view to creating a new generation of tennis loving children. Last year over 13,000 children picked up a racket and almost half of those who took part continuing to play after completing the lessons.
To find out more information and reserve a space at your nearest course before they are all snapped up, visit www.lta.org.uk/tennisforkids.